Canterbury Christ Church University
Home ›
Canterbury Christ Church University
We are Canterbury Christ Church University, an institution that believes education changes lives for the better.
We offer a wide range of postgraduate courses in many subject areas including teacher education, health and medicine, digital and creative arts, humanities, social and applied sciences, and technology and engineering. Our students and graduates connect with industries, businesses and professionals in both the public and private spheres.
Our modern, multi-campus the university is home to around 15,000 students, around one-fifth of whom are postgraduate students.
Our students
15,300 students - 75% full-time and 25% part-time
We attract students from over 80 different countries creating a progressive and inclusive campus
In the top 10 for graduates in work, among large UK universities *
Above the national average for graduates in highly skilled employment.**
* (9th Out of 102 HEIs with 3,000 or more graduates, HESA: Graduate Outcomes 2020)
**(Nearly two-thirds of Christ Church graduates (65%) are in highly skilled graduate-level employment 15 months after graduating – 3% higher than the national average).
Our Staff
Staff employed: 1,700
Our University provides employment for many local people across Kent and Medway
More than half of our workforce is female
We work with several hundred sessional staff who help to provide expertise and industry knowledge
88% of staff members say it is a friendly place to work
Our Achievements
The University received a prestigious silver rating in the Teaching Excellence Framework, exceeding national quality requirements for UK universities
Nearly 90% of our research submitted to the 2014 Research Excellence Framework (REF) was assessed as world-leading, internationally excellent or internationally recognised
Top 20 in the UK for Qualified Teaching Staff. 79% of our academic staff hold a teaching qualification in addition to their academic and professional qualifications (HESA 2017/18)
Our Mission and Values
Our mission:
Inspired by our Church of England foundation, the University's mission is to pursue excellence in higher education: transforming individuals, creating knowledge, enriching communities and building a sustainable future.
We value:
The development of the whole person, respecting and nurturing the inherent dignity and potential of each individual
The integration of excellent teaching, research and knowledge exchange
The power of higher education to enrich individuals, communities and nations
Our friendly, inclusive and professional community of students and staff, preparing individuals to contribute to a just and sustainable future.
Our vision
We will be recognised as a leader in education, research and enterprise that supports the South East region's growth and economy, building on our heritage as a globally connected, dynamic and innovative University, delivering an excellent and inclusive experience that provides enterprising, professional graduates.
Courses offered
MBA
MSc. International Business (with Marketing or Finance specialism)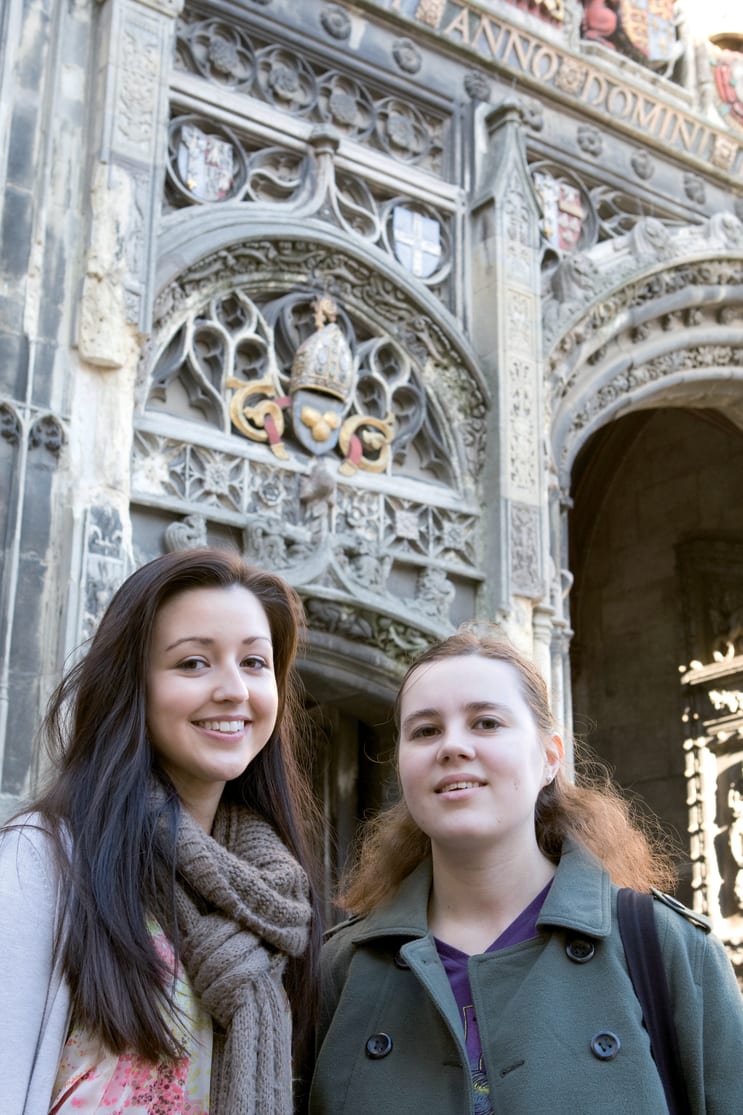 photo courtesy of Canterbury Christ Church University
Arts, Culture and Sport
We are passionate about arts and culture and are fast becoming a major cultural contributor in the South East.
Vibrant and engaging arts and culture programme
Working closely with local and national cultural organisations, the University has an artistically vibrant, academically inspiring and socially engaging arts and culture programme.
We are always expanding the range of artists and companies that thrive within and outside our University, whilst ensuring there are plenty of opportunities for student and public engagement.
Working closely with local and national organisations
We are proud to be Partner and Principal Sponsor of the Canterbury Festival, since 2010, and are working closely with local and national cultural organisations to ensure the University has an artistically vibrant, academically inspiring and socially engaging arts and culture programme.
More recently, we have developed a partnership with the Creative Foundation to further support arts and culture in Kent, including the Folkestone Book Festival.
A passion for sport
Over 1,200 of our students regularly compete in a variety of sports with other universities and our Sports Scholarships scheme supports around 40 talented young athletes every year, including a world record-holder and several international competitors.
The University is the main sponsor of the Kent Women's Cricket team and has partnerships with a range of local and regional clubs and organisations, including Polo Farm Sports Club in Canterbury where the University has invested £2m to develop a new indoor sports centre and teaching space for our students and club members. This venue enhances our existing facilities which include our own city-based sports centre and gym, and the picturesque playing fields at Stodmarsh.
Why study in the UK?
Master's programmes in the UK are only one-year long, saving you time and money
UK universities have an employability focus so you can easily get hired
UK universities offer excellent student support, teaching methods, and classroom experiences
The post-study work permit allows you to stay in the UK for 2 years after graduating.
photo courtesy of Canterbury Christ Church University
Student Testimonials
photo courtesy of Canterbury Christ Church University

"My Christ Church degree has opened up a whole new world and inspired me to examine my true potential as a graduate. I am now looking beyond my current role to what I can achieve personally and professionally".

Anthony

Christ Church alumnus, now Detective Investigator, Metropolitan Police
"Being an international student can be hard and scary, but with the amazing support and the warm welcome at Christ Church, everything was fine. Canterbury has it all: art, history, culture and fun".

Kristiyana

Performing Arts student.

photo courtesy of Canterbury Christ Church University
Locations
Canterbury
Address
Canterbury Campus,
North Holmes Road
CT1 1QU
Canterbury
,
England
,
United Kingdom
Gillingham
Address
Medway Campus,
Rowan Williams Court,
30 Pembroke Court,
Chatham Maritime
ME4 4UF
Gillingham
,
England
,
United Kingdom