Why Saint Michael's?
Compelling, World-Class Education

Saint Michael's College, founded in 1904, delivers a compelling, world-class liberal arts education in a beautiful Vermont setting. Our connected community allows students to form close relationships with each other and accomplished faculty members, providing an ideal learning environment where they have space and support to challenge themselves and their peers. As a college located minutes from Burlington, one of the country's top-rated college towns, Saint Michael's offers an unparalleled mix of academic, spiritual, cultural, service and wilderness experiences. To learn more, visit smcvt.edu.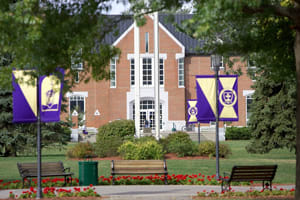 Saint Michael's College offers excellent master's degree programs in Clinical Psychology, Education, and Teaching English to Speakers of Other Languages (TESOL). These cutting-edge programs are tailored to meet the individual needs of a diverse student body including working professionals. Personalized learning plans, flexible class scheduling, skilled teachers, and strong networks of colleagues and mentors ensure that students gain the theoretical education, practical experience, and insight to become leaders in their fields. In fact, the college is well-known among employers for cultivating highly skilled professionals. This is one reason it has a graduate-level job placement rate of nearly 100 percent. These advantages make a master's degree from Saint Michael's College a wise investment.


Master of Arts in Teaching English to Speakers of Other Languages (MATESOL) degree program

Saint Michael's College's internationally-recognized and respected MATESOL program trains students to teach English to speakers of other languages in the US and abroad. It has eight options including the MATESOL (36 credits); MATESOL: OnLine + OnCampus (36 credits); and Peace Corps Master's International Program (36 credits). Additional programs are MATESOL + PK-12 Licensure (46 credits), MATESOL + PK-12 Endorsement for Licensed Teachers (36 credits), and ELL Endorsement for Licensed Teachers (18 credits). The Graduate Certificate in TESOL (24 credits) and TESOL Diploma Program are also offered. Alumni are located all around the globe using the skills they cultivated with the TESOL program at Saint Michael's College.

An exciting location in Vermont

Saint Michael's College is located on 440 beautiful acres in Colchester, Vermont in the northeastern region of the United States. It is just three miles from Burlington, Vermont's largest city and a mecca of art and entertainment. Burlington is situated between the majestic Green Mountains and wondrous Lake Champlain. It offers trendy shops, fantastic restaurants, exciting nightlife, great live music, enriching cultural institutions, invigorating outdoor recreation, and great special events. Students can venture outside of the area to enjoy even more of the state's attractions including fun summer festivals, beautiful fall foliage, and thrilling year-round sports including skiing, snowboarding, snowshoeing, hiking, rock/ice climbing, mountain biking and kayaking, just to name a few.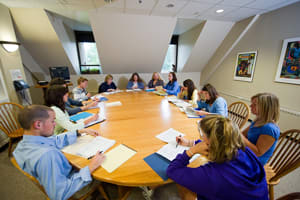 Financial Aid at Saint Michael's College

At Saint Michael's, the value of education far exceeds the cost. Our small-school intimacy will challenge, empower, and nurture students at a price that is usually less than comparable institutions. St. Mike's does not impose the numerous additional fees found at other schools, such as course credit fees, health fees, student fees, technology fees, or parking fees. What's more, their Student Financial Services Office is waiting to help you manage your tuition, through Federal Direct Unsubsidized and Federal Direct Graduate PLUS loans. We also offer a tuition payment plan through Tuition Pay. Graduate students at Saint Michael's College may qualify for federally-sponsored loans and graduate assistantships that provide partial tuition remission and stipends.
Locations
Burlington
Saint Michael's College
Address
One Winooski Park, Box 286 Colchester,
05439
Burlington
,
Vermont
,
USA