Many opportunities, one focus – students who make a difference The College of Saint Rose is a progressive community of scholars focused on gaining knowledge and applying what they've learned to make the world around them better. Located in the heart of Albany, the New York state capital, Saint Rose offers a private, independent, coeducational college experience in a vibrant urban setting. With approximately 4,500 full- and part-time students, Saint Rose has a diverse offering of undergraduate, graduate and certificate programs geared toward both traditional students and working professionals. We combine rigorous studies in the liberal arts and sciences with limitless opportunities for internships, undergraduate research and study abroad as well as opportunities for students to engage in meaningful community service. Founded in 1920 by the Sisters of Saint Joseph of Carondelet, Saint Rose has remained true to its mission of not only preparing students for their careers but also preparing them for life.
Mission Statement
The College of Saint Rose community engages highly motivated undergraduate and graduate students in rigorous educational experiences. In the progressive tradition of the founding Sisters of St. Joseph of Carondelet, we welcome men and women from all religious and cultural backgrounds. In addition to developing their intellectual capacities, students have the opportunity to cultivate their creative and spiritual gifts in a diverse learning community that fosters integrity, interdependence, and mutual respect. The College delivers distinctive and comprehensive liberal arts and professional programs that inspire our graduates to be productive adults, critical thinkers, and motivated, caring citizens. Our engagement with the urban environment expands the setting for educational opportunities and encourages the Saint Rose community's energetic involvement and effective leadership in society.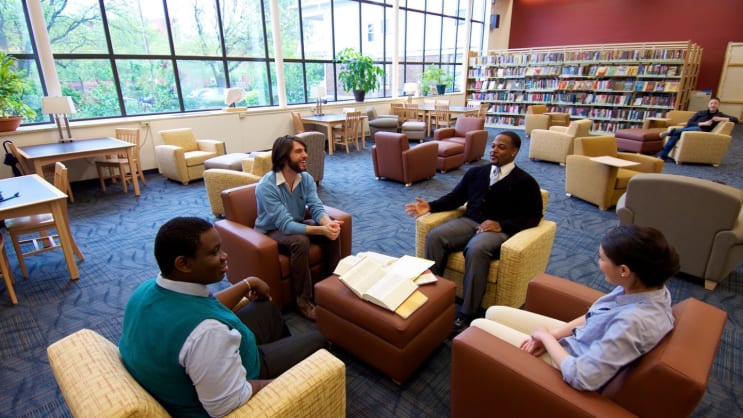 With a campus in the heart of historic Albany—the capital of New York State—Saint Rose is known for its rigorous scholarship and vibrant campus community.
Academics. 43 undergraduate programs, 29 master's programs, and 19 advanced certificates available to new students. Ranked as a Best Northern University by U.S. News & World Report.
Faculty. 93% of our full-time instructional faculty members hold the highest degree in their field.
Personal attention. The student-faculty ratio is 14:1, and Saint Rose employs zero teaching assistants—so you'll work directly and often with your professors.
Students. Nearly 4,500 students (including 2,800 undergraduates) from 36 states and more than 55 countries. 48% of undergraduates live on campus.
Financial aid. 99% of first-year students receive some financial aid, with the average package at $26,891.
What to do.

On campus: take in an NCAA Division II game, choose among 40 student clubs, and have fun in coed intramural sports—everything from cheerleading to ultimate Frisbee.
Off-campus: see top-name bands in concert, attend Broadway productions, stroll through street fairs, spend an afternoon in the park…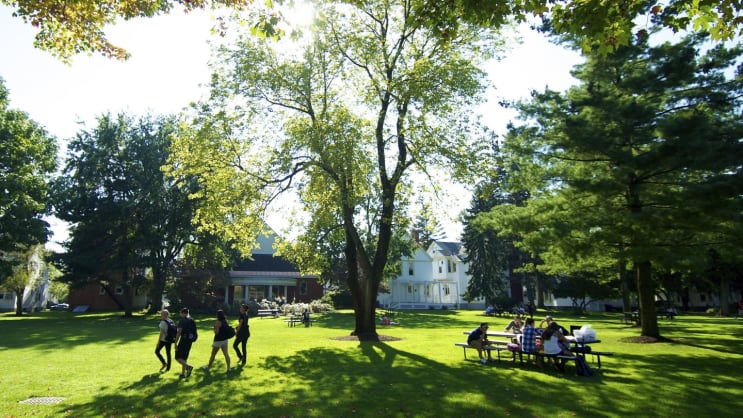 Graduate degrees with a purpose Propel your career. Enrich yourself. Earn a Saint Rose graduate degree. Individuals who have earned Saint Rose graduate degrees are forces for positive change. They lead schools, influence public policy, write novels, report the news, build IT systems, conduct groundbreaking research, run corporations, and start their own companies. How did they get there? By earning a graduate degree at The College of Saint Rose. They received personal attention from faculty with distinguished credentials and keen insights. They enjoyed small class sizes, flexible evening, online and day classes and rigorous fields of study. It made a difference in them so they could make a difference — and become who they really wanted to be. Earning a graduate degree is a powerful career move. On average, people with a master's earn 23 percent more than people with a bachelor's degree.
Undergraduate and Graduate degree programs
Four Schools: Arts & Humanities, Business, Education, and Mathematics & Science
43 Undergraduate Degree Programs
6 Undergraduate Certificate Programs
29 Master's Degree Programs
19 Advanced Certificate Programs
11 Accelerated/Dual Degree Programs award a Bachelor's and Master's degree from the College of Saint Rose in five years
BA or BS from Saint Rose plus BS Engineering in partnership with Rensselaer Polytechnic Institute
BS plus MS in Clinical Laboratory Sciences in partnership with Albany College of Pharmacy
BS plus Certified Medical Technologist in partnership with Rochester General Hospital or New York Methodist Hospital
BA/BS plus JD in partnership with Albany School of Law, Pace University Law School, or Western New England University School of Law
MBA plus JD in partnership with Albany School of Law
Student Life
- 80% of freshmen live on-campus; 45% of undergraduates live on campus - ALANA full-time undergraduates: 20% - 33% men; 67% women full-time undergraduates - States represented in the student body: 32 - Countries represented in the student body: 50 - Student Association Clubs: 35
Locations
Albany
The College of Saint Rose
Address
The College of Saint Rose
432 Western Avenue, Albany
Albany
,
New York
,
USA