Sungkyunkwan University, SKK Graduate School of Business
Home ›
Sungkyunkwan University, SKK Graduate School of Business
The MBA program at SKK GSB was founded to become the best No1. in Asia and a very attractive alternative to top-notch MBA programs in the U.S. We are already the best in Korea and 42nd in the world.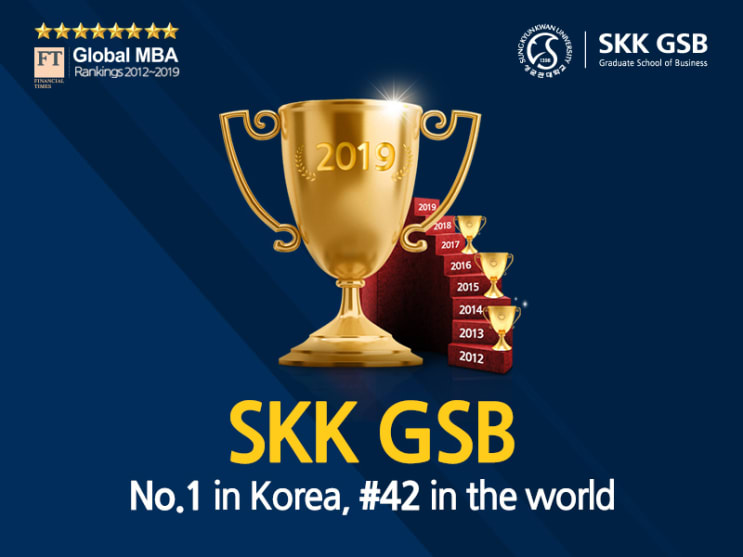 The objective of our MBA programs is to provide you with a strong foundation on which to build a successful and lasting business career. In essence, we want to shape future business leaders who can create and manage profitable organizations.

There are several factors that differentiate our program from others in Korea and in Asia:
An innovative curriculum provides an interactive and participatory learning environment.
An emphasis on leadership development that includes the "soft skills" needed in today's business world.
All classes are taught in English and all assignments are completed in English, so students' English speaking and writing skills will improve dramatically.
An excellent faculty will provide you with the knowledge and skills needed to succeed in business.
A global perspective is an integral part of all courses, and students have an opportunity to spend a semester abroad at one of the top MBA programs in the U.S.
Dual degree programs provide two MBA degrees.
Emphasis is placed on career development and career placement, as well as active alumni participation.
In addition to the semester abroad, a multicultural experience is provided because half of our faculty and one-third of our students are foreign
If you want to enhance your business skills, leadership potential, and career prospects, you should seriously consider the SKK GSB MBA programs. If you are interested in this opportunity, please contact us directly. We also invite you to visit with us.


Locations
Seoul
Address
SKK Graduate School of Business,
Sungkyunkwan Street 25-2, Jongro-gu
110-745
Seoul
,
Seoul
,
South Korea
Programs
This school also offers: