About us
Since the fall of 2003, Texas A&M University at Qatar has offered Bachelor of Science degrees in chemical engineering, electrical engineering, mechanical engineering, and petroleum engineering. Texas A&M at Qatar also offers two graduate degrees in chemical engineering since the fall of 2011: a Master of Science (M.S.) and a Master of Engineering (M.Eng.). In addition to engineering courses, Texas A&M at Qatar provides instruction in science, mathematics, liberal arts and the humanities. The curriculum offered at Texas A&M at Qatar are identical to the ones offered at the main campus in College Station, Texas. Courses are taught in English and in a coeducational setting. The reputation for excellence is the same, as is the commitment to training engineers equipped to lead the next generation of engineering throughout the world.
Texas A&M University is accredited by the Southern Association of Colleges and Schools Commission on Colleges to award baccalaureate, master's, and doctoral degrees. For questions about the institution's accreditation, please contact the Commission on Colleges at 1866 Southern Lane, Decatur, Georgia 30033-4097 or call 404-679-4500. As a branch campus, Texas A&M University at Qatar is included in the institution's accreditation.
Mission & Vision
Mission
Educate exemplary engineers and develop world-class leaders through internationally recognized undergraduate and graduate degree programs.
Generate new knowledge and intellectual capital through innovative research and collaborative partnerships that yield sustainable impact.
Advance the development goals of the State of Qatar and the region through expertise and engagement that expand human capital.
Vision
To be the premier provider of engineering education in the region, a significant contributor to knowledge internationally and an essential resource to the State of Qatar.
Quick Facts
Texas A&M University at Qatar
The inaugural class of Texas A&M at Qatar began on 7 Sept. 2003, with 29 students, of whom 24 were Qatari and 15 of these were female students.
As of May 2019 more than 1000 engineers have graduated from Texas A&M at Qatar since 2007.
Research emphasis areas include environmental issues, advanced water treatment technologies, chemical process safety, petroleum reservoir studies, mathematical modeling, machinery and controls, telecommunications, transportation and roads, electric power generation, distribution and machinery, chemistry, and physics.
Research activities that address issues important to the State of Qatar are valued at more than $256 million.
Texas A&M at Qatar has more than 20 student organizations and clubs representing students' diversified interests that range from academic activities to entertainment. Clubs activities range from hosting lectures and art exhibitions to organizing sports activities and environmental awareness activities.
A student leadership exchange program takes place in the spring of each academic year where students from College Station visit the Qatar campus for a week over spring break and in return, Texas A&M at Qatar students visit the College Station campus for a week over their spring break.
Texas A&M University
Texas A&M University opened its doors in 1876 as Texas' first public institution of higher learning. Today, Texas A&M stands as a research-intensive flagship university dedicated to sending Aggie leaders out into the world prepared to take on the challenges of tomorrow.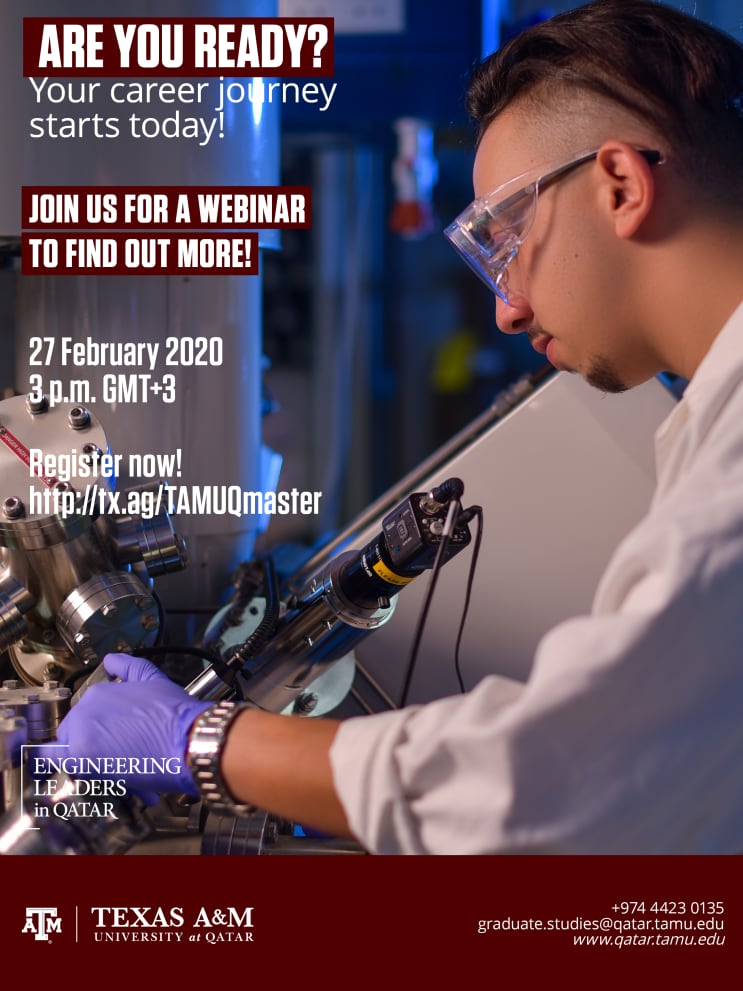 Please join us for a free live webinar to learn more about the Graduate Programs at Texas A&M University at Qatar. The webinar will be held on 27 Feb 2020 at 3:00 pm, Doha Time.