Created by the merger of Mines Douai and Télécom Lille on January 1st, 2017, IMT Lille Douai is the largest graduate school of engineering north of Paris, training the general engineers and digital experts of the future. Each year, IMT Lille Douai, an IMT school in partnership with the University of Lille, awards degrees to over 500 talented engineers, trained to anticipate economic and social changes.
A New Major Education Player in Today's Energy, Ecological, Digital, and Industrial Transitions
IMT Lille Douai develops high-level teaching and research in science and technology in the following areas:
Digital
Processes for industry and services
Energy and Environment
Materials and Structures (including Plastics processing & Composites and Civil Engineering).
To find more information about our programmes, visit our website.
A school at the crossroads of Europe
The IMT Lille Douai campus is situated between Paris, London, Brussels, and Amsterdam and helps to promote the European Metropolis of Lille, which has the French Tech label.
IMT Lille Douai has a research center which is almost 20,000m² and two sites dedicated to education and research at Douai and Lille. The IMT Lille Douai campus provides its students with the means to unlock their talents, including the FabLab, the International and Cultural Center, and a business accelerator.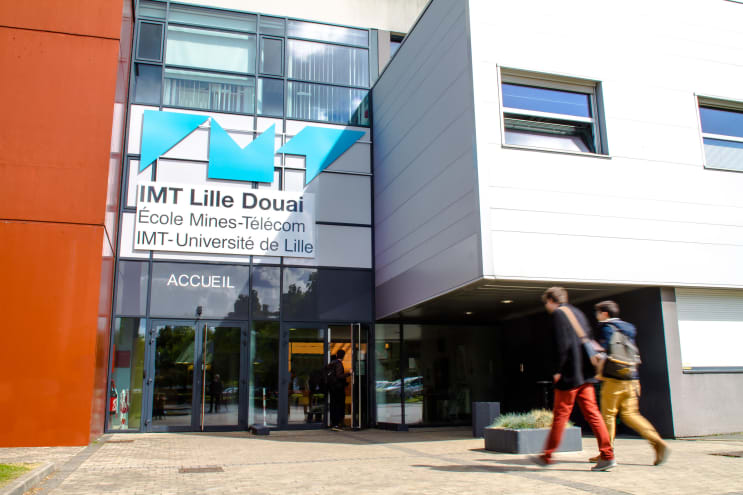 IMT: the leading group of engineering and management schools in France
IMT Lille Douai is an active member of the Institut Mines-Télécom Group. Composed of 11 engineering and management graduate schools* , the group's strength lies in the complementary nature of its schools and their cohesion, grounded on their shared vision:
To provide education for the business sector and industry;
To develop the national and local economy;
To contribute to innovation and entrepreneurship.
These activities are enacted in areas concerned by the major transitions in digital, energy, industrial, and educational transitions.
*IMT Atlantique, IMT Lille Douai, Mines Albi, Mines Alès, Mines Saint-Etienne, Télécom Ecole de Management, Télécom ParisTech, Télécom SudParis ; Eurecom ; Mines ParisTech ; Mines Nancy.
Excellent education and research at the schools
11 state-run graduate schools under the supervision of the Ministry for Economy and Industry.
13,400 students, a similar number to the major American universities such as MIT and Stanford.
4,420 degrees awarded. 90% of graduates will start on a permanent contract.
A network of 60,000 alumni in every sector of the economy.
2,080 Grade A research publications contribute to scientific and technological advances. They guarantee cutting-edge education.
9,070 business partnerships established with local ecosystems as well as national stakeholders through IMT's vast regional network.
Geared towards businesses, the partnership-based research of the IMT schools feeds the economy: it is recognized by 2 Carnot Institute labels (Carnot M.I.N.E.S and Carnot Télécom & société numérique) which were awarded in 2006 and renewed in 2011.
IMT's academic excellence is widely recognized. The teacher-researchers at the IMT schools also receive many awards and accolades.
Innovation and entrepreneurship: part of our schools' DNA
The IMT schools were established by government authorities to support economic and industrial development in France as early as the 18th century. Our schools promote entrepreneurship and encourage the incubation of technology projects: every year nearly 100 start-ups receive support from its schools' business incubators.
The schools offer a wide range of tools that help students gain an understanding of and experience in innovation and entrepreneurship.
Students benefit from the extensive partnerships between IMT schools and local and national innovation structures.
As well as entrepreneurship, these programs train engineers and managers with an awareness of value creation and innovation, enabling them to offer the creativity companies need.
IMT Lille Douai, an important link in the IMT chain, responding to the major transformations of the 21st century
Together, through their complementarity, IMT schools offer a wide range of expertise. IMT Lille Douai plays an integral part in this group dynamic to systematically respond to the requirements of major 21st-century transformations:
Digital;
Industrial;
Energy;
Educational.
The school brings its expertise to IMT research in the areas of smart cities, health and personal autonomy, and the industry of the future.
IMT contributes to the international reach of its schools
As a global key player with an international outlook, IMT schools attract students from across borders (33% of students enrolled in its Master's and Ph.D.-level courses are from abroad) while also sending its students to the best international universities with which IMT has established exchange agreements and complementary dual-degree courses through its schools' existing bilateral agreements.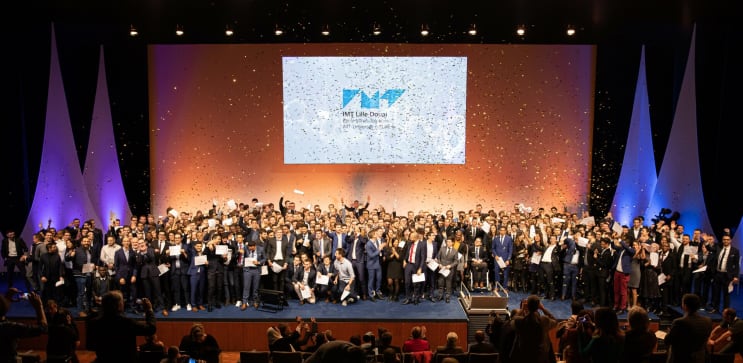 For more information, visit our website http://www.imt-lille-douai.fr/en
Locations
Douai
IMT Lille Douai - Site Borseul
Address
Rue Charles Bourseul,941
59500
Douai
,
Hauts-de-France
,
France
Villeneuve-d'Ascq
Cité scientifique
Address
Rue Guglielmo Marconi, 59650
Villeneuve-d'Ascq
,
Hauts-de-France
,
France
Douai
Centre de recherche IMT Lille Douai
Address
764 Boulevard Lahure, 59508
Douai
,
Hauts-de-France
,
France