The Estonian Academy of Arts, founded in 1914, is the only public university in Estonia offering higher education in fine arts, design, architecture, media, visual studies, art culture, cultural heritage and conservation. Located in the capital city, Tallinn, it is an active study and research institution and the leading national centre of innovation in visual culture. Studies take place in our new building with an innovative and inspiring environment.
Nearly 1,200 students are currently enrolled at the Estonian Academy of Arts and are taught by 89 professors, associate professors, teachers and lecturers from Estonia and abroad. Small groups of carefully selected students enable a more personal, one-on-one approach to instruction and family-like, close-knit atmosphere and EKA prides itself on the low student-to-professor ratio.
EKA offers six Master's programmes taught in English: Animation, Contemporary Art, Design & Crafts, Graphic Design, Interaction Design, and Urban Studies. (Within Design & Crafts, students choose a specialisation: ceramics, glass art and design, jewellery and blacksmithing, textile design, leather art and design or fashion design.) In addition, there is a Master's programme in Design & Technology Futures offered jointly with Tallinn University of Technology, as well as a Master's programme in Literature, Visual Culture and Film Studies offered jointly with Tallinn University. All Master's programmes are two years (120 ECTS).
We also offer a Bachelor's programme in Media Graphics (taught in Russian) and two international full-time doctoral programmes - Art and Design and Architectue and Urban Planning.
EKA encourages innovation and experimentation, and students are able to take modules and workshops outside of their specialisations. Have an idea? Try it! You'll find there's refreshing lack of red tape here. Those who study at EKA soon discover a wide spectrum of possibilities.
We invite you to join us!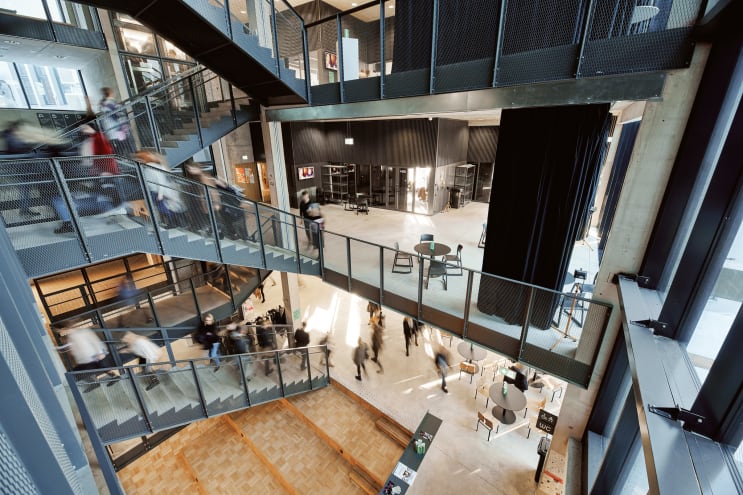 HISTORY
Since the beginning of the 20th century, the Estonian Academy of Arts has been an important centre of Estonian art education. The Estonian Art Society founded the Tallinn Applied Art School in 1914, which offered general education and professional training in art and crafts.
Upon drafting the curricula, the St. Petersburg art school Stieglitz — which concentrated on teaching technical and practical skills — was used as a model. In 1924 the school became the State Applied Art School, providing education in all the traditional disciplines of applied arts, and visual arts disciplines were added to its programme in the 1930s. In 1932 the school moved to a new multi-stage school type, and it became possible to apply for a diploma of a specialist or applied artist.
The school was renamed the State Industrial Art School in 1938. In 1944 the school was renamed Tallinn State Applied Art Institute of the ESSR. As a result of the centralisation of art education system in 1951, all studies were transferred from Tartu to Tallinn, architectural studies were added, and the name was changed to the State Art Institute of the Estonian SSR (SAIE, Estonian abbreviation ERKI). In 1989, ERKI was renamed to Tallinn Art University, and since 1995 its name has been the Estonian Academy of Arts.
INTERNATIONAL RELATIONS
The aim of the Academy is to be in the midst of life happening. That is why attention is paid to society and the professional world in broad terms.
EKA has close ties and cooperation agreements with more than 100 international universities and many international networks, through which student and faculty exchanges can be negotiated and apprenticeship opportunities can be expanded. EKA is a member of CUMULUS (International Association of Universities and Colleges of Art, Design and Media); EAAE (European Association for Architectural Education); ELIA (The European League of Institutes of the Arts), and through NORDPLUS is a member of many professional networks.
Since 1999, EKA has been a member of The European Commission's Lifelong Learning Programme for Higher Education, Erasmus, under which more than 100 bilateral exchange agreements have been signed. In addition to the Erasmus programme, the Estonian Academy of Arts has entered into student and faculty exchange and cooperation contracts with ten internationally recognised art universities outside of the European Union.
Regular and intense contacts are maintained with the world outside academia through exhibitions and publishing work, through organising many events, and in cooperation with businesses and public institutions.
Foreign relations, faculty and student exchanges, advice on foreign apprenticeship opportunities, and grant information are coordinated by the International Relations Office.
COLLABORATION AND ENTREPRENEURSHIP
EKA collaborates with universities, cultural institutions, artistic associations, local government bodies, and businesses in Estonia and abroad.
The Estonian Academy of Arts cooperates with many Estonian and international businesses in the field of science and development. The partners vary depending on the area of specialisation, and the Academy is able to offer a range of services from research and analysis to creating prototypes.
The Department of Development is the link between education and business. The services and solutions supporting EKA's main activities are worked out, giving legal and entrepreneurial advice to staff and businesses for carrying out collaborative projects with the Academy's departments. The Department of Development interacts actively with businesses in Estonia and abroad and carries out joint projects. Many students complete design tasks for Estonian companies in the public and private sectors and take part in international and local competitions during their studies.
The Department of Development organises training in the fields of entrepreneurship, intellectual property rights, career planning, international apprenticeship, and project management. Students are advised in making business plans, and there are numerous resources available to EKA's spin-off businesses (companies founded by students during their studies). The department coordinates interdepartmental development projects and, if necessary, carries out science and development projects. The Department of Development manages EKA's local and international co-sponsored or joint projects.


Locations
Tallinn
Address
Estonian Academy of Arts,
Põhja pst 7, Tallinn
10412
Tallinn
,
Harju County
,
Estonia