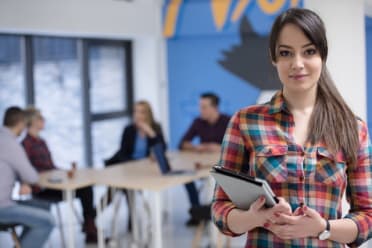 While women in top-level university positions are still largely outnumbered by men in the UK, the latest research concludes that they've gained a significant amount of ground over the past two years. Let's take a closer at the numbers according to a report released earlier this month, along with ongoing diversity issues aimed at achieving gender equality once and for all.
A Look at the Numbers
WomenCount: Leaders in Higher Education 2016 reveals a positive trend related to women in high-level roles in academic between 2013 and 2015. How much so? Women increased their representation in key leadership roles from 32 percent to 36 percent over the same period of time.
Furthermore, one-third of all vice-chancellors hired during this same two-year period were women meaning that 22 percent of the UK's higher education institutions are now women-led.
Looking to the Future
The key takeaway, according to the report? The current state of gender equality within UK universities can be described as "'gradual and determined progress but still some way to go."
Writes WomenCount author Norma Jarboe, "Having a third of all top appointments going to women could be better, but it is moving in the right direction."
Citing a framework for nurturing continued growth in this sphere already in place and supported by universities, funders and other stakeholders, the report further proposes an ambitious target goal: a representation of men or women between 40 percent and 60 percent by 2020. 
And while it's easy to accept the imperative toward equality on the premise of fairness alone, the report points out that other issues are at stake, as well: "Not only is this about harnessing the best talent for these influential roles, it is an issue of primary importance due to the very nature and purpose of a university that depends on diversity in order to flourish."