Graduate students, take heart. You do not need to work long hours with low pay and no benefits or protections anymore.  In a recent ruling, the National Labor Relations Board (NLRB) will require private universities to bargain with graduate student labor unions on compensation and working conditions.  The NRLB issued a 3-1 decision in Columbia University that "student assistants working at private colleges and universities are statutory employees covered by the National Labor Relations Act."
Graduate students at Columbia will probably unionize first since their petition inspired the ruling.  Students at Harvard, Yale, and other elite private schools are also starting negotiations.  Although private schools have resisted collective bargaining rights for graduate students, public universities in some states have allowed graduate students to unionize, with no harm to the academic integrity of their programs. 
Graduate students at private universities have tried this before.  In 2001, New York University's (NYU) graduate students were the first students at a private university to negotiate a contract and unionize.  Before organizing, most received $10,000 per year with no health insurance.  Under the four-year contract, which was set to expire by 2005, minimum salaries increased by at least 38 percent for PhD students, and by 15 percent for graduate employees.  Students also negotiated for NYU to pay the costs of employee health care, and added protections for pre-semester teaching-related duties, child care subsidies, overtime pay for grading papers, and grievance procedures to address issues of discrimination and harassment. 
Several other private universities including Columbia and Yale followed suit, but in 2004, the NLRB revoked the right of graduate students to bargain collectively.  NYU did not re-negotiate with students in 2005 when the contract expired, and collective bargaining at private universities faltered.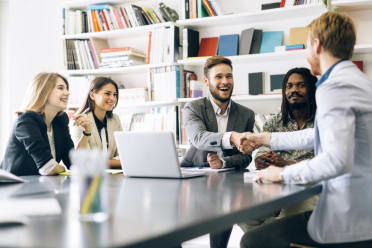 It happened again in 2013, when NYU became—again—the only private university in the United States to have unionized graduate students.  With help from other labor unions like United Auto Workers (UAW), NYU students re-negotiated a new contract with NYU.  The university reinstated medical and child care benefits, in addition to grievance procedures.  In the 2015-2020 contract, PhD teaching assistants receive, on average, $36,600, with a guaranteed 2.4 percent increase yearly. 
The new ruling by the NLRB means that collective bargaining is now an option for all graduate students at private universities in the United States. While some students anticipate pushback from their universities, the ruling ensures that graduate students can organize and fight for their rights. 
Learn more about studying in the United States.