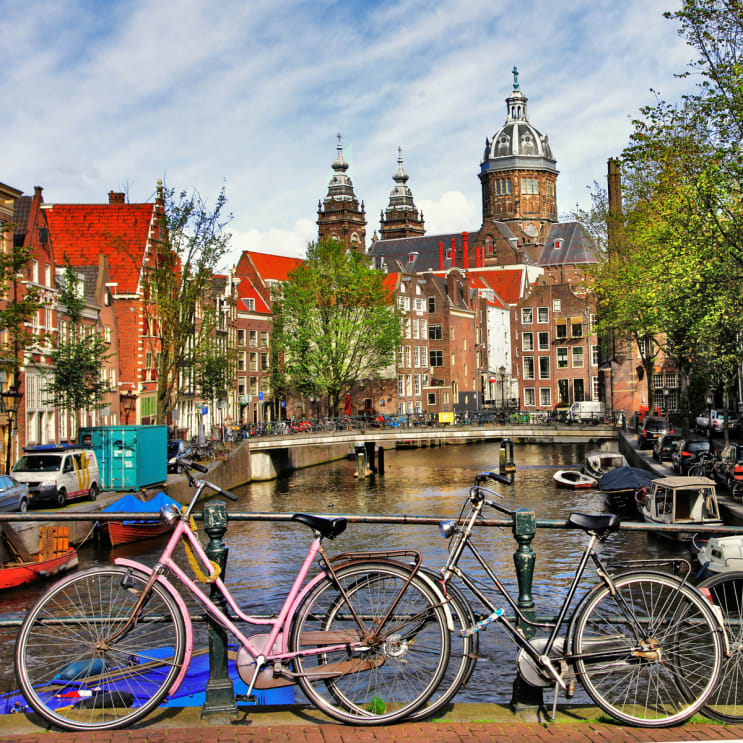 While windmills and wooden shoes may first come to mind when pondering the Netherlands, this small country located in Europe's northwest has much more to offer, including breathtaking scenery (think tulips), delectable cuisine (think Gouda), an abundance of outdoor recreation (think biking), and a rich history of arts and culture (think Van Gogh, Vermeer and Rembrandt). As the first country to legalize both cannabis and gay marriage, the Netherlands is also known for its forward thinking ways. These reasons -- combined with its central location, excellent higher education system and international environment -- make this country an idyllic destination for students seeking a true multicultural experience. Here are the 5 top reasons why you should enroll in the Netherlands as an international student. Read more about studying in the Netherlands here.
1) You can get a scholarships to go study in the Netherlands.
The availability of scholarship support -- offered both through the Dutch government and higher education institutions -- adds to the reasons why the Netherlands is one of the top choices for international scholars. Scholarship opportunities include the following:
Government Scholarships for International Students
The Netherlands Fellowship Programs: These highly competitive awards benefit motivated professionals who have spent at least three years in the workforce and have been nominated by their employers. Funding supports study-related fees, travel expenses and living costs.

The Erasmus Mundus Program

: A program of the European Commission, Erasmus Mundus funding enables qualified international students to study for free in their country of choice.
University Scholarships for International Students
2) You will be a part of one of the best education systems in the world.
Considering the country's small size and significant European competition, the Netherlands' higher education system packs a mighty punch. Dutch universities consistently earn top spots in international rankings based on everything from external funding to job prospects for graduates.
One indication of the country's rising power as a player in the international education market is the increasing number of international students seeking to study here, including a notable rise in students from outside the EU. Factor in that programs are high quality, widely offered in English and a comparative bargain, and these escalating numbers are no surprise.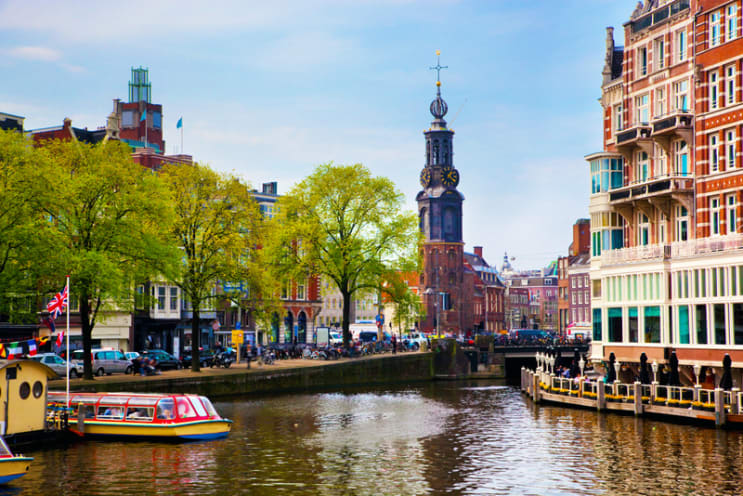 3) You will be warmly welcomed as an international student.
Long known for its multiculturalism, the Netherlands is more focused than ever on attracting international students thanks to the recent "Make it in The Netherlands" initiative. This comprehensive plan aims to engage more international students based on the conviction that a diverse student population boosts everything from employment success rates for all to an enhanced educational system.
Employers also value international talent in the form of students, researchers and workers: to that end, more career options are being presented to international students, as well as increased opportunities for language learning. "Make it in The Netherlands" is also focused on reducing barriers between Dutch students and their international counterparts for increased collaboration.
4) You will live in an amazing country.
Nearly 10 percent of the Netherland's student population consists of international students. Here are just five reasons why.
The Netherlands is small in size, but its higher education system is large in innovation, with a focus on student-led learning and practical experience.
The Netherlands offers access to a uniquely freethinking multicultural society at comparatively low prices. From thousands of museums to a vibrant music scene, enrichment opportunities abound. Throw in the stunning North Sea Coast and the Netherlands is a true wonderland for international students.
Holland has been an international trade mecca for hundreds of years and demonstrates a mindset which values differences in people and ideas. This spirit of diversity and sense of connectedness is a hallmark of Dutch education, and is a leading reason why 143 nationalities are represented here.
Because the Dutch higher education system is held in such high esteem, so are its graduates. Whether you aspire to start your own business or join the corporate workforce, a Dutch education not only lays a terrific foundation, but also ups your value to potential employers.
The Netherlands earns this nickname through its prized proximity to continental Europe. Whether you're hopping a one-hour flight to London or a three-hour train ride to Paris, all of Europe's most famous sites are within easy reach. Students can travel on their own or take advantage of one the region's many organized study tours.
5) You will be able to study in English while learning a new language
Based on research indicating that Dutch students who learn English at an early age experience more success as adults, the Dutch education minister recently announced a bilingual education trial for elementary school students designed to raise internationally aware children, as well as a stronger, more competitive workforce.
This program represents another step forward in the country's celebrated open-minded attitude. In fact, the Netherlands is credited with being Europe's first non-English speaking country to offer programs entirely in English, with the number of such programs now topping out well over 1,000. If English isn't your thing, educational opportunities abound in Dutch, French and German.
Conversely, English speakers looking to learn Dutch are also positioned for success. Due to shared roots, Afrikaans is considered one of the easiest languages for native English speakers to learn.
Read more about the 575 programs available in the Netherlands here.
BONUS MATERIAL:
5 Secret Tips for International Students Studying in the Netherlands
There is no standardized method for applying to Dutch universities. Contact prospective universities in advance to determine the application method. Search for your institution on masterstudies.com, bachelorstudies.com, lawstudies.com, and contact directly the admission office by filling in the lead form.
While students typically apply in September and October for openings the following year, very popular courses -- including professional paths, such as law and medicine -- have high demand for limited spaces. Apply early to avoid being left in the cold.
Resident permits are required for students seeking to remain for a full semester; otherwise, the limit is a 90-day tourist visa. Consult with your prospective institution for the appropriate paperwork and timelines. Additionally, as you may be asked to prove you are legally in the country, carry your visa with you when traveling.
The cost of living in the Netherlands is approximate to that of the U.K. Upon arrival, immediately convert your currency to the Euro for easy access to cash. Be sure to always have a little extra cash on hand for emergencies.
Most students in the Netherlands don't live on campus. As rooms can be limited and pricey, consult early with your host university on how to get started. Non-EU students will also need health insurance, which can also be recommended at this time.