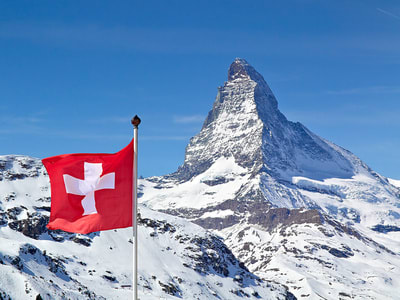 Majestic mountain ranges, the world's most famous pocket knives and bastionary banking are just a few of the things that come to mind when thinking about Switzerland. With its amazing cuisine, four national languages, horological eminence and more than 1.5 million cows (lots of milk, lots of chocolate), Switzerland offers an international study experience like no other. More than 50,000 international students -- more than 20 percent of the country's total student population -- choose to study in Switzerland for these reasons and more. Read more about studying in Switzerland here.
1) There are many scholarship opportunities for international students:
The cost of a Swiss education is significantly lower than many of the country's European counterparts. While the low tuition fees alone are enough to entice potential students, throw in generous government- and university-sponsored scholarships, and Switzerland becomes an increasingly irresistible destination.
Government Scholarships:
Swiss Government Excellence Scholarships for Foreign Scholars and Artists: Available through the Swiss Government's Federal Commission for Scholarships for Foreign Students, these scholarships provide postgraduate funding to scholars and researchers in all fields studying at publicly funded Swiss universities, federal institutes of technology, applied sciences institutions and schools of music and fine arts. Depending on country of origin, scholarship opportunities and eligibility criteria may vary.
The Erasmus Mundus Scholarships: Sponsored by the European Commission, this program fosters cooperation between European higher education institutions and third world countries to promote highly trained human resources. Higher education students from across the globe are eligible for for funding, allowing them to participate in the Erasmus Mundus study program tuition-free.
University Scholarships:
2) It's one of the most fantastic countries to study in:
1. With not one, not two, but FOUR native languages including French, German, Italian and Romansh, Switzerland offers multilingualism like no other. Students have the opportunity to hone current language skills or learn something completely new.

2. Between the cheese, chocolate and famed Swiss delicacy, "Rösti," life in Switzerland is a true epicurean adventure. Did we mention the chocolate factory tours culminating in free tastings?

3. Switzerland's geography is postcard perfect. The iconic Swiss Alps, cow-dotted pastures and serene blue lakes offer a breathtaking scenic backdrop for academic life. Many higher education institutions are tucked into or near the Alps themselves for easy access to a wondrous view.
4. If you love to ski and snowboard, there's no place better than Switzerland. And if you don't love to ski and snowboard, there's no better place to learn. Students are eligible for an inexpensive year-long ski pass to some of the world's best slopes. From Zermatt to St. Moritz, Switzerland is a mecca for winter sports enthusiasts. The summer, meanwhile, brings stunning views and clear lake swimming.
5. Switzerland's charms aren't just natural. From the jaw-dropping architecture of historic castles to major cities with advanced facilities and cutting-edge technology, Switzerland balances rural charm with urbane sophistication.
6. Switzerland is home to some of the world's best-ranked academic institutions. Zurich's Swiss Federal Institute of Technology (ETH Zürich) holds the 7th place spot in Engineering, Science and Technology and has hosted a whopping 31 Nobel Laureates. Three other Swiss institutions join ETH Zurich in the 2013-14 QS World University Rankings' Top 100, including the École Polytechnique Fédérale de Lausanne, the University of Geneva and the University of Zurich.
7. As evidenced by its four national languages, the ancestry of Swiss residents traces back to many different countries, and cultural diversity abounds. Switzerland provides the unique opportunity to sample life across Europe in just one tiny country. Of course, Switzerland's central location makes it easy to see these destinations for yourself with minimal travel time and expense. In fact, while Switzerland is not a member of the EU, its residents can travel through Europe without worrying about visas.
8. You can set your (Swiss-made) watch to the country's unbeatable public transportation system, which provides easy access between major cities, including Berne, Basel, Geneva, Lucerne, Zurich and Lugano, as well as to other parts of Europe.
9. Students come from all over the world to study in Switzerland, promoting the development of a rare international perspective. The International Olympic Committee, the Red Cross and the World Economic Forum are just a few of the global organizations located in Switzerland.
10. While English is not one of Switzerland's four national languages, most locals speak great English, and are committed to global culture. Some schools -- particularly business programs -- offer complete courses of study in English.
And one for good luck: while giving them their own category may seem extreme, Swiss drinking fountains are truly extraordinary. The water is drinkable at nearly every fountain, and great for filling a water bottle or dunking your head on hot days. From Zermatt's frolicking beavers to Bern's baby-devouring ogre, Switzerland is a treasure trove of ingenious and refreshing drinking fountains.
3) The excellent Swiss MBA is worldly renowed:
Speaking of business programs, as a European business hub Switzerland is home to some of the world's best business minds -- particularly in the fields of hospitality, banking, pharmaceuticals and chemicals -- making it a premiere place to learn and work. The country is committed to investing in both education and research; for this reason, many multinational corporations are headquartered here. In fact, 15 Fortune 500 companies call Switzerland home.
There's no better place to develop foreign language skills for business thanks to endless practicing opportunities. There are plenty of chances to learn non-Swiss languages, too, due to the breadth and depth of the international student population. While most undergraduate programs are taught in German, French and Italian, Master's programs offer a multitude of English courses. That said, English is widely understood and some programs are even taught entirely in English. Additionally, the cross-cultural management skills fostered in this global setting are highly desirable in the 21st century workplace. Read more about MBA programs in Switzerland here.

BONUS:
Six Tips to Get Ready to Study Abroad in Switzerland
1. Application: Because Switzerland doesn't offer a centralized application process for international students, applications --which can be submitted electronically -- are made directly to your institution of choice. The process typically occurs in the spring for enrollment the following fall, although deadlines vary according to institution. Read more about schools and universities in Switzerland here.
2. Languae Requirements: Different schools offer different language requirements -- particularly because of the country's four official languages. Before applying to an institution, check language requirements and course offerings.
3. Visas: Visa requirements vary depending on your country of origin. Students from EU/EFTA countries don't require a visa, while students from outside the region will require a Swiss embassy-bestowed multiple entry long stay visa. Ideally, allow at least three full months for processing. Within 14 days of arrival, students must register their address and identity documents, along with proof of enrollment and sufficient funds, with their local Registration Office.
4. Insurance: Health insurance mandatory for all international students, although EU students automatically qualify for basic medical care with a European Health Insurance Card.
5. Accomodation: Most higher ed institutions offer on-campus accommodations, although many students rent apartments and private rooms in houses. Contact the housing office of your academic institution for help finding lodging.
6. Work Permit: EU/EFTA students are permitted to work for up to 15 hours per week without a work permit. Citizens from non-EU/EFTA countries face tighter restrictions with only a highly qualified few eligible for work permits while others are subject to a 6 month waiting period. After completing a degree, students are allowed to remain in the country for 6 months while on the job hunt; a work visa is granted to successful job applicants.
While the cost of living in Switzerland is notoriously high, the benefits of studying and working here are big, including higher salaries, a global setting and an exceptional quality of life making it a safe and healthy environment for residents and visitors alike.