Master in
Master in Philosophy, Politics and Economics
Witten/Herdecke University (UW/H)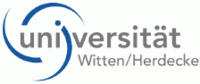 Introduction
The Master programme Philosophy, Politics and Economics (PPE) at Witten/Herdecke University offers cutting-edge education at the intersection of the social sciences and philosophy. Unlike other Master programmes in Philosophy, Politics, and Economics, the focus in Witten (Germany) is on the sound academic analysis of real-life problems in an increasingly interconnected world. It addresses the challenges of the 21st century in a globalized world. The Master PPE in Witten is also a tailor-made programme for any career in leading positions at the interface of politics, economics and (civil) society. Our graduates find career prospects in a range of political and social fields, NGOs, management, further education, personnel and organisation development, economic and political consulting.

The programme starts in the winter semester. Applications can be submitted all year round.
Curriculum
Double Degree in Security, Banking and/or Diplomacy: Gathering international experience and delving deeper into your specialisation – PPE students may study at the University of Buckingham (United Kingdom) for a year, where they can either graduate with an MA in Security, Intelligence and Diplomacy, an MSc in Money, Banking and Central Banking, or an MA in United Nations and Diplomatic Studies.
Programme duration