Master in
Master in Global Entrepreneurship, Economics and Management
Universitatea De Vest Din Timisoara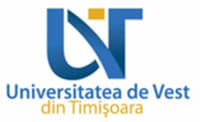 Introduction
GEEM is the first research master's programme organized by FEBA as a result of extensive international cooperation agreements between WUT and the University of Bordeaux (France) and the University of Sassari (Italy). Aimed to respond to the increasing worldwide societal demand for advanced research skills, the program provides master students with the abilities required to carry out innovative research activities in the field of Economics and Business Administration either in the private or public sectors.
Contact details:
Str. J.H.Pestalozzi, no. 16, 300115, Timişoara, Romania;
Tel: +40.256.592.505; e-mail: [email protected];
Programme coordinator: Prof. PhD, Dima Bogdan, [email protected]
Ideal Students
GEEM is addressed to undergraduates and postgraduates, regardless of specialization, intending to acquire specialized knowledge in order to tackle advanced independent research activities. The students should be interested to aim for: Deeper understanding of concepts, theories, methods and instruments in global entrepreneurship, economics and management; Knowledge and mind-set to thrive in an entrepreneurial field; Theoretical and applied training in business research; Application of knowledge by concentrating on research endeavours and by providing a practical focus on research outputs; Develop skills in analysing empirical data in a professional setting based on training students by using modern IT&C technologies; Active learning methods, research seminars dedicated to cutting edge research in the field and internships.
Curriculum
1st year
Academic writing;
Ethics in academic research;
Qualitative models in business;
Cognitive theory of entrepreneurship;
Accounting, law and economics;
Econometrics; Economics of innovation;
Advanced macroeconomics
Optional:
Empirical Industrial Organizations;
Corporate reporting and Analysis;
Big Data Analysis;
Public Choice, Government and Society.
2nd year:
Panel data econometrics;
Advanced microeconomics;
Institutions and markets;
Development and growth;
Research practice;
Spatial econometrics;
Urban economics;
Social Network Analysis and network economics;
Advanced finance;
Research;
Master thesis elaboration.
Career Opportunities
The partnership agreements with the University of Bordeaux (France) and the University of Sassari (Italy) will allow students' mobility and the acquisition of the knowledge and skills required to complete a master's degree at European level; Acquiring advanced research skills in the field of Economics and Business Administration and training in the effective development of a research activity; Training in using the IT&C, econometric tools and data analysis software; High degree of employability in both high-level private and public sectors.
Career opportunities: Later transition into a PhD research program and/or pursuing an academic career; Research assistant / economist researcher; Researcher in the field of economic policies, planning and business administration; Entrepreneur in the global environment;
Management and organization analyst/researcher; Line management & top management; Other functions regarding the research in business organizations.