MSc in
Master of Science in Management
UPF Barcelona School of Management

Key Information
---
Campus location
Barcelona, Spain
Application deadline
22 Jun 2023*
Earliest start date
18 Sep 2023
* 12th admission round
Introduction
Achieve the ultimate boost for your career with our Master of Science in Management. Acquire the bases of business management needed for the optimal management of companies, with the possibility of specializing in:
Business Analytics
Entrepreneurship
Marketing
Operations and Supply Chain Management
The Master of Science in Management aims to provide you with a solid knowledge base in business management. The program focuses on the pillars of business management, strategic management, innovation, and consulting, building a solid foundation for understanding business organizations as a whole.
Acquire a transversal vision of business management, creating your own itinerary through the choice of more than 30 elective courses.
You can also access one of the available specializations to acquire more specific knowledge and enhance your professional profile in the field of Business Analytics, Entrepreneurship, Marketing, and Operations and Supply Chain Management.
Our master's degree is a program accredited by AMBA, an international accreditation that recognizes the contents and excellence of the program. This is in addition to the EQUIS accreditation granted to UPF-BSM.
The Master of Science in Management is endorsed by Pompeu Fabra University: learn with the prestigious faculty of the Department of Economics and Business at UPF and the faculty of UPF-BSM. Let yourself be guided by top professionals and experts, who will share their professional experience with you.
Program jointly offered with: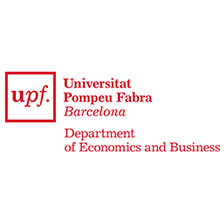 Why choose this program
01 Manage companies successfully
Master and implement the latest analytical tools and business management techniques. Gain the skills needed to succeed in a complex and global business environment.
02 Customize the program according to your needs
Create your own itinerary with more than 30 elective courses. You can also take one of the available specializations by choosing a series of specific electives.
03 Expert faculty
Learn from the faculty of the Department of Economics and Business of UPF, UPF-BSM, and from professional experts in the areas of Business Administration, Commerce, Operations, Data Management, Entrepreneurship, and Marketing among others.
04 Boost your professional future
Undertake curricular internships in companies that provide you with relevant work experience in the field of business administration and management, as well as in the available specializations.
05 International recognition
Study at a school accredited by EQUIS, an international distinction that guarantees the quality of our institution and makes us the 1st school of management linked to a public university with this accreditation in our country.
06 Have a unique international experience with QTEM
Expand your master's degree with the QTEM Program: a unique opportunity to study abroad. Access an international network of outstanding students and more than 20 recognized academic partners in the fields of Management, Economics, and Finance.
Specializations
The MSc in Management offers you the possibility to take one of the specializations available by choosing a number of specific elective courses.
Business Analytics: Analyse data to provide solutions to business complexity.
Entrepreneurship: Create and develop innovative business ideas with an international vision.
Marketing: Analyse the data needed to develop and implement marketing plans from a global business perspective.
Operations and Supply Chain Management: Acquire a global understanding of supply chain and business management.
Accreditations
UPF Barcelona School of Management is the management school of Pompeu Fabra University, the 1st Ibero-American university and the 16th-placed university in the world, among those under 50 years of age, according to the Times Higher Education ranking.
UPF Barcelona School of Management has EQUIS accreditation, the most prestigious institutional recognition for business schools globally, and places itself among the top business schools in the world.
The MSc in Management has AMBA accreditation from the Association of MBAs, which recognizes UPF-BSM for its academic quality and reputation.
The MSc in Management is an official master's degree and has the academic recognition of the Ministry of Education of the Government of Spain. The Quality Agency of the University System of Catalonia (AQU) has also institutionally accredited UPF-BSM. This accreditation certifies all the official master's degrees that we teach and recognizes the quality of our educational model in accordance with the criteria of the European Higher Education Area (EHEA).
The program is part of the QTEM network, with more than 20 international universities specializing in economics, finance, and management. UPF Barcelona School of Management is the first and only Spanish institution that is part of the QTEM network.
Ideal Students
The Master of Science in Management is aimed at recent graduates and junior professionals from analytical fields who want to acquire a practical and professional perspective on the management of companies. The program gives you a global, innovative, and strategic vision of business management.
Student profile
Be part of a multicultural environment, with colleagues from all over the world, who will enrich you personally and professionally, in an international climate of work. In this way, the master's degree becomes the first step to working, communicating, and negotiating globally in the management sector.
Curriculum
The MSc in Management is organized over three terms.
During the first term of the master, all students take a set of five core courses. In the second and third terms of the master, students make a personal selection of elective courses for their specialization and can complement them with elective courses from other specializations.
Students have the option to do curricular internships in companies (the internship will earn study credits equivalent to two elective courses). Career development sessions will be offered to aid students in finding the placement and prepare them for their professional future.
From October to June, students will work on their MSc Project supervised by a specialized faculty member.
Upon completing the Master, those who wish to pursue a Ph.D. can apply and be evaluated for the program offered by UPF's Department of Economics and Business.
Classes of the MSc in Management take place at UPF Ciutadella Campus.
Core Courses
Analytical Tools
Applied Statistics
Managerial Accounting
Corporate Finance
Management Theory
Marketing
Organizational Behaviour
Elective Courses
Business Analytics
Quantitative Methods in Management
Benchmarking and Management Control
Marketing Research
Operations Management
Practical Data Science
Marketing Analytics
Advanced Statistical Methods
Marketing
Consumer Behaviour
Marketing Research
Marketing Strategy
Integrated Communications
Digital Marketing
Marketing Analytics
Entrepreneurship
Business Plan
Business Strategy and Entrepreneurship
Financing for Start-ups
How to start a start-up
Technology Strategy
Operations Management
Operations and Supply Chain Management
Operations Management
Quantitative Methods
Computer Science for Business Leaders
Practical Data Science
Technology Strategy
General Management
Negotiations
Decision Making: Experimental Methods for Management
Ethics and Sustainability Leadership
Blockchain and Cryptocurrencies
MSc Final Project
MSc Project Advice I-II
Internship (optional)
Internship
Elective courses will be carried out in case of reaching a minimum number of enrolled students. The final offer for each academic year may be adapted depending on the academic planning.
Complementary activities
The Master of Science in Management also includes the possibility of participating in practical activities and activities for personal and professional growth such as:
Brush-up Courses: preparatory crash courses on business and economy-related subjects which take place two weeks prior to the beginning of the program.
Spanish Course: free of charge during the first term. 3 hours/week course at UPF's language school.
Career Development Program: career sessions and workshops where students obtain specific training on how to improve their professional profile, approach potential employers and develop professional soft skills.
QTEM Program: After successfully completing the Master of Science in Management students have the opportunity to participate in the QTEM Program, a unique study abroad experience at more than 20 top international universities which are leaders in the field of Economics.
International mobility: The UPF Barcelona School of Management offers you the possibility of expanding your training and international vision through the International Mobility Program. Extend your studies extracurricular, during the academic year following the completion of your Master's, at a top-level institution. Limited places.
UPF-BSM Inside: is a group of interdisciplinary subjects (applied data, communication, creativity, innovation and project management, sustainability, and leadership among others) that, if you take this program, you can access at no additional cost. They are 100% online and you can take them throughout the academic year at your own pace, as they have been designed as self-study subjects.
Career Opportunities
Access management positions in companies, multinationals, and startups with a global vision. Through the choice of the different elective courses that make up the master's degree, you can enhance your professional profile to access positions related to business consulting and business management, as well as positions related to business analytics, entrepreneurship, marketing, and operations and supply chain management among others.
The Master of Science in Management offers you curricular internships or extracurricular internships (optional). Our Professional Careers Service provides you with resources and assistance to support you in your search for internships and jobs.
Business Analysis
Business Development
Market Research
Supply Chain Management
Strategic Consulting
Strategic Management
Strategic Planning
Scholarships and Funding
The UPF Barcelona School of Management offers you different means of financing so that you can take any of our programs without worry. We offer you the opportunity to finance part of your program, either by rewarding your talent through scholarships, through grants from entities dedicated to promoting education, or through collaboration agreements with financial entities.
Master of Science Scholarships
Specifically awarded to the master of Science students who can demonstrate a good academic, professional, and/or personal trajectory.
External financial aid
A large number of external entities and institutions offer financial aid options to students who want to enroll in one of our master's programs and postgraduate courses.
Alumni discounts
If you are a member of our alumni associations or of one of our partner universities, we offer you a series of applicable discounts on the amount of tuition for your program.
UPF Employee Discounts
If you are a member or family member or an employee of the UPF group or belonged to the collaborating institutions of the UPF Barcelona School of Management, you can enjoy a series of applicable discounts on the tuition fees for your program.
UPF Partner Universities Discount
Check if the university where you took your undergraduate studies is a UPF partner university and obtain a 10% discount on your master's tuition fees.