Master in
University Master's Degree in Biology and Reproduction Technology (Biannual Master, offered for the 2021-2022 academic year)
University of Oviedo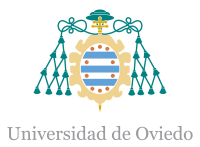 Introduction
Access requirements
Any person who has an official Spanish university degree, or a degree issued by a higher education institution of the EHEA that empowers the country issuing the degree to access official master's degrees. Students with a foreign qualification (external to the EESS) can also take this Master's degree, which is homologated or not approved, provided that the level of training is equivalent to the degree titles and that it authorizes the issuing country to access official master's degrees.
The Master is specifically aimed at those students who complete their undergraduate or graduate studies in Biology, Medicine, Biotechnology, Veterinary Medicine, Nursing, Physiotherapy, Dentistry, Biochemistry and Molecular Biology and who are interested in assisted reproduction, both human and animal, or in research in the field of health sciences.
Professional outings
The graduate student will have acquired a high degree of specialization in reproductive biology and technology. In addition, the high degree of professionalization will allow you to apply for jobs that require such specialization. This Master provides advanced theoretical-practical knowledge, it will try to address aspects that allow the comprehensive training of graduates in Medicine, Veterinary Medicine, Biology, Biotechnology, Pharmacy or Nursing, providing their training with professional skills and abilities that allow them to attend with guarantees of success. an increasingly demanding labor market in terms of qualifications and professional specialization. The strong demand for assisted reproduction services has caused their saturation in public hospitals, while private ones seem to be unable to absorb the demand in the short term. Also at the animal level, where both at the livestock level and in the conservation and recovery of domestic and wild species at risk of extinction, society demands, with increasing intensity, a better use of resources, the maintenance of the quality of the environment and improve the sustainability of the food supply.
Curriculum
The Master, with a total load of 60 ECTS distributed in two semesters and with a compulsory nature of 80%, has the following subjects.