Master in
Master's Degree in Territorial Resources and Planning Strategies
University of Oviedo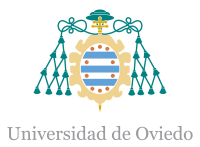 Introduction
Access requirements
Any person who is in possession of an official Spanish university degree, or a degree issued by a higher education institution of the EHEA that authorizes the issuer of the degree to access official master's degrees.
Also, graduates may access according to educational systems outside the European Higher Education Area without the need for homologation of their degrees, after verification by the University that they accredit a level of education equivalent to the corresponding official Spanish university degrees and that empower in the country issuing the diploma for access to postgraduate education. The access by this way will not imply, in any case, the homologation of the previous title that is in possession of the interested party, nor its recognition for other purposes than that of studying the master's degree.
Professional outings
The Master provides preparation for research and analysis of the territory and its components, training the student in the use of specific methodologies, as well as training for professional practice in the different areas of the application of territorial studies, the planning of territory and urban planning.
Curriculum
Degree of 60 ECTS credits taught by the University of Oviedo and the University of Cantabria. It consists of 30 compulsory ECTS credits, divided into modules 1,2, and 3; 18 elective and 12 ECTS credits of the Master's Final Project are also compulsory.