Master in
Master's Degree in Musical Heritage
University of Oviedo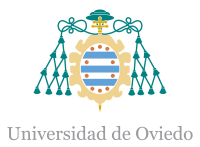 Introduction
Access requirements
Anyone who has an official Spanish university degree, or a degree issued by an EHEA higher education institution that empowers in the country that issued the degree to access official Master's degrees. Likewise, students with an approved foreign qualification (external to the EESS) may also take this master's degree, or without homologation provided that the level of training is equivalent to the undergraduate degrees and that it empowers in the issuing country to access official Master's degrees.
The most suitable profile for this Master's degree, of a research nature, is that of a Bachelor or Graduate in Music History and Sciences or a Higher Conservatory Graduate. However, it is possible to access it from other degrees, degrees or degrees.
Professional outings
Musical heritage is one of the aspects that receives the most support in cultural promotion promoted by public administrations. With the political decentralization that occurred in Spain in the last two decades, numerous projects related to the recovery, editing and interpretation of musical heritage have proliferated, materialized in record collections, editorial series or documentation centers.
In addition, to this circumstance is added the relative abandonment of archives until a few decades ago, and that make Spain a country rich in musical sources that are waiting to see the light of day. The scientific aspect of these projects requires knowledge and skills that make the graduates in this Master the most appropriate to put them into practice.
Within this profile it is appropriate to include other occupations, perhaps minority but stable. This is the case of documentation and cataloging in archives, music libraries and documentation centers.
The interest of the proposed Master is based on its usefulness to increase the professional capacities of graduates in the recommended studies with the aim of complementing their training in the field of research, interpretation, management and teaching of Musical Heritage, providing them with the skills necessary for proper decision-making in this area.
Likewise, this Master's degree allows to continue with Doctorate studies in the field of Humanities for those students interested in carrying out doctoral theses.