Master in
Master's Degree in Materials Science and Technology
University of Oviedo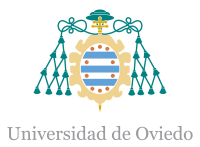 Introduction
Access requirements
Anyone who has an official Spanish university degree, or a degree issued by an EHEA higher education institution that empowers in the country that issued the degree to access official Master's degrees. Likewise, students with an approved foreign qualification (external to the EESS) may also take this master's degree, or without homologation provided that the level of training is equivalent to the undergraduate degrees and that it empowers in the issuing country to access official Master's degrees.
The access profile is a graduate in the different Degrees of Science, Engineering and Architecture. Likewise, it is recommended that students have sufficient knowledge of the English language, the language in which some of the optional subjects will be taught and in which visiting professors will express themselves.
Professional outings
The Master's Degree in Materials Science and Technology at the University of Oviedo aims to provide graduates, graduates and engineers with a specialization in the field of materials, with the main purpose of training professionals capable of leading scientific and technological innovations in the future that will arise in this area in continuous development and that constitute, in many occasions, the base on which the advances in the different industrial sectors are sustained (construction, transport, metallurgy, aeronautics, energy, electronics, computing, etc.).
This Master is dedicated to the study of the continuous evolution of the so-called traditional and new materials, paying special attention to obtaining, processing, characterizing, properties, behavior, performance and applications.
Therefore, students who complete this Master may, on the one hand, start their doctoral studies in existing research groups, both at the university and in collaborating institutions, or in any other entity; and on the other hand, they may join the workforce of companies in the sector.
Curriculum
This master's degree, which has a total of 60 ECTS credits, has been structured in five blocks:
Block I: Properties and characterization of materials (24 ECTS).
Block II: Families of materials and their use (21 ECTS).
Block III: Materials Technologies (21 ECTS).
Block IV: External internships (6 ECTS).
Block V: Master's Final Project (12 ECTS).