Master in
Master's Degree in Marine Conservation
University of Oviedo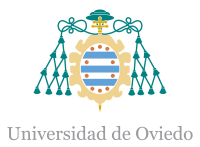 Introduction
Any person who has an official Spanish university degree, or a degree issued by a higher education institution of the EHEA that empowers the country issuing the degree to access official master's degrees. Students with a foreign qualification (external to the EESS) can also take this Master's degree, which is homologated or not approved, provided that the level of training is equivalent to the degree titles and that it authorizes the issuing country to access official master's degrees.
The Master is aimed at students with a Bachelor's or Degree in Biology, Biotechnology, Environmental Sciences, Marine Sciences, Chemistry or Geology. For students who do not have this profile, postgraduate studies in the aforementioned disciplines will be valued.
Professional outings
The profile of the graduates will be that of a specialist in Marine Conservation Research and Management.
Professional opportunities in conservation and use of marine resources, including planning of the territory and management of natural spaces, aquaculture, ecological tourism and others.