Master in
Master's Degree in Integrated Teaching of English Language and Contents: Early Childhood and Primary Education
University of Oviedo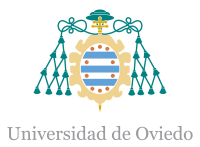 Introduction
Access requirements
Any person in possession of a Spanish university degree or a degree issued by an EHEA higher education institution that empowers the official teaching of infant and primary education. Likewise, students with an approved foreign qualification (external to the EESS) may also take this master's degree, or without homologation provided that the level of training is equivalent to the undergraduate degrees and that it empowers in the issuing country to access official Master's degrees.
The appropriate entry profile of applicants to the Master, at least, will be the following:
Teachers graduated from any specialty (Bachelor's degree, Diploma or previous degrees)
Minimum knowledge of the English language equivalent to a B1 level of the Common European Framework
Interest in education and learning foreign languages
Professional outings
This qualification qualifies the students who study it for bilingual education in the increasingly numerous centers that incorporate the integrated teaching of a foreign language and content in our educational system. The main objective of this Master's degree is to train teachers to be able to teach the curricular contents of early childhood and primary education in English in the bilingual sections of the aforementioned centers, following the CLIL approach and reaching or exceeding level B2 of the Framework. Common European Reference for Languages; all from a fundamentally professional perspective.
Curriculum
The Master is blended in nature, with class attendance three days a week (except for specific exceptions due to holidays and visiting teachers).
All teaching (except electives) will be in English
It is organized around 6 modules:
Module 1: Communication skills for teaching in bilingual centers (level B2): oral and written skills (20 ECTS)
Module 2: Methodology for teaching-learning of English language and contents (9 ECTS)
Module 3: Curricular content and bilingual teaching (25 ECTS)
Module 4: Optional: students choose 2 subjects (6 ECTS)
Module 5: External Internships in centers with "bilingual sections" or in the United Kingdom through ERASMUS PRACTICES scholarships (12 ECTS)
Module 6: Final Master's Project (18 ECTS)