Master in
Master's Degree in Geotechnology and Project Development SIG
University of Oviedo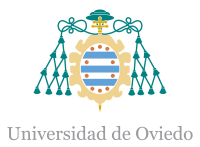 Introduction
This is a one-year Master's degree aimed at Engineers, Technical Engineers and Science graduates with knowledge of Physics and Mathematics and computer tools who can also prove an English level equivalent to B1 according to the Framework Common European Reference for Languages.
The Master in Geotechnology and the development of GIS projects is aimed at providing students with the skills to acquire, manage, analyze, interpret and disseminate geospatial information. By responding to market demand, it aims to train professionals who are capable not only of understanding the methods and managing existing IT tools but also of developing their own programs in order to automate tasks and provide solutions to complex problems.
The entrance profile has been established taking into account the previous knowledge of the students and the eminently practical and professional orientation of the master. Given the wide range of professional activities in which both Geotechnology and GIS apply, we have opted for an income profile that allows access to the master's degree to a broad spectrum of graduates. In fact, many university graduates use their subjects in their professional lives: biologists, geologists, geographers and a broad spectrum of engineers; and many professional profiles in which they have application: urban management, civil works, environment, natural resources management, marketing, water and electricity supply services, transport, prevention and risk assessment, etc. As for previous knowledge, candidates must have basic knowledge of solid physics and mathematics, as well as skills in the use of computer tools. For all these reasons, the income profile is that of a graduate in engineering or a degree in Sciences or who holds an equivalent degree. However, given the expected heterogeneity of the income profiles, the master's degree offers a range of supplementary credits, ranging from 3 to 9 credits, for those students who have not taken courses in Cartography and GIS, Remote Sensing or Algorithm programming
Access requirements
In accordance with article 16 of RD 1393/2007, of October 29, which establishes the organization of official education and Royal Decree 861/2010, of July 2, which modifies Royal Decree 1393 / 2007, of October 29, to access the official master's degree programs, it will be necessary to hold an official university degree in Spain or another one issued by a higher education institution belonging to another member state of the European Higher Education Area that empowers the same for access to Master's degrees. Also, graduates may access according to educational systems outside the European Higher Education Area without the need for homologation of their degrees, after verification by the University that they accredit a level of education equivalent to the corresponding official Spanish university degrees and that empower in the country issuing the diploma for access to postgraduate education. The access by this way will not imply, in any case, the homologation of the previous title that is in possession of the interested party, nor its recognition for other purposes than that of studying the Master's degree. Students who have not completed their studies may also formalize the pre-registration. In this case, your admission is conditional upon obtaining the qualification before the end of the enrollment period and maintaining the average grade of the case that was considered at the time of admission. Those interested in formalizing the pre-registration in any of the university master's programs must verify that they meet the general and specific access requirements.
Professional outings
The Master in Geotechnology and Development of GIS Projects by the University of Oviedo, is aimed at providing students with the skills to acquire, manage, analyze, interpret and disseminate geospatial information. Attending to the market demand, aims to train professionals who are able not only to understand the methods and manage existing IT tools but also to develop their own programs in order to automate tasks and provide solutions to complex problems.
The Master's Degree in Geotechnology and the Development of GIS Projects provides students with competences in accordance with the current state of knowledge in the field of space information technologies, with special emphasis on market needs. In this sense, the new master's degree is focused on providing students with the skills to develop algorithms and implement computer applications that automate processes. This is a very important aspect that in a generalized way is considered essential by professors, students and companies involved in its gestation, as well as by public administrations, technological centers and professional associations consulted.
There are currently undergraduate studies at the University of Oviedo related to Earth sciences such as Geology, Geography, Biology, Civil Engineering, Mining or Forestry, which, given the limited time of the studies, can not offer subjects in the field of Geotechnology, although it would be very beneficial for their training since they often work with geographic information. The Master in Geotechnology aims to cover this lack of training in a matter of such importance.
The offer of the Master in Geotechnology and Development of GIS Projects is justified by the demand of professionals who can deal with projects related to geospatial information and who have the ability to automate processes through the development of computer applications. It is no longer enough to know the theoretical foundations and be able to handle the geospatial data processing software, but the job offers are aimed at people with programming knowledge who are able to create new applications from the libraries that are available freely and free on the network. The fields in which professionals are needed with the training provided in this master's degree are multiple: Agriculture, Public Administration, Electrical Industry, Telecommunications Sector, Marketing, Archeology, Architecture, Geography, Forestry, Urban Planning, supply networks, transport of merchandise, Geology, Environmental Sciences, Civil Engineering, Mining and Forestry, among many others. From the scientific point of view there are many challenges that still arise in the field of Geotechnology, such as the autonomous driving of vehicles, the processing of massive data collected by devices such as satellites, the multiple applications of data collected from satellites, drones or terrestrial or aerial laser scanners, the visualization of spatial information or statistical methods for spatial data. For this reason, the training provided by this master can also serve as a basis to start a career in the field of research, allowing students to access a doctoral thesis in a field that is in full development and in which there are many the advances to come.