Master in
Master's Degree in Environmental and Health Biotechnology
University of Oviedo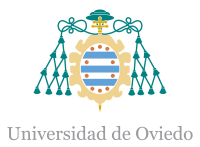 Introduction
Any person who has an official Spanish university degree, or a degree issued by a higher education institution of the EHEA that empowers the country issuing the degree to access official master's degrees. Students with a foreign qualification (external to the EESS) can also take this Master's degree, which is homologated or not approved, provided that the level of training is equivalent to the degree titles and that it authorizes the issuing country to access official master's degrees.
The most suitable profile for this master's degree is that of Graduate or Bachelor of Biotechnology or in related disciplines such as Biology, Chemistry, Chemical Engineering, Pharmacy or Medicine among others; as well as professionals from different fields interested in expanding their knowledge of biotechnological applications related to the environment and health.
Likewise, students must prove knowledge of the English and Spanish languages equivalent to a B1 level of the Common European Framework of Reference for Languages. Those graduates who wish to take advantage of any of the double degree agreements or Erasmus or similar agreements that can be accessed from this Master, must demonstrate the corresponding linguistic competencies that in each case are required in the respective agreements.
In addition, students who meet the following requirements may take this Master:
Training in experimental sciences, in health sciences, or in scientific-technical studies in which subjects related to chemistry and life sciences have an important weight.
The admission of students with another profile conditioned to the completion of courses that complement their training may also be considered.
Concern and favorable attitude towards disciplines apparently far removed from those of their Degrees of origin, interest in interdisciplinarity and ability to adapt to heterogeneous professional and human environments.
Double degree: The student can obtain a double degree by studying two semesters at one of the following institutions: Université de Pau et des Pays de l'Adour (France), TEC de Monterrey (Mexico), Universitá di Bologna (Italy), University of Cranfield (UK).
Professional outings
At the end of this Master, graduates will be suitable, among others, to practice the following professions and types of tasks:
Environmental consulting, risk assessment.
Development and tuning of biotechnological solutions.
Project management and multidisciplinary teams.
Creation and management of biotechnology companies.
Teaching and research in biotechnology, environment and biomedicine.
Curriculum
The University of Oviedo has specific international agreements with the University of Pau et des Pays de l'Adour (France), the Technological Institute of Monterrey (Mexico) and the University of Bologna (Italy) that allow the students of this program to obtaining a double master's degree according to the conditions established in the corresponding agreements. The international double degree itineraries offer various possibilities for advanced specialization in different aspects of Environmental and Health Biotechnology:
University of Pau et des Pays de l'Adour: Environmental Microbiology
TEC de Monterrey: Biotechnological Engineering
University of Bologna: Medical Biotechnology