Master in
Master's Degree in Emergency and Disaster Analysis and Management
University of Oviedo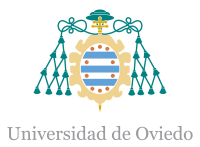 Introduction
Access requirements
Anyone who has an official Spanish university degree, or a degree issued by an EHEA higher education institution that empowers in the country that issued the degree to access official Master's degrees. Likewise, students with an approved foreign qualification (external to the EESS) may also take this master's degree, or without homologation provided that the level of training is equivalent to the undergraduate degrees and that it empowers in the issuing country to access official Master's degrees.
The entry profile corresponds to that of a university graduate (Bachelor or Diploma) in Sciences, Health Sciences, Social and Legal Sciences, Engineering or Architecture interested in training in the field of analysis and emergency and disaster management . Likewise, students will have to demonstrate a sufficient knowledge of English.
Professional outings
This Master prepares professionals who will have acquired sufficient and adequate knowledge and have also developed skills to work and integrate in companies and organizations that carry out their activity in public and private organizations in the emergency and disaster area, both within and outside of Spain.
Curriculum
The Master has a blended format with 60 ECTS taught in Spanish and English throughout an academic year. Students have to complete 6 sequential modules consisting of a total of 11 subjects.