Master in
Master's Degree in Economics: Instruments of Economic Analysis
University of Oviedo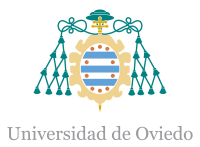 Introduction
Access requirements
Anyone who has an official Spanish university degree, or a degree issued by an EHEA higher education institution that empowers in the country that issued the degree to access official Master's degrees. Likewise, students with an approved foreign qualification (external to the EESS) may also take this master's degree, or without homologation provided that the level of training is equivalent to the undergraduate degrees and that it empowers in the issuing country to access official Master's degrees.
The Master is aimed at completing the training not only of graduates in Economics and Business Administration and Management, but also graduates, architects and engineers in related areas of knowledge. Students who come from other degrees must accredit a minimum training in the area of Economics
Professional outings
The objective of this master's degree is the training of qualified professionals to fill jobs that require a solid training in economic analysis. The orientation of the Master is mixed: professional and researcher. In its professional aspect, the objective is to train the student in the functions of an economist in the field of private business and public administration. In its research aspect, the master prepares the student to access a doctoral program with a Mention towards excellence.
Curriculum
Three universities participate in this course: the University of Oviedo, the University of Cantabria and the University of the Basque Country. The Master has a duration of one academic year, that is, 60 ECTS credits. The teaching period of the master is divided into three terms. The Master's program includes a first block of compulsory subjects, totaling 12 ECTS credits, which will be taught during the first seven weeks in all universities, whose function is to level the basic knowledge of students in Macroeconomics, Microeconomics and Econometrics . During the rest of the first term and in the following two, a series of optional subjects are offered, which are taught in a single center, of which the student will choose a total of 36 credits. The remaining 12 credits correspond to the Master's Final Project.
In order to take advantage of the existing complementarities between the subjects offered at the three universities, the student must take a minimum of 3 credits at each of the other two participating universities outside of their reference University. Likewise, to facilitate the choice of optional subjects based on their professional preferences, six academic paths or orientations have been established: Industrial Economics, Game Theory and Environmental Economics, Policy Evaluation, Labor Economics, Economic Policies of the European Union and Technical Quantitative in Economics.