Master in
Master's Degree in Biomedicine and Molecular Oncology
University of Oviedo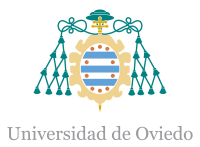 Introduction
Access requirements
Anyone who has an official Spanish university degree, or a degree issued by an EHEA higher education institution that empowers in the country that issued the degree to access official Master's degrees. Likewise, students with an approved foreign qualification (external to the EESS) may also take this master's degree, or without homologation provided that the level of training is equivalent to the undergraduate degrees and that it empowers in the issuing country to access official Master's degrees.
The recommended entry profile corresponds to that of students with a bachelor's or degree in Science or Health Sciences (Medicine, Pharmacy, Biology, Chemistry, Biochemistry, Biotechnology, Veterinary Medicine, etc.) interested in acquiring the necessary postgraduate training to develop a research career related to Biomedicine or Biology or the cancer clinic, or to complement their training as clinicians or as teachers with the knowledge that the Master would provide them. It is recommended that aspiring students to complete this degree meet a series of personal characteristics such as rigor, adaptation to teamwork, intellectual restlessness, scientific curiosity, perseverance and interest in understanding the implications of cancer in particular and human diseases in general as biological and clinical problems.
Likewise, students must accredit a minimum level of English equivalent to B1 according to the European Framework of Reference for Languages.
Professional outings
Students who graduate from the University Master's Degree in Biomedicine and Molecular Oncology will have the ideal training to continue their postgraduate training through the completion of a doctorate related to Health Sciences. The Master aims to train independent and rigorous scientists, interested in addressing biomedical research issues through multidisciplinary and up-to-date approaches, interested in both the clinical and basic aspects of biomedicine, so they will be able to develop professional tasks in the field of biomedical research .