MSc in
MSc in Biotechnology
University of Nottingham, Faculty of Science

Scholarships
Explore scholarship opportunities to help fund your studies
Introduction
Modern biotechnology applies novel tools and approaches to address today's global challenges. You'll learn about fundamental cellular mechanisms and genetic manipulations of biological systems and production processes. Develop skills in research through training in advanced molecular methods and high-throughput technologies.
Visits to industry allow you to see the processes involved in the innovation and commercialisation of novel products. This covers food, biopharmaceuticals and biofuels.
You can specialise in plant, microbial or animal biotechnology:
Plant pathway - provides the theory and practical skills in plant genetic manipulation, plant breeding and genome research.
Microbial pathway - study gene expression and metabolic engineering of micro-organisms. You'll gain the theory and practical skills of the use of these as production platforms for therapeutics and biofuels.
Animal pathway – gain specialist knowledge and practical skills in reproductive biotechnologies to stem cell therapies.
Research project
You will complete a three-month project in an area of interest to you. This can take place on an industry placement or at the University.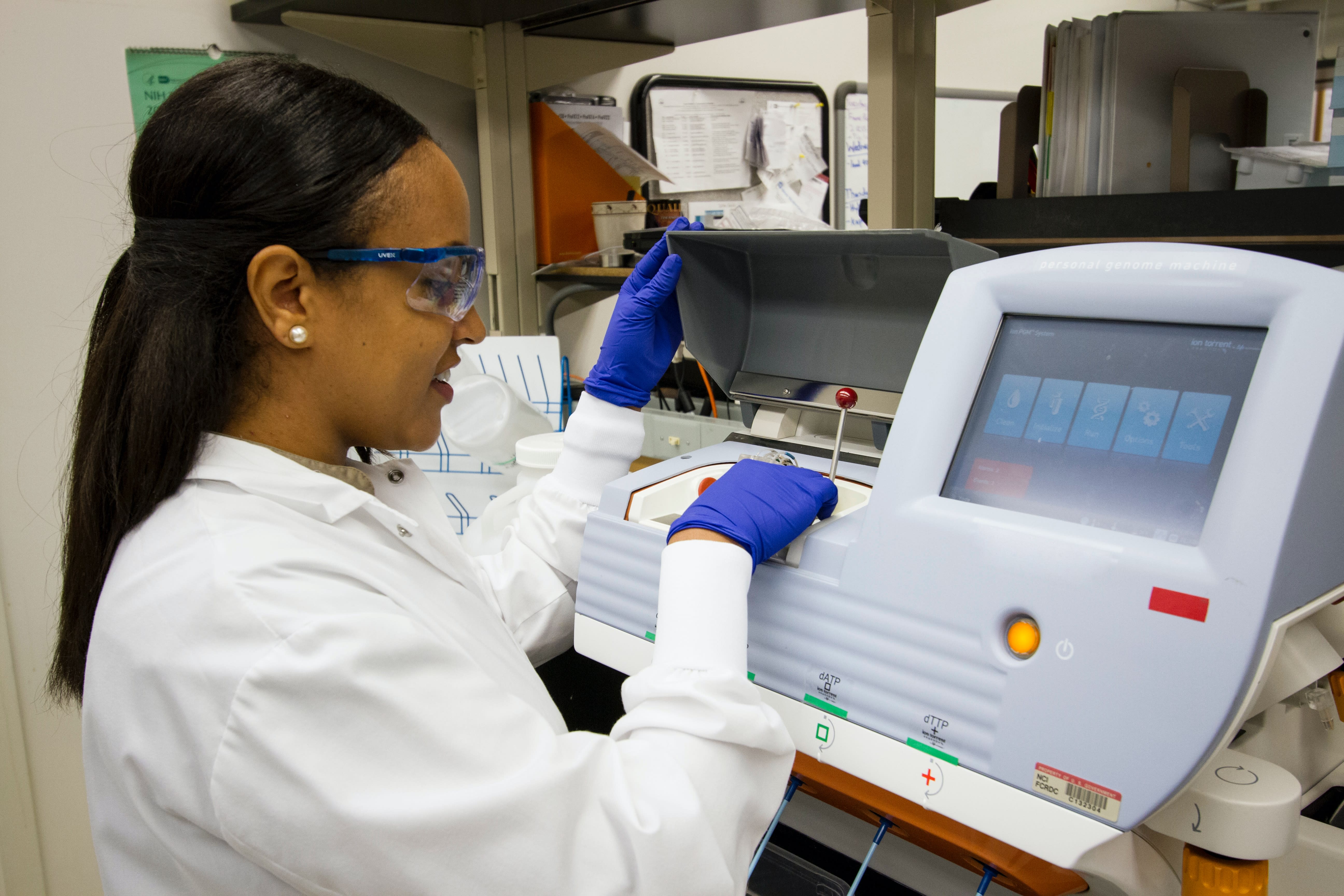 National Cancer Institute / Unsplash
Why choose this course?
Research-led teaching
You'll learn about the latest research trends addressing global challenges.
Careers workshops
Help you to develop the professional skills to succeed in the global job market.
Industrial experience
See innovation and commercialisation in practice through industry exposure.
Teaching laboratories
Our technology-enhanced labs provide a world-class practical learning experience.
Course content
The course consists of 120 credits of taught modules, with a research project and a dissertation contributing 60 credits. This course offers unique components related to specialist skills in three pathways;
Plant Biotechnology pathway
This will provide theory and practical skills in plant genetic manipulation, plant breeding and genome research. These are used in all aspects of agriculture and horticulture worldwide. Specialist modules will provide an understanding of plant cell biology and the role of phytohormones in plant physiology.
Microbial Biotechnology pathway
This pathway highlights key controls in heterologous gene expression. Advanced metabolic engineering and synthetic biology approach to developing microbial production hosts. You'll use case studies and practicals to understand production processes in Industrial Biotechnology. The theory is supported by practical based learning approaches and industry visits.
Animal Biotechnology pathway
You'll cover molecular techniques used to study gene function in eukaryotic cells and in whole organisms. Specialised aspects of:
Developmental epigenetics
Reproductive biotechnologies
Our areas of expertise include multidisciplinary projects, for example, transgenic technologies, in vitro embryo production systems, biomarker discovery, nutritional influences on physiological functions, the genetic and epigenetic basis of disease, genetic evaluation and healthy ageing.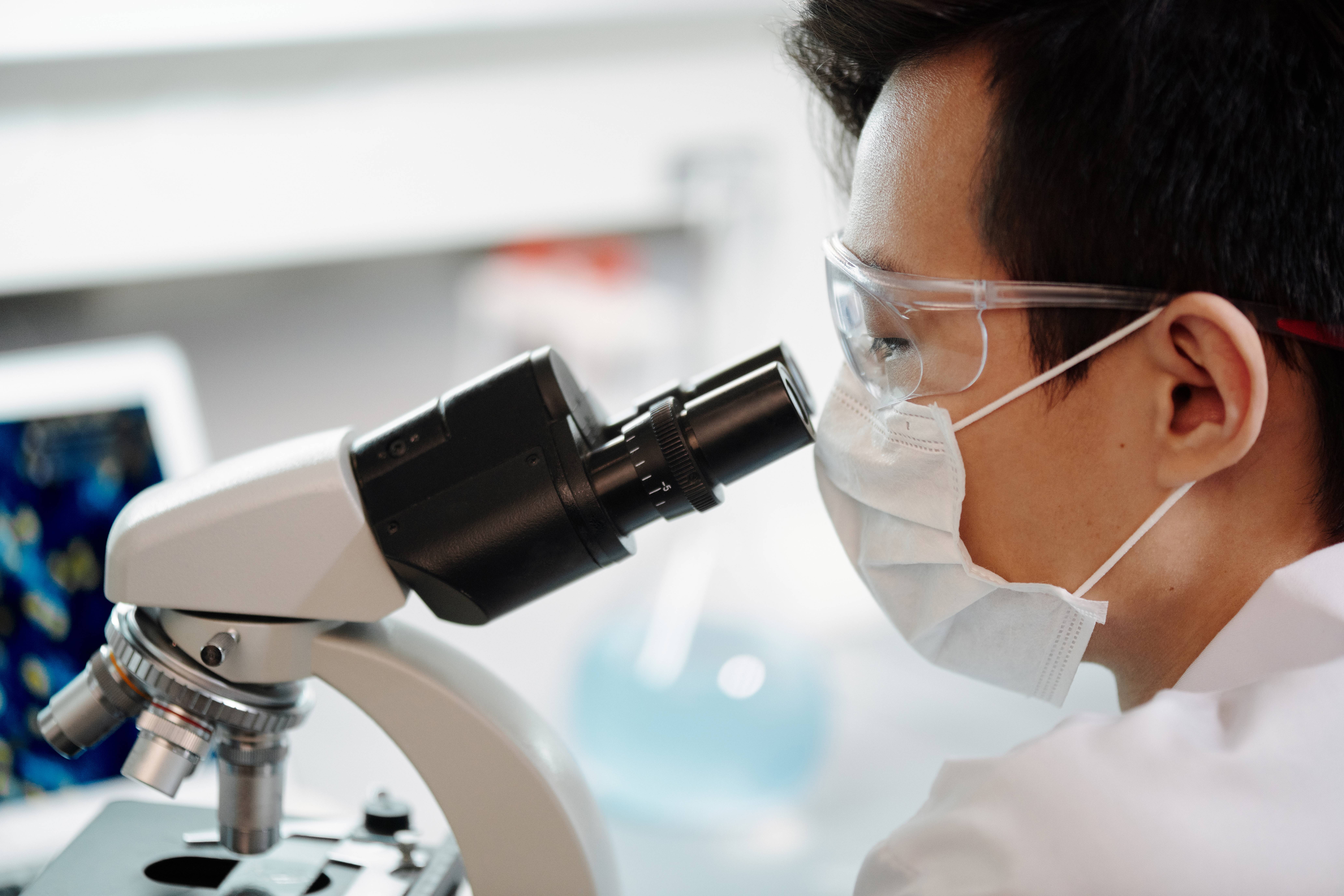 Modules
Core modules
Basic Laboratory Techniques
Advanced Molecular Methods in Biotechnology
Postgraduate Research Projects
Technology Entrepreneurship
Professional Skills for Biotechnologists
Plant pathway
Plant Biotechnology MSc Pre-Project
Sex, Flowers and Biotechnology
Plant Biotechnology Industrial Visits
Genetic Improvement of Crop Plants
Animal pathway
Animal Biotechnology Industrial Visits
Molecular Nutrition (Biotechnology Option)
Research Techniques in Animal Biotechnology
Microbial pathway
Microbial Biotechnology Industrial Visits
Bioprocessing and Bioengineering
Research Skills in Microbial Biotechnology
The above is a sample of the typical modules we offer but is not intended to be construed and/or relied upon as a definitive list of the modules that will be available in any given year. Modules (including methods of assessment) may change or be updated, or modules may be cancelled, over the duration of the course due to a number of reasons such as curriculum developments or staffing changes. Please refer to the module catalogue for information on available modules. This content was last updated on Wednesday 16 September 2020.
Learning and assessment
How you will learn
Although lectures and practical classes still play an important role as the course progresses, your learning experience is enhanced by placing greater reliance on self-directed study, written dissertations and research project work.
How you will be assessed
Modules are assessed using a variety of individual assessment types which are weighted to calculate your final mark for each module. Typically all taught modules have one piece of coursework in addition to a final exam.
You will need an average mark of 50% to pass the MSc overall. You will be given a copy of our marking criteria when you start the course and will receive regular feedback from your tutors.
Contact time and study hours
The number of formal contact hours varies depending on the optional modules you are studying. As a guide, in each module, you will typically spend around 24 to 30 hours per week in classes.
You will work on your research project between June and September, either based at the University or within an industry placement. You would be supervised for 3 hours per week, on average.
Teaching is provided by teaching fellows, assistant professors, associate professors and professors. Technical staff, PhD students and post-doctoral researchers provide additional support in small group and practical classes.
Typically you would study with around 30 to 40 other students, across the School of Biosciences. On modules with other schools, you might be taught with up to 90 other students.
Entry requirements
All candidates are considered on an individual basis and we accept a broad range of qualifications. The entrance requirements below apply to 2021 entry.
Home/ UK students
| | |
| --- | --- |
| Undergraduate degree | 2:2 (or international equivalent) in biotechnology, plant sciences, animal sciences, microbiology, genetics or veterinary medicine |
EU/ International students
| | |
| --- | --- |
| Undergraduate degree | 2:2 (or international equivalent) in biotechnology, plant sciences, animal sciences, microbiology, genetics or veterinary medicine |
| International and EU equivalents | We accept a wide range of qualifications from all over the world. |
| IELTS | 6.0 (no less than 5.5 in any element) |
| English language requirements | As well as IELTS, we also accept other English language qualifications. This includes TOEFL iBT, Pearson PTE, GCSE, IB and O level English. |
Alternative qualifications
We recognise that applicants have a variety of experiences and follow different pathways to postgraduate study.
We treat all applicants with alternative qualifications on an individual basis. We may also consider relevant work experience.
If you are unsure whether your qualifications or work experience are relevant, contact us.
Where you will learn
Sutton Bonington Campus
The Schools of Biosciences and Veterinary Medicine are based here. Specialist facilities include the world-leading teaching and research laboratories, clinical skills suite and food processing hall. There is also a University farm and dairy centre, and temperature-controlled glasshouses.
There is a great sense of community, and the student union plays a big part in campus life. You will have access to student services, a library, sports centre and places to eat. You can travel to University Park Campus in around 25 minutes on our free hopper bus, and Nottingham city centre via the tram network.
Bioenergy and Brewing Science Building
You will use specialised equipment including 15-litre bioreactors for microbial biotechnology practicals. Fluorescent microscopes, live imaging and equipment for visualising animal cells and flow cytometry.
Glasshouses and Growth Rooms
We have extensive glasshouses including the Hounsfield Facility. This has high-resolution 3D imaging equipment which is transforming our understanding of soil structure, root morphology and helping us develop novel crop varieties.
Our growth rooms provide a high specification controlled environment with precise, uniform and repeatable control of temperature, light, humidity and other environmental conditions.
Jubilee Campus
Jubilee Campus has eco-friendly and sustainable buildings, alongside green spaces, wildlife and a lake. It has won a national Green Flag award every year since 2013.
This campus is home to our business, education and computer science schools. Alongside a sports centre and student accommodation, we've developed new facilities such as the Advanced Manufacturing Building.
You can walk to University Park Campus in around 20 minutes or catch a free hopper bus. Nottingham city centre is 20 minutes away by public bus.
Careers
Careers advice
We offer individual careers support for all postgraduate students.
Expert staff can help you research career options and job vacancies, build your CV or résumé, develop your interview skills and meet employers.
More than 1,500 employers advertise graduate jobs and internships through our online vacancy service. We host regular careers fairs, including specialist fairs for different sectors.
Jobs prospects
Previous graduates have taken up roles with Lonza, AstraZeneca, Ipsen and Biogenuix Medsystems, India. Others have pursued research careers with Oxford and Cambridge University, and the BBSRC DTP PhD studentship.
Career progression
88.5% of postgraduates from the School of Biosciences secured graduate-level employment or further study within 15 months of graduation. The average annual salary for these graduates was £28,711.*
* HESA Graduate Outcomes in 2020. The Graduate Outcomes % is derived using The Guardian University Guide methodology. The average annual salary is based on graduates working full-time within the UK.
Placements
You will complete a three-month research project in your chosen pathway (plant, microbial or animal biotechnology) supervised throughout by an experienced member of academic staff. Projects can be chosen either to be conducted at the university or in industry. Our dedicated placement officers will work on a one-to-one basis to help you apply and prepare for your industrial placement.