MA in
Master of Arts in Ministry Leadership
University of Northwestern St. Paul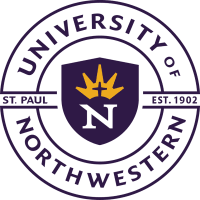 Scholarships
Explore scholarship opportunities to help fund your studies
Introduction
Overview
Be prepared for leadership in churches, nonprofits, and other faith-based organizations. Our fully online or blended master's in Ministry Leadership degree prepares you with the spiritual and leadership tools you need to lead organizations, communicate effectively, and impact your organization, local community, and the world for Christ. Select from seven distinct emphasis tracks to shape this degree to meet your unique professional and ministry goals.
7 Emphasis Tracks
The program provides seven 12-credit emphasis tracks.
36 credits
This is a focused 36 credit hour practical ministry degree.
MAML + MDiv Option
Apply toward a Master of Divinity degree. Graduate with both degrees in as few as 76 credits.
The Master of Arts in Ministry Leadership (MAML) is an accelerated online and blended program designed to equip the local church, non-profit, and parachurch leaders with tools for spiritual formation, biblical interpretation, and organizational leadership. In order to fit your unique needs and interests, the M. A. in Ministry Leadership also includes emphasis tracks in Pastoral Leadership, Organizational Leadership, Biblical Studies, Theological Studies, Human Services, Educational Studies, and Clinical Pastoral Education.
Whether you are a pastor, associate pastor, nonprofit or lay leader, this flexible program can help you take the next step in your leadership journey. The fully online or blended program can be completed in just 18-22 months. If you have completed previous graduate work, you may be able to apply up to nine credits of previous coursework toward this transfer-friendly degree. In addition, the student may continue on from this MA degree to pursue the Master of Divinity or other graduate degree offerings including the MBA.
During this program, you will experience dynamic discussions in a rich, non-denominational setting and be involved in ministry through internships with the option to apply to an outside Clinical Pastoral Education (CPE) program to be trained for chaplaincy work.
Why study Ministry Leadership at Northwestern?
Personal and spiritual formation for leadership provides a foundation for growing skills in strategic planning, communication, and cultural impact. Faculty are practitioner-scholars who have a personal vision to help you grow as a ministry leader.
This is a practical ministry degree program designed to prepare you to make an impact in your world.
What will you learn?
You will be challenged to grow in your own spiritual life and pursuit of your calling. You will also discuss contemporary theological issues while maintaining a commitment to the authority of God's Word. You will develop strategies for reproducing leaders in a diverse and increasingly global world.
Core degree classes
Spiritual Formation for Leadership
Leading and Organizing Ministry
Effective Communication and Leadership
Ministering Culturally and Globally
What Can You Do?
This degree prepares students for careers in Pastoral ministry, Church administration, Nonprofit leadership, Executive Leadership, Human Services, Youth and family ministry, Children's ministry, Church planting, Chaplaincy, Mission work, Christian education, Higher education, and Bi-vocational ministry.
Highlights
Choose online or on-site/blended learning format.
Select an emphasis in Pastoral Leadership, Organizational Leadership, Biblical Studies, Theological Studies, Human Services, Educational Studies, and Clinical Pastoral Education.
Experience dynamic discussions and exploration in a rich, nondenominational setting. • Equip yourself for practical ministry leadership through the MAML degree, with the opportunity to continue your education in the future; classes count toward the 76-credit Master of Divinity.
Take advantage of a transfer-friendly degree that allows you to bring in up to 9 credits of coursework.
Career opportunities
The MAML degree will prepare you for roles in a variety of settings, such as:
Church leadership
Pastoral ministry
Associate pastorship
Parachurch ministries
Nonprofit organizations
Chaplaincy
Mission work
Youth Ministry
Church planting
Advanced/doctorate study Note: Roles in some settings may require additional education or training