Master in
Master of Public Administration
University of Fort Hare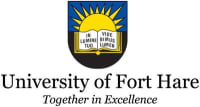 Scholarships
Explore scholarship opportunities to help fund your studies
Introduction

Target group
Scholars and practitioners in the discipline of Public Administration and Management, who are grounded in the theoretical/foundational modules in the discipline and are keen to carry out research around a problem.
Admission/Entry requirement
Learners must hold a four-year Bachelors degree or Honours in the subject of Public Administration.
A person shall not be regarded as a learner unless such a person has been admitted to the degree required (Public Administration)
Note that an assessment of work profile, research potential and other professional qualifications may be required. Also, note that applicants may be invited for an interview and/or required to write a paper.
Duration of the Programme
Programme is by research work
Not less than two years and not more than 4 years
Where necessary, learners may be advised to register specific MPA modules to deepen and sharpen their theoretical understanding
Program Structure
The candidate is expected to complete & pass the examination of his/her research project.