MSc in
MSc International Business Management
University of Europe for Applied Sciences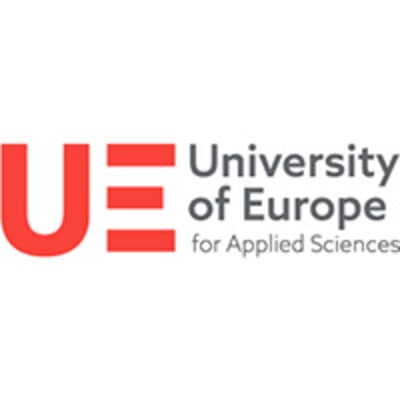 ---
Campus location
Berlin, Germany
Tuition fees
EUR 820 / per month *
Application deadline
Request info
Earliest start date
Mar 2024
* EU applicants: from 820 € monthly; Non-EU applicants: from 10,938 € yearly
Introduction
Managers have more demanding jobs than ever. The best companies look for talents with a good mix of professional, organizational, and personal qualifications. Our master's program in International Business Management meets these demands, taking you and your skills to the next level. In addition, this master's program can easily be combined with a second job, as our lectures take place between Wednesday afternoon and Saturday evening.
As a student at the University of Europe for Applied Sciences, we will educate you as a manager who, aside from professional know-how, possesses knowledge of scientific methods and strong social competencies. Case studies, planning games, and project and research internships complement your theoretical education, offering you integrated and future-oriented studies.
Our university focuses on your development. That's why we teach in small learning groups and in a friendly and personal atmosphere. You will be taught by renowned lecturers with both scientific and business backgrounds. You will study at a campus that is centrally located, equipped with the latest technology, and known for its international and English-speaking character.
At the University of Europe for Applied Sciences, you even get the possibility to actively shape your studies and your career path. Depending on your personal career goals, you will select your own specializations and choose from a range of interdisciplinary subjects. Innovative tools such as the "CEO Decision Making: Business Simulation" and the "Professional Competencies Centre" bring your managerial skills to the next level. The programs taught at the University of Europe for Applied Sciences also include practical projects with top business partners and optional field trips (for example to the Silicon Valley) which will prepare you perfectly for the job market of tomorrow.
This Master's degree is offered in 4 semesters, 3 semesters, or 2 semesters depending on your previous experience.
Course Requirements
Admission requirements for different lengths of master's degrees:
Fast Track 2 semesters: Bachelor 240 ECTS + 60 ECTS Master
Thesis Focus 3 semesters: Bachelor 210 ECTS + 90 ECTS Master
Industry Placed 4 semesters: Bachelor 180 ECTS + 120 ECTS Master
Application requirements (1,1.5 or 2 years):
Application form
High School Diploma / Certificate
Undergraduate degree (Bachelor's, MBA, or Master)
Language Proficiency* (or request to waive**)
CV
Copy of Passport
Letter of motivation
Non-EU applicants only: €3,000 deposit (This reservation fee will be deducted from the total amount of study fees)
*Language Proficiency:
Please note: German-taught programs need both English/German language certificates.
IELTS 5.5 overall
TOEFL iBT72
TOEFL ITP (paper based) 543
Pearson Test of English (Academic) 59
Pearson Test of English (General) Level 1
Cambridge English Advanced and Proficiency 160 overall
Cambridge Exam First (FCE)
TOEIC Listening/Reading 785, Speaking 160, Writing 150
PASSWORD 5.5 (no less than 5.0 in each component)
EF SET (50-minute Test) 51 (only for students applying with an MOI (Medium of Instruction) letter)
Duolingo 90
**Language Waiver
To request a language test waiver, you must have studied in a country where the official first language is English:
At least nine months in duration;
Full-time;
Undertaken at a recognized institution where teaching and assessment throughout the course are entirely in English;
Has been completed within 2 years of the start date of the course to which you are applying;
Medium of Instruction (MOI) should indicate English + EF SET or any accepted English proficiency certificate requested.
Duration
2 Semesters (equals one year)
OR 3 Semesters (1.5 years)
OR 4 Semesters (2 years)
Facts:
Degree:

Master of Science
Double degree possible

Semester start dates:

Winter semester: September
Sommer semester: March

Lecture time: Wednesday afternoon until Saturday evening
Career possibilities include:

Business Administration
Marketing and Sales
Human Resources and Corporate Development

Highlights:

Focus on individual development and a flexible schedule (2.5 days/week). Practical projects, leadership training, and optional double Master's degree. Teaching by renowned lecturers.
What makes it outstanding to study at the University of Applied Sciences Europe
The University of Applied Sciences Europe is state-accredited, has been awarded on multiple occasions, and is worldwide leading in the international approach.
At our university, you study in small groups. This guarantees you individual support and personal contact with the professors. All our lecturers are experts in their industry.
You will notice our practical approach from the first semester. A variety of courses allows you to determine the content of your studies yourself. University of Applied Sciences Europe offers modern equipment like beamers in all rooms, mac pools, and more.
An internship and/or a semester abroad is mandatory and projects and excursions give you the opportunity to create a network for your career.
Working during your study time
We want your studies to fit perfectly into your life. That's why the courses are scheduled on Wednesday afternoon until Friday and/or Saturday evening. That is how we want to enable the compatibility of working part-time while studying full-time.
But since it is a full-time study course, preparation and follow-up work can't be forgotten.
Studying at the University of Applied Sciences Europe in Germany
We put emphasis on internationality. That's why we were ranked as "one of the best 25 performers in the Business Studies among private universities in Europe" (U-Multirank 2020). Our many international students come from all over the world to pursue a highly valued (state and FIBAA recognized) German degree that is entirely taught in English. We are also ranked as one of the top ten performers in the Business Studies category in universities in Germany in 2020 (U-Multirank 2020).
Germany, known as the country of innovators, is the perfect place to get your degree. Germany is the largest economic power and the center of high tech and automotive technologies in Europe. Additionally, Germany is a particularly safe and livable country with relatively low tuition fees and affordable living costs. Furthermore, Berlin is known as Europe's startup capital, a magnet for creatives, and "place to be" for young people and entrepreneurs.
That's why we encourage international students to come here and study with us. You can apply with your national school degree now. We will then take a look at your application and guide you through the process.
Your career options with a degree in Corporate Management
With a master's degree in Corporate Management, you are perfectly prepared for various different leadership positions. Aligned with your individually chosen subjects of focus, you will be able to take on roles in the middle to top management at national and internationally active corporations.
You have specialist expertise in the bag and are able to combine academic methods with distinct social competence – an increasingly important requirement for a successful career path as a:
Business consultant
International sales and marketing manager
Senior account manager
HR manager, staff developer
Senior controller, cash manager or
Manager corporate strategy
What's more, the Master of Science (M.Sc.) enables you to gain a Ph.D. and doctor title. This is necessary, for example, for teaching and researching at universities and other institutes.
The program - courses & internships
At the University of Applied Sciences Europe, we stimulate your management competencies in a scientific and practical manner. You will learn the essential management qualifications in the core disciplines of business administration across different disciplines.
The study program with 120 ECTS offers you three specialization areas, of which two are compulsory: Business Administration, Marketing & Sales, as well as Personnel Management & Company Development. On top of that, you will gain further study and practical experience in qualification phases domestically, and also complete two leadership training courses following the most modern scientific approaches.
The different modules have been compactly assembled for the 60 ECTS master's program.
Tuition fees and funding
As a private university, the University of Applied Sciences Europe is funded not by the state, but by tuition fees. For this reason, studying at the University of Applied Sciences Europe costs more than at a public university. But it's worth it: Our graduates meet the essential requirements of business, and this sets them apart from the graduates of many public universities. Your employment and earnings prospects are greatly improved.
All costs are included in the monthly tuition fee. This also includes the costs of the Leadership Assessment Center. No additional costs will be incurred, such as a matriculation fee, exam fees, master thesis fee, or similar, as long as the course is completed within the standard study period.
We are happy to provide you with information on funding your studies and on any available scholarships. If you have any further questions, our Student Guidance Office can provide you with detailed information.