MSc in
MSc in Design and Technology Futures
Tallinn University of Technology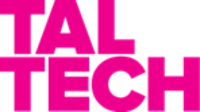 Introduction
Design and Technology Future (D&TF) is built on the notion that a deep understanding of modern technology, an appreciation of cultural diversity, and a creative mind-set are the main driving forces of any successful innovation. It is a transdisciplinary programme merging the competencies and skills of technology and design.
Curriculum
Curriculum
Design and Technology Futures is combining education and innovation into an enabling platform which at one hand collaborates with industry and government partners to search new ways out from the modern complex challenges and on the other hand, engages students with new and unique experiences out of their comfort zones in order to create innovation and new thinking. To find out what the future might be.
The challenges in the program are presented in an open format, encouraging students' personal creative development and self-expression.
Why this programme?
The programme offers an opportunity to acquire integrated practical and theoretical knowledge in design-driven innovation with an ability to spark, lead and perform future-oriented tech-intensive product, and service concept development;
Exiting cooperation projects with industry, government partners or society looking for new opportunities for technology development into promising product-service systems;
Teaching staff with high theoretical and practical experience.
Career Opportunities
Future career
Entrepreneurs, innovation leaders, product and service developers and managers who are able to work in a wide scope of creative integrated development teams and run design-driven innovation projects integrating together the technological possibilities provided by industry with opportunities found on the market and in the society.