Master in
Master Pattern Maker
Scuola di Moda Vitali

Key Information
---
Campus location
Ferrara, Italy
Application deadline
Request info
Earliest start date
Request info
Scholarships
Explore scholarship opportunities to help fund your studies
Introduction
Duration: 160 lessons 480 hours
Start-up: September
Attendance: From Tuesday to Friday from 9.00 to 12.00, Tuesday from 14.30 to 17.30
Enrollment: Until June. Limited number.
Subjects: Basis and fancy pattern making. Grading. Cut and manufacturing techniques, Lectra CAD Suite.
Professional outlets: Companies producing clothes, fashion workshops, self-employment.
Program
Pattern making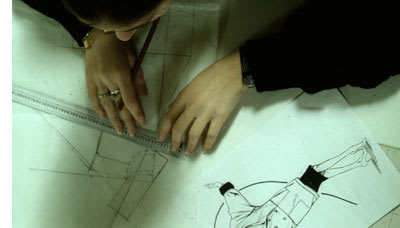 Basic skirt - 12 fancy skirts from sketches and fashion illustrations.
Basic trousers - 6 pairs of fancy trousers from sketches and fashion illustrations.
Shirt and blouse with tailored sleeves and fancy collars.
6 patterns blouses (raglan, Kimono sleeves, etc.).
Semi-loose-fitting dress with breast dart. 8 fancy dresses from sketches -and fashion illustrations.
Anatomically designed top with breast dart and tailored sleeves. 24 fancy transformations.
Anatomically designed top with raglan sleeves, drop sleeves, kimono -sleeves with gusset, etc.
Basic Man's jacket with casual revers and two-piece sleeves.
Woman's jacket with breast dart. 6 fancy jackets from sketches and -fashion illustrations.
Basic heavy jacket with raglan sleeves. Coat for men.
6 fancy coats and heavy jackets from sketches and fashion illustrations.
Pattern layout from sketches and pictures of evening and wedding dresses.


Grading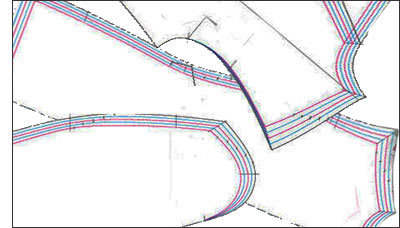 Industrialisation of the pattern: distinction of elements, fabric, lining, and adhesives.
Setting out of sewing figures.Grading of 4 patterns of a skirt.
Grading of 2 patterns of trousers.
Grading of 3 patterns of a blouse with various sleeves and collars.
Grading of 3 patterns of dress.
Grading of 4 anatomically designed fancy tops.
Grading of 4 jackets and sleeves.
Grading of 3 coats and heavy jackets.


CAD Lectra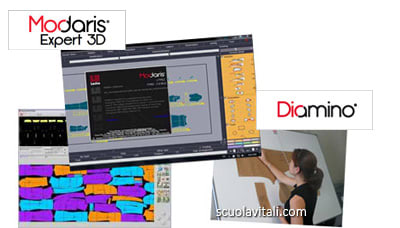 Basic notions of information technology Study of hardware and software components, CAD - CAM Lectra (Modaris, Diamino, Vigiprint) graphic programs and the Windows operating system.
Creating the Pattern Digitisation of the finished pattern. Modifying the pattern using the previous digitization. Creating and codifying of the pattern and its sizes. Analysing the paper pattern: explaining the construction points and of their positioning on the images, checking the video pattern, access route, pattern registration, practical exercises
CAD Pattern Making Access routes, creating and codifying of the libraries for a correct data filing. Modifying the pattern, creation of new versions, like pockets, belts, etc. Video application of the development. Copy of the development, from point to point, of the same image and of different images. Setting out of sewing figures and defining of the sewing angles for the industrialization of the models. Adding to nicks, internal holes, texts. Creating new versions of the pattern. Adding of extreme and intermediate sizes to the existing size list. Changing of shifting of the basic size. Putting together of the different pattern components
CAD placements Creating of the placement card, creating of restrictions in order to prevent/allow the movement of the different components according to the kind of fabric used. Preparing for the placement. Size analogy, new version, and fabric with an existing placement, adding of sizes/versions, adding of previously created placements. How to obtain and use a correct and functional placement, costs optimisation.