Master in
Master of Labor and Employment Relations (MLER)
Rutgers School of Management and Labor Relations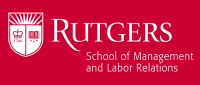 Introduction
About
The Master of Labor and Employment Relations (MLER) program produces graduates who are thoughtful professionals, informed leaders, and/or researchers grounded in contemporary reality. Graduates have careers in many types of organizations, ranging from corporations to non-profits, from unions to other social justice organizations, and from state or federal government agencies to public policy institutes.
Explore Exciting Ideas with Top Instructors
Classes both build skills and expand intellectual horizons
Engaging real-world courses are taught by nationally-known scholars
Part-time or full-time student is available
Online courses increase your options
Get both the employee and the employer perspective
It's a Professional Program Helping You to:
Be a role model for your family
Move up at your current employer
Teach others what you have learned
Advance justice, diversity, or your other ideals
What Sets the MLER Program Apart?
Breadth
Expand your intellectual horizons from both the employee and employer perspective.
Understand employment relations from a range of different perspectives, such as labor, management, employees, citizen activists, and that of society as a whole.
Profession
Acquire current, leadership skills needed to maximize your future professional employment opportunities in a work world of constant change.
Build professional skills that are appropriate for multiple and varied career goals.
Community
Join a supportive learning environment that values critical thinking and intellectual exchange and will connect you to a community of active scholars, teachers, learners, and involved citizens.
Network with employment relations professionals in New Jersey.
Convenience
Courses are scheduled at times convenient for working adults. You may complete the MLER program on either a full-time or part-time basis.
Curriculum
Program Choices
The MLER program is one that allows graduates to gain employment as professionals in a variety of related employment relations careers. Since work constantly changes and evolves, the program focuses on developing a set of core competencies useful in multiple jobs. It is a broad program that prepares students not just for one position, but for a broad range of positions in which having an advanced degree is an advantage in the labor market.
Core Competencies:
A set of required courses foster clear, professional writing; analytic skills; knowledge of research methods; and the acquisition of financial information. Negotiation skills, leadership techniques, emotional intelligence, and group process/teamwork skills are developed in additional courses.
Specializations and Electives:
Since students come from different backgrounds and have different occupational goals, the MLER program allows students to specialize by combining required classes with carefully selected electives. All students have five electives out of thirteen required courses. Students with an interest in combining employer-side labor relations with human resource management are encouraged to take up to three electives from the MHRM program.
By choosing electives wisely, students can create a program that meets their own individual needs. The following are examples of the specializations possible:
Diversity and Workplace Inclusion Specialization
In addition to the required course in Employment Law, potential classes include:
The Inclusive Workplace (online class)
Immigration, Public Policy, and Worker Rights
Seminar in Minorities and Work
Disability, Work, and Society (taken for graduate credit)
Latino Workers in the United States (taken for graduate credit)
Asian American Workers in Global Context (taken for graduate credit)
Organizational Leadership and Change Specialization
Potential classes include:
Organizational Leadership and Change Management
Organizational Design and Structure
Group Process and Team Dynamics
Conflict Resolution in the Workplace
Globalization, Corporate Restructuring, and Employment
Creating and Sustaining a Learning Organization
Labor Relations Specialization (Employer or Employee Representative)
In addition to the required course in Collective Bargaining, potential classes include:
Public Sector Employment Issues
Conflict Resolution in the Workplace
Strategic Corporate and Industry Research
Seminar in International/Comparative Labor and Employment Relations
Labor and Community Leadership Specialization
Potential classes include:
Organizing for Social Change
Immigration, Public Policy, and Worker Rights
Globalization, Corporate Restructuring, and Employment
Organizational Leadership and Change Management
Public Policy Advocacy (taken in Public Policy School)
Program Outcome
With our degree, you might:
Manage employment relations for employers
Build a career as a union professional
Specialize in diversity, globalization, or other hot topics
Get a great job in a government agency like the NLRB
Lead a community or non-profit organization
Combine labor relations with human resources
Manage people well in many types of organizations