Master in
Master of Human Resource Management (MHRM)
Rutgers School of Management and Labor Relations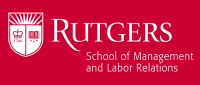 Introduction
A Quality Graduate HR Program - Now STEM Designated
Did you know that an HR manager can earn a base salary of $85,000 and is included among Glassdoor's 25 Best Jobs in America report?
Through SMLR's Master of Human Resource Management (MHRM) degree, you will gain the key, professional skills needed to become an organizational leader.
Rutgers' MHRM program is internationally renowned for its research and teaching in the areas of strategic human resource management, global employment strategies, new approaches to worker involvement, and the transformation of work. In addition, we have a 96% placement rate.
In response to growing demand for HR professionals steeped in analytics, we have launched an exclusive cutting-edge concentration in HR Analytics.
Watch as one of our graduates explains describes her experiences in Rutgers SMLR's MHRM Program.
Curriculum
Courses
Courses in the Master of Human Resource Management Program are heavily focused on HR strategy and business fundamentals. Students are required to take 12 courses in four broad areas: HR Strategy, HR Decision Making, HR Functional Areas, and HR Context Areas. An additional four elective courses can help to customize their experience.
Required Courses (12 courses, 36 credits)
HR Strategy
HR Strategy I: Introduction
HR Strategy II: Business and Competitive Strategy
HR Strategy III: Measurement Issues
HR Strategy IV: Global Workforce Strategy
HR Decision Making
HR Decision Making: Financial Decisions
HR Decision Making: Data-Based Decisions
HR Functional Areas
Managing Workforce Flow
Developing Human Capital
Managing Rewards Systems
HR Context Areas
Economics and Demographics of Labor Markets
Employment Law
Managing the Global Workforce
Electives (4 courses, 12 credits)
Analytics
Corporate Governance
Employee Benefits
Ethics and Corporate Social Responsibility
Executive Compensation
Financial Fundamentals
HR Analytics and Issues
HR Consulting Skills
HRM and Health Administration
Human Resource Information Systems
Managing Diversity
Organizational Behavior
Strategic Organizational Change
(Master of Labor and Employment Relations (MLER) courses can also be taken as electives.)
Rankings
Top Ranking Faculty With Applicable Research For Today's Practitioners
Our faculty have among the most citations per publications amongst peers.
You will be able to pull from our faculty's research, which is applicable to today's workers. You'll learn how to strategically align employees with business objectives and spearhead organizational goals. *Source: Academic Analytics
Career Opportunities
Competitive Internships Leading To An HR Career: A True Career
Interested in the on-site experience?
Paid internships are available and are strongly recommended for students without prior experience in HRM. These opportunities have resulted in robust careers for many of our graduates.
Each year, our students are placed in esteemed organizations. SMLR alumni are employed in leading corporate, government, and nonprofit organizations around the globe, including GE, IBM, Johnson & Johnson, PepsiCo, Lockheed Martin, and Bristol-Myers Squibb Company.
Networking Opportunities With Senior HR Professionals
You will have the opportunity to join the award-winning, Rutgers Society of Human Resource Management's (RUSHRM) graduate chapter. RUSHRM is a student unit of the national Society for Human Resource Management—the world's largest association devoted to human resource management, representing more than 200,000 individual members.
The graduate chapter has received the Outstanding Student Chapter Award, a national recognition, for the sixth time in seven years. Among its achievements, RUSHRM organizes an annual conference attended by more than 200 senior, HR professionals in top corporations.