MSc in
MSc in Global Business Management
Rennes School of Business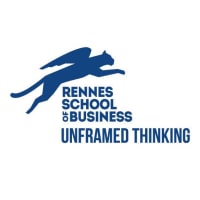 Introduction
This program equips students with the industry-relevant knowledge needed to succeed in a global and complex business environment. It is tailored to cultivate students' capability to make tactical and strategic decisions in today's data-driven economy and to work in multi-cultural settings.
4 reasons to join this program
Prepares students for corporate executive roles with a solid base in financial aspects, marketing practices, project management skills, strategic fundamentals, and more.
An international and multicultural program with the opportunity to complete a 'Winter Session' abroad.
Prepares in entrepreneurial or management positions in all areas of business and in a multicultural context.
Located in Rennes or Paris, a vibrant and cosmopolitan city with a high quality of life.
Curriculum
By choosing this Master of Science, you will study courses such as:
Economics & International Business Law
Global Marketing Strategy
Global Organisational Behavior
Strategic Management Fundamentals
Global Trade – Supply Chain Management
Specialization
You will have to choose a specialization:
Market Data Analytics specialization
Financial Economics specialization
Lean & Green Supply Chain Management specialization

Customer Data Analysis
Retail Analytics
AI and FinTech

Ethical and socially Responsible Finance
International trade and finance
AI and FinTech

Sustainable Supply Chain / Green Logistics
Purchasing & Supply Chain
Retail Analytics

Marketing Management specialization
Global Management specialization

Project Management specialization

Marketing Research
International Consumer Behaviour
Integrating Online and Offline Marketing
Communications

Global Human Resource Management
Management Decision Tools
Management of Change
Career Opportunities
Rennes SB supports students on a daily basis in the development of their professional projects.
Thus, throughout their program, Rennes SB students benefit from:
privileged interlocutors,
career workshops,
events allowing regular meetings with managers and HR representatives from partner organizations,
"My Career Platform" listing advice, internship, and employment offers.
Scholarships and Funding
Talent Scholarship
At Rennes School of Business, we value the academic talent that you will bring to the classroom.
Open to: High-profile candidates who have a strong academic record. Special consideration is given to applicants who have a clear academic and professional merit and can demonstrate the ability to contribute to all aspects of the program.
Selection process: Scholarship evaluation will be based on the documents submitted for admission: Transcripts, English score, CV, and interview feedback.
Applicants should also describe in their personal statement, how undertaking the program of their choice will affect their career, educational, and personal goals.
Amount: 1000€ to 5000€ discounted from the tuition fees.
Unframed Scholarship
Thinking beyond the frame means opening one's mind towards other cultures.
Open to: Candidates that are able to demonstrate a unique life experience and/or remarkable extra-curricular activities, along with a global and collaborative outlook and a curiosity to find impactful and sustainable solutions.
Selection Process: Scholarship evaluation will be based on the documents submitted for admission: Transcripts, English score, CV, and interview feedback along with a personal statement that will outline their « unframed » profile.
Recipients of this award will be expected to act as ambassadors for Rennes School of Business and assist with marketing efforts once awarded.
Amount: 2000€ to 5000€ discounted from the tuition fees.
«Bienvenue en France» Scholarship
This scholarship is made to recognize the strong dedication of candidates that were eager to learn French even before their arrival in Rennes.
Open to: Applicants that have taken French courses at the « Alliance Française » or at other affiliated language institutions in their home country offering French language.
Selection process: Candidates will have to submit to Rennes School of Business a certificate of completion of fewer than 2 years, from the language institution, showing an A1 level minimum, in addition to a personal statement.
Amount: 500€ discounted from the tuition fees.
Solidarity Fund Scholarship
Rennes School of Business has established a solidarity fund for candidates originally from emerging countries facing currency devaluation due to economic or health crises.
Open to: Candidates issued from countries impacted by a currency devaluation.
Selection process: The evaluation will be based on the candidate's profile and country of origin in addition to a personal statement.
Amount: 2000€ to 5000€ discounted from the tuition fees.
Application
For the January intake 2023: applications will be received until November 30, 2022.
For the September intake 2022: June 30, 2022, will be the last day to submit your application. They will be reviewed on a weekly basis.
Who can apply?
International students accepted to our 1st year Bachelor's Programme or Master in Management
French & International students accepted to any of our Masters of Science
French & International students accepted to our iMBA
You can apply to one scholarship only (except for «Bienvenue en France» which is cumulative).
Please contact us for more information regarding other scholarships & loans options and for payment method solutions.