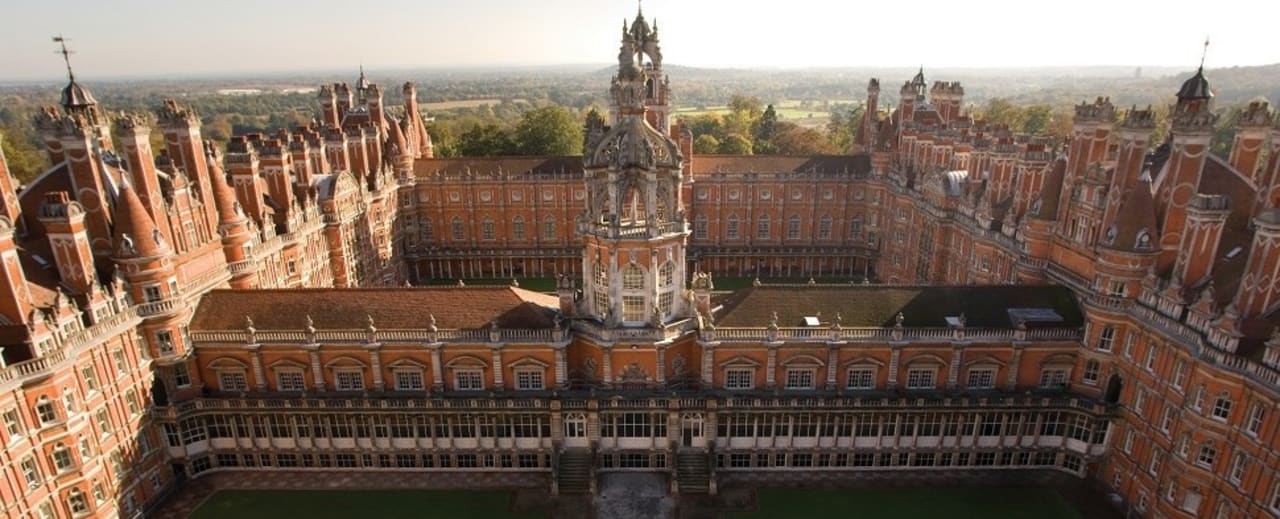 MSc in
MSc Accounting and Financial Management
Royal Holloway University of London
Key Information
---
Campus location
Egham, United Kingdom
Tuition fees
GBP 22,800 / per year *
Application deadline
Request info
Earliest start date
Sep 2023
* EU and international students tuition fee per year. EU students - see Program Tuition Fees section for fee reduction scholarship. UK students tuition fee per year - £15,700.
Introduction
The rise in importance, complexity and uncertainty of accounting and financial management poses a challenge for all organisations - from established multinational corporations to social enterprises and tech start-ups - and for those who wish to pursue a career within them. This internationally focused course will help you to enhance your understanding of accounting and finance, regardless of your undergraduate background.
The course provides practical-oriented knowledge in a worldwide context and aims to develop you as an independent and reflective learner, with the ability to continue to learn once in your chosen profession. Providing the skills and framework for future needs, this course takes an integrated approach to finance, accounting and business, delivering a coherent view that explores the interrelationships between these. The course draws upon the extensive research, practical knowledge, and teaching expertise of our management and finance academics. Their internationally recognised research and involvement in the activities of professional accounting bodies and firms across the world means that each module provides cutting-edge knowledge of contemporary accounting theory and practice.
You will gain in-depth knowledge and understanding of contemporary issues in the theory and practice of financial accounting, management accounting, and financial management. You will also develop an expert understanding of how management accounting is used to make strategic decisions and manage performance together with a critical awareness of related social and organisational issues, including recent trends such as the digital economy.
Curriculum
Course structure
Core modules
The mandatory modules you will take during your studies are:
Financial Accounting and Reporting
In this module you will develop an understanding of contemporary issues in the theory and practice of international financial accounting and reporting. You will look at the fundamental characteristics, aims, contents, and structures of the main financial reports through which organizations measure and report their financial performance and position. You will examine the usefulness of financial accounting reports, and the tools and techniques of financial analysis. You will consider issues related to the recognition and measurement of intangible assets, ways of valuing assets, key regulatory differences, the conceptual framework and differences between IFRS and US GAAP. You will also critically evaluate the reporting and the financial performance of companies.
Management Accounting for Decision-Making
In this module you will develop an understanding of current issues in management accounting and related social, organisational and international influences. You will look at performance management and investment appraisal in an international context, perspectives on culture, control and accountability, and the transition to a knowledge and service-based business environment. You will consider the differences in management accounting across countries, and examine issues in the context of the private sector and new public management, making comparisons between the two.
Foundations of Financial Management
This course aims to introduce you to the key concepts of Financial Management through a combination of sound intuition and theoretical rigour; to prepare the foundations for more advanced study of Finance by encouraging you to develop a critical understanding of the main theories and models of Financial Management; to provide you with structured opportunities to apply the key tools and techniques of Financial Management; to encourage you to read widely and built links between what you are learning in the classroom and the financial reality.
Research methods for Accounting and Financial Management
In this module you will develop your analytical research skills so that you are better prepared for your dissertation project. You will look at approaches to research in accounting and financial management and the assumptions upon which they are based, and consider how to critically evaluate primary and secondary data sources. You will examine how to choose appropriate quantitative and qualitative research methods for data collection and subsequent analysis, and how to conduct research in a systematic and critical reflective manner. You will also analyse the ethical implications of research investigations and their impact upon findings.
Dissertation
The dissertation provides you with an opportunity to learn and practice researching and writing skills for your future career. You will apply the analytical and problem-solving techniques you have acquired throughout your studies to explore a specialist interest in greater depth. You will critically evaluate academic literature, collect data systematically, organise your findings, and present your research results in a clear and logical and manner. To help, your research proposal will be read by the programme director, who will select an appropriate member of staff to act as your dissertation supervisor. Your final submission will be between 12,000 and 15,000 words in length.
Optional Modules
There are a number of optional course modules available during your degree studies. The following is a selection of optional course modules that are likely to be available. Please note that although the College will keep changes to a minimum, new modules may be offered or existing modules may be withdrawn, for example, in response to a change in staff. Applicants will be informed if any significant changes need to be made.
Your optional modules include:
Sustainability and Accounting
The objective of this module is to provide students with a critical appreciation of the relevance and overall role of sustainability accounting and accountability. To achieve this objective, the module will explore contemporary issues in the growing area of sustainability accounting including: notions of accountability in the context of sustainability, the role of accounting in embedding sustainability in decision making, sustainability reporting research and practice, and accounting's role in addressing key contemporary sustainability issues.
Topics in Finance and Investment Management
In this module you will develop an understanding of investment management in theory and practice. You will look at the contexts in which investment management takes place in an increasingly globalised market. You will consider theoretical perspectives, such as the capital asset pricing model, arbitrage pricing theory, and models of systematic risk, alongside empirical evidence and current practice. You will examine the techniques of financial risk management, with particular emphasis on derivatives, and critically analyse issues of international investments, behavioural finance and corporate restructuring. You will also gain experience in using professional sources of data such as those provided by Bloomberg Professional.
International Financial Markets
The aim of this module is to develop in-depth understanding of the characteristics and operation of the international financial markets. The analysis of international equity, bond, exchange and derivatives markets will be linked to the main concern of governments and international financial organisations taking part in these flows. This also enables students to appreciate the different trends in the integration of financial markets and financial intermediation within countries, regions and at global level.
Financial Statement Analysis
This module provides students with the knowledge and techniques required to analyse a company's financial statements and to estimate a company's value. The following are the core topics to be covered: accounting analysis, financial analysis, forecasting and valuation.
Teaching and assessment
Assessment is carried out by a variety of methods including coursework, examinations and a dissertation.
All course information above was updated Autumn 2022 and all information was correct at that time. Please make sure you check our website or contact us directly for the very latest information if you are considering an application.
Program Outcome
On graduating you will have acquired a number of transferable skills, including the ability to assess and employ a variety of accounting-based techniques, critically evaluate accounting documents, as well as write reports, give presentations and work as a team.
Strong career prospects in the finance and commercial areas; organisations value graduates with knowledge and understanding of contemporary accounting and financial management who can also reflect on their broader setting and implications.
82% of the School of Business and Management's research is rated world leading or internationally excellent (Research Excellence Framework 2021)
Inspiring international community; 60% of our Management students come from overseas and the 8,500 students at Royal Holloway, University of London are from 130 countries.
From time to time, we make changes to our courses to improve the student and learning experience, and this is particularly the case as we continue to respond to the Covid-19 pandemic. If we make a significant change to your chosen course, we'll let you know as soon as we can.
Career Opportunities
Your future career
On graduating with a Masters degree in Accounting and Financial Management you will be in a strong position to start a career in a variety of financial or commercial related areas. You will also have a solid foundation to continue PhD studies.
Our graduates have moved into roles in accounting and financial management-related areas including:
Personal Relationship Manager at HSBC
Auditor at Deloitte
Senior Risk Analyst at Bank of Azerbaijan
Corporate Tax at PwC

This course is accredited by the Association to Advance Collegiate Schools of Business (AACSB). This means your qualification is recognised in the industry, giving you a competitive edge when applying for jobs