MSc in
Master in Service Leadership & Innovation
Rochester Institute of Technology (RIT) Dubai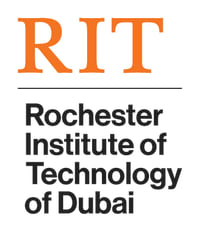 Introduction
Success in today's global economy requires organizations to have visionary leadership, a 360-degree view of customers, and the ability to formulate and execute strategic initiatives. This one-of-a-kind graduate program will help prepare you to transform your organization by using innovation to drive measurable outcomes. Our graduates anticipate the future and see opportunities to position their organizations—and themselves—to reach new levels of success in a constantly changing world.
The Master of Science in Service Leadership and Innovation is awarded upon successful completion of 33 credit hours culminating in a thesis, a comprehensive examination, or a capstone project. The program is completed in a combination of day and evening classes and online learning. Courses are taught by a combination of professors from RIT New York who fly in to teach and full-time faculty members from Dubai who provide the local context. This combination ensures you receive the most up-to-date learning experience tailored to the needs of the UAE and the region. Further, classroom teaching is supported through face-to-face interaction with local faculty and virtual classroom/videoconferencing with professors from New York.
Flexible Timings: Class schedules cater to working professionals, providing intensive seminars offered in the evening and on weekends.
This program will equip you with the following skills:
Creating and innovating new service ideas, practices, and policies.
Building and utilizing sophisticated human capital assets wisely.
Designing, aligning, and implementing new strategic focus.
Building experiences the customer values.
Application of leadership concepts to produce superior performance outcomes.
Why Choose Us
Degrees issued directly from RIT NY
Smart, Connected, Innovative and Sustainable campus
Locally and globally accredited degree programs
Study abroad at any of the international campuses in Croatia, Kosovo, China, USA
Unique Internship programs with exposure to industry partners