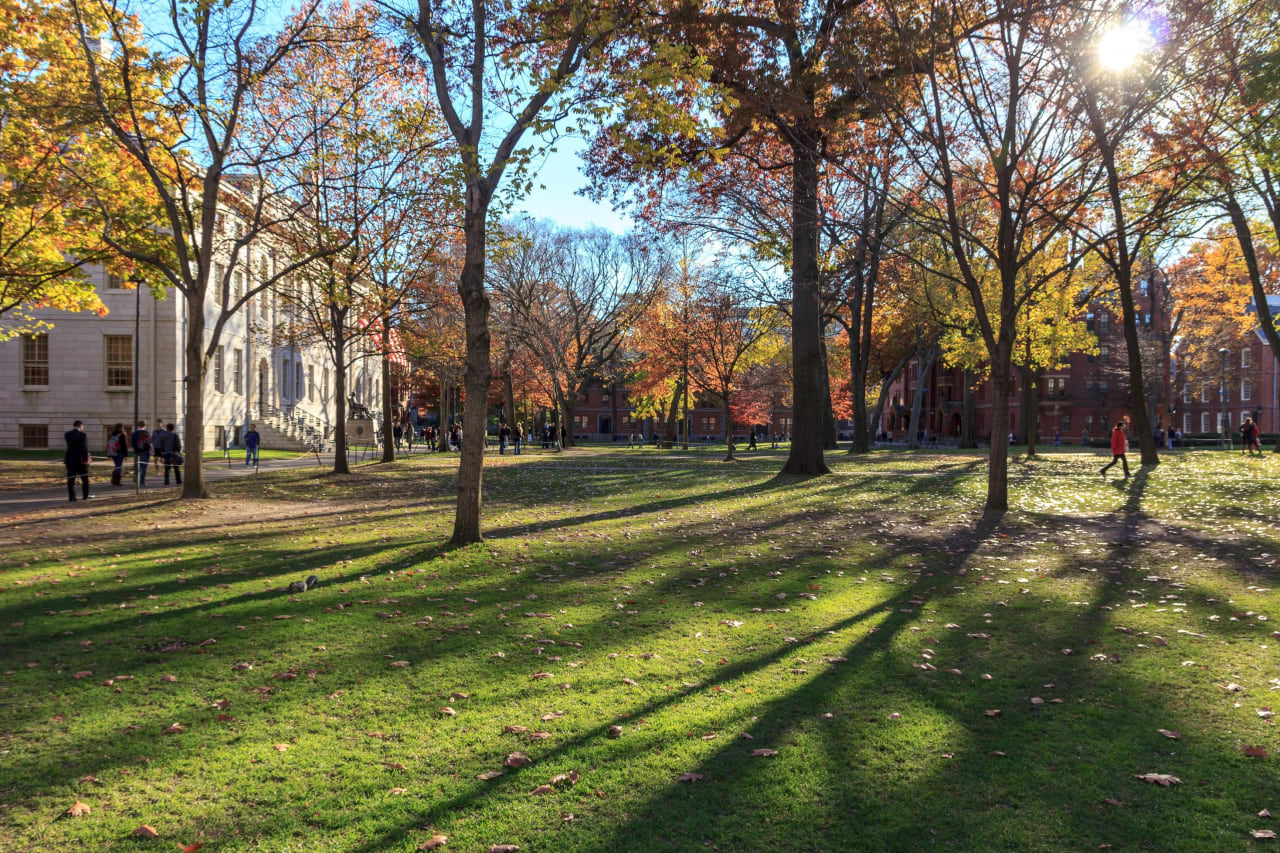 MSc in
Master of Science in Marketing Analytics
Pacific Lutheran University

Key Information
---
Campus location
Tacoma, USA
Study format
Blended, Distance Learning
Tuition fees
USD 1,061 / per credit **
Application deadline
Request info *
Earliest start date
Request info
* priority date: March 31 / final date: June 30, 2022
** $38,196 for the entire program
Introduction
The Master of Science in Marketing Analytics (MSMA) at Pacific Lutheran University is designed to take professionals of all ages and backgrounds and give them the tools they need to launch a marketing analytics career, all in just nine months or over 21 months.
The MSMA is a quantitatively rigorous, qualitatively rich, STEM- designated program. The degree offers application of exploratory and measurable research through client projects and prepares candidates for immediate transition into fulfilling careers.
The MSMA is an analytical degree allowing candidates to:
Know what data to capture and which data collection methods to use
Understand how to analyze the data using advanced research methods, data collection, and statistical modeling
Formulate recommendations to advance business and organizational strategies
Communicate data-driven decisions with business and organizational leadership
Ethical standards are an important aspect of the MSMA program and are integrated into each course. Students specifically learn the standards for ethical marketing research expected of each marketing professional. Codes of ethical conduct draw from the practice expectations of professional marketing associations.
This 36-credit master's program offers flexibility so students can fit their education into their already busy lives while opening the doors to the fastest growing profession in the global digital economy. The MSMA is offered as a fully online program or a hybrid program which includes some on-campus classes.
The Need for Data Interpreters is Growing
Amazon, Microsoft, other major tech companies, and world-class healthcare systems like UW Medicine: The Seattle area is home to a booming economy of data-driven companies and industries.
It's not just the big tech firms or healthcare systems that rely on millions of data points. Advances in technology across industries mean that every company and organization now has access to detailed consumer and performance data. We have seen such dramatic increases in the sheer volume of data produced by individuals and organizations that news reports describe the phenomenon as a "data explosion."
Our data explosion has created a new set of challenges. For many organizations, it's like having the secret to success spelled out in front of you—but in a foreign language that no one at your company speaks fluently. Data is meaningless unless you can identify what's important, find patterns and turn analysis into concrete suggestions for how to react and adapt.
This is especially true in the field of market research and marketing analytics where companies need to understand what their target audience needs and how their performance stacks up against the competition in order to find an edge in the crowded consumer space.
Data needs interpreters in order to be useful. Companies need employees who can translate data into information, analyze that information and communicate with organizational leadership in order to achieve data-driven decisions and establish a competitive advantage.
You Can Build a Career as an Analyst
According to the Bureau of Labor Statistics (BLS), the demand for market research analysts is expected to grow 20% by 2028, a rate of growth much higher than the average for all occupations. The demand for mathematicians and statisticians who can interpret data is expected to grow by 30% over the same period.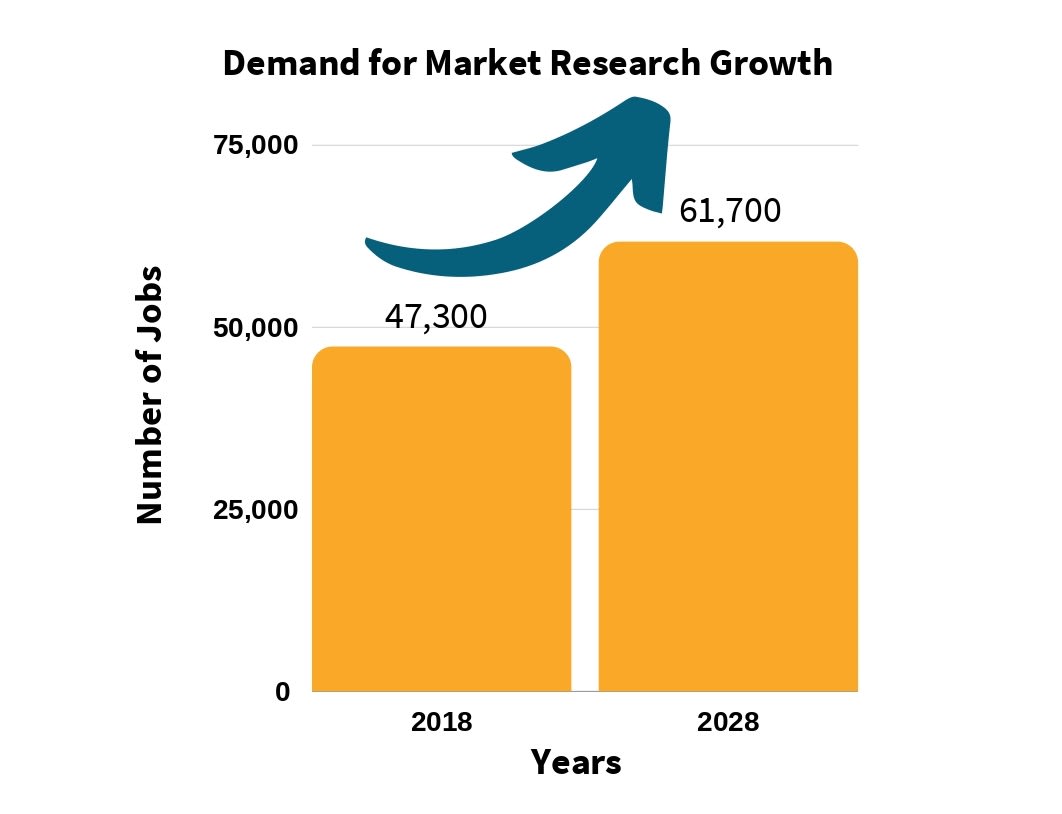 What does this mean for those who are looking to build a successful career or who want to switch fields in order to maximize their opportunity? There has never been a better time to consider a career in analytics, especially marketing analytics.
While some data analysts in highly technical roles have a STEM (Science, Technology, Engineering, Mathematics) background, a career in marketing analytics is not reserved for the statistics and math whizzes of the world. In fact, your experience or educational background in a non-STEM field may have given you valuable skills in:

Add some intensive training in the fundamentals of market research and data analysis through a nine-month Master of Science in Marketing Analytics, and you'll be prepared to launch a new career in this age of data.
Understanding the Field of Market Research and Marketing Analytics
Analytics is a broad field, and careers in the field of analytics can range from highly- technical roles to strategic and communications-focused roles. In this resource, we're exploring the importance of marketing analytics specifically, a key tool for every organization.
Defining Market Research and Marketing Analytics
Market research and marketing analytics focus on collecting information about your consumers, your competitors and industry trends in order to improve the quality of a product or service, provide more targeted communication and drive future growth.
Market research focuses on gathering information from both primary and secondary sources. Primary source research is typically proprietary—you either gather it yourself or pay someone else to gather it for you—and is focused on your specific information needs.
Secondary sources are publicly available information sets like reports, studies and census data. All of this information can be described as market research.
Marketing analytics incorporates information like market research, but it also involves thorough and ongoing analysis of the data that your specific organization and your consumers are generating. This includes things like tracking and measuring the success of specific marketing or PR campaigns, testing new messaging based on predetermined metrics, developing user and consumer insights and incorporating marketing insights into company-wide strategic decisions.
Why Do Companies Need Market Research and Marketing Analytics?
Let's recap the two major reasons that market research and marketing analytics are so important: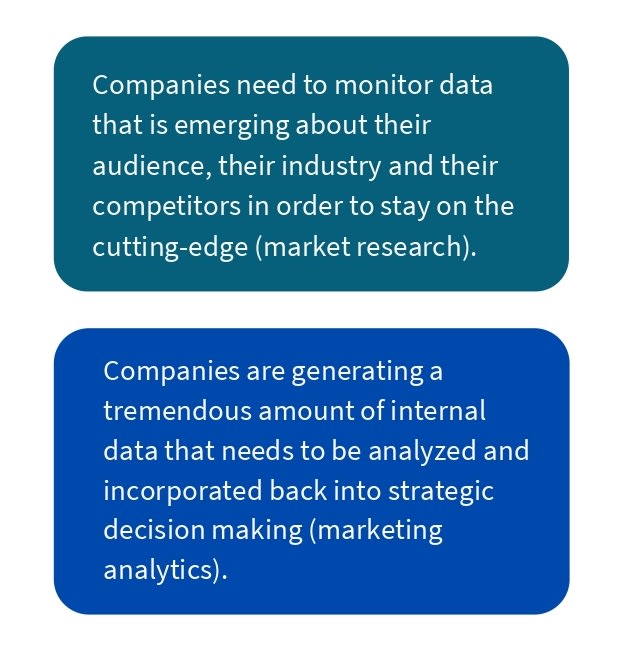 Both of these elements are crucial for companies or organizations that want to stand out and stay competitive in the midst of crowded, noisy industries.
Career Opportunities for Marketing Analytics
One of the reasons marketing analytics can be so powerful is because it bridges the gap between data and the communications and decisions that drive growth. This means that marketing analysts become key players with a seat at the table for major strategy conversations.
We've talked about the data explosion and how this has increased the need for analysts of all kinds. Now, let's take a look at how you can break into the field of marketing analytics and what this could mean for your career opportunities in the Seattle-Tacoma area.
Potential Career Pathways and Job Titles for Market Analytics
Consulting. Research. Data Modeling. Consumer Insights. Communications. All of these are possible fields for someone with skill and experience in marketing analytics.
Here are some potential roles you could pursue:
Market Research Analyst
Marketing Manager
Creative Director
Brand Manager
Digital Marketing Specialist
Marketing Technologist
Marketing Scientist
Content Strategist
Consumer Insights
Specialist
Marketing Specialist
Big Data Analyst
Technical Recruiter
Database Manager
Account Executive
Salary Expectations and Demand for Market Analytics in Seattle-Tacoma
The Bureau of Labor Statistics paints a promising picture of career opportunity for those interested in market research or marketing analytics.
Here are some key takeaways:
Marketing specialists (MS) and market research analysts (MRA) in the Seattle- Tacoma area have the second highest annual mean salary for these types of positions in the country, at an annual mean wage of $94,410.
This second-highest rank for average compensation holds true across the state of Washington, with a state-wide annual mean wage of $88,290, second only to New Jersey.
The Seattle-Tacoma metropolitan area also has an unusually high concentration of jobs in these fields, the fourth highest in the country.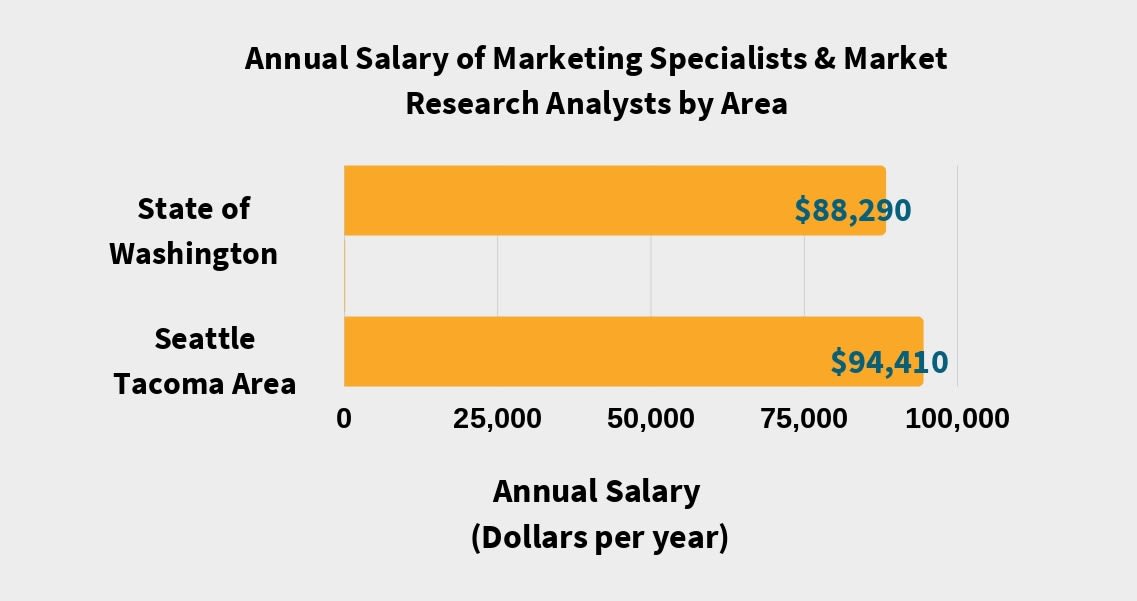 Advantages of a Degree in Marketing Analytics
If you don't have a science or data background, you may be wondering how to break into this field.
Are you someone who has dabbled in a variety of roles at a number of organizations, but wants to establish a clear and valuable skill set? Or are you someone who loves their current workplace, but sees a need for more strategic, data-driven decision making and wants to fill the need? Or maybe you're looking for a brand new career that offers you more money and more room to grow?
All of these are good reasons to consider an accelerated graduate degree in marketing analytics. Getting a master's degree in marketing analytics allows you to build skills that you can tailor toward roles in consulting, marketing, communications, content creation, research or data modeling.
A strong degree program will serve as a springboard, allowing you to launch in the direction of a subspecialty that suits your skills and interests.
The program offers fully online or hybrid format
The online program offers synchronous and live online lectures with active class interaction during non-working hours. Additional asynchronous class materials and activities will be arranged, flexible for students with full-time jobs, children or other responsibilities. Students can attend classes online at home or anywhere, but will also have personal, individualized interaction and support from faculty and staff, such as individual appointments and video calls, online messaging and social media groups with fellow students.
Students in the hybrid program follow the same curriculum and take many of the same online classes as students in the online track above. In addition, students on the hybrid track will participate in at least one course per term that will be held on the PLU campus in a traditional classroom setting.
International students on the hybrid track who are completing the program over 9-months are eligible for F-1 or J-1 visa support. Those completing the degree over 21-months will not be eligible for F-1 or J-1 visa support in their first year but will be eligible in their second year.
You are career ready in nine months or 21 months
This program is focused on getting you prepared for immediate transition into your role of choice. Real-world experience on client and research projects helps you develop a professional portfolio and gives you concrete work to discuss, share and highlight in a job interview.
English Language Requirements
Certify your English proficiency with the Duolingo English Test! The DET is a convenient, fast, and affordable online English test accepted by over 4,000 universities (like this one) around the world.