MA in
Master of Arts in Biblical Theology
Pan Africa Christian University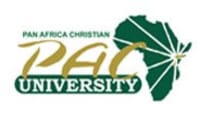 Scholarships
Explore scholarship opportunities to help fund your studies
Introduction
Master of Arts in Biblical Theology
The Master of Arts in Biblical Theology program seeks to produce hermeneutically sound Biblical scholars and researchers who accurately interpret scripture and employ critical and creative skills to bridge the gap between the Ancient Near East and the contemporary world thus, able to communicate the message of scripture in every sphere of the society.
Core objectives
At the end of the program students will be able to:
Effectively utilize various interpretive tools.
Demonstrate mastery of various interpretative approaches to scripture.
Use biblical languages to exegete Biblical text.
Participate in scholarly workshops, present papers in conferences as well as publish in refereed Journals.
Entry Requirements
For admission into the program, a candidate must be a holder of a bachelor's degree from a recognized institution with a minimum GPA of 2.70 or Second class upper division or its equivalent.
Specializations
In this program one can specialize in either
Old Testament
New Testament