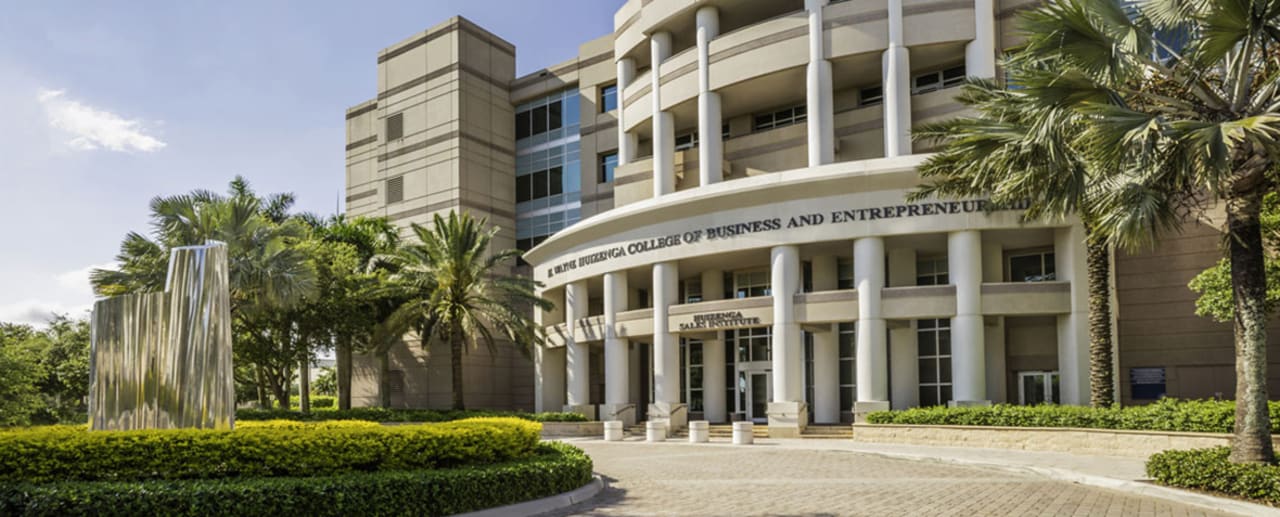 MSc in
Master of Science in Real Estate Development
Nova Southeastern University, H. Wayne Huizenga College of Business & Entrepreneurship
Key Information
---
Campus location
Fort Lauderdale, USA
Study format
Distance Learning, On-Campus
Tuition fees
USD 1,026 / per credit *
Application deadline
Request info
Earliest start date
Aug 2023
* as a general estimate, you should anticipate a total tuition amount of around $31,000 plus additional fees and textbooks. Tuition fees and additional fees are subject to change at any point in time.
Introduction
Real estate trends are ever-changing. Growing populations demand new locations, new experiences, and new work styles. Tackling these complex demands requires knowledge of all facets of real estate development. If you want to be an industry leader, you need to understand the physical (design, development, and construction), financial, and legal tenets of the industry.
Under the guiding philosophy of the Advisory Board, Nova Southeastern University's Master of Science in Real Estate Development (M.S.R.E.D.) will prepare you to meet the challenges of the real estate market so you can grow your career or quickly start a new one.
As an NSU student, you'll receive hands-on experience in what it's like within the real estate development industry through personalized, real-world knowledge, such as:
A dedicated mentor to help you get the most from your investment
On-site tours of actual development projects
A full-immersion curriculum taught by industry professionals with in-depth knowledge gained from years of actual real estate experience
Exposure to current industry-standard software such as ARGUS and ArcGIS
Classes, in-field case studies, and personal interaction with noted professionals
Upon graduating, you'll have a portfolio to demonstrate your first-hand knowledge of the real estate industry. Through NSU's M.S.R.E.D. program, you will be prepared for mid- and senior-level responsibilities in commercial and residential development, including urban and suburban real estate development, economic and environmentally sustainable real estate development, management, investment, sales and marketing, finance, investment, banking, and asset management.
Additionally, you'll build an extensive network of professional contacts in the industry, among other students and alumni, and professional networks. These contacts have proven to be of real value to NSU students and graduates in achieving their career goals.
Be prepared to succeed with an M.S.R.E.D. degree from NSU.
Quick Facts
Curriculum: NSU's M.S.R.E.D. program is 30 total credits to complete.
Start Dates: The M.S. in Real Estate Development program is available to start in August.
Delivery Options: Classes for the M.S. in Real Estate Development program are offered on Saturdays online synchronously or at NSU's Fort Lauderdale/Davie campus through our full-time or part-time delivery options. The course curriculum is available in a lock-step, executive format, designed to accommodate both full-time working professionals and full-time students.
Tuition: Tuition for the degree program is $1,026 per credit hour. Discounted rates are available through our employer's tuition program.
Application Deadline: July 31
Scholarships: You may be eligible for a grant, scholarship, or award based on any number of things that are special about you. Find out what scholarships may be available to you.
Scholarships and Funding
M.S.R.E.D. Scholarships
Lori & Seth Wise/BBX Scholarship (BSWE)
Scholarship Amount: $1,000 one-time award
Requirements
Must be a graduate student currently enrolled at the HCBE pursuing an M.S.R.E.D. degree.
Graduate GPA of 3.1 on a 4.0 scale
Demonstration of financial need through FAFSA
Open to an international student (FAFSA not applied to international students)
The deadline is April 1st
HCBE Scholarships
NSU Alumni Tuition Award
Scholarship Amount: An award amount of $147.50 per credit from published tuition rates
Requirements
Graduate students enrolled in the business program at the HCBE
Completed Bachelor's degree at NSU
Begin the master's program at HCBE no later than one term after students complete the final class for Bachelor's degree
At least one course every term for the duration of the Master's degree
Maintain good academic standing in a graduate program
The scholarship is awarded every term
Please submit information to your academic advisor
Open to international students
Graduate Business Student Tuition Award
Scholarship Amount: Up to $6,200 toward graduate tuition
Requirements
Completed Scholarship Application
The scholarship will be awarded to first-time enrolled HCBE graduate students only
The scholarship is based on a student's undergraduate performance. Students must have a cumulative GPA of 3.25 or higher (on a 4.0) scale.
Submission of the 500-word essay describing how a graduate business degree will be an asset to you, both personal and professional
GMAT or GRE preferred
Two (2) signed letters of recommendation, (1) Personal or Professional, and (1) Academic
Real Estate Industry Scholarships
Decisions for these scholarships are made by committees run by each separate organization.
Commercial Real Estate Women (CREW)
CREW- Miami Real Estate Scholarship $1,000-2,500
Pension Real Estate Association (PREA)
Graduate Student Awards totaling $20,000
Robert A Toigo Foundation totaling $10,000
Society of Industrial & Office Realtors
Appraisal Institute Education Trust (AIET)
AIET Graduate Scholarship $2,000
AIET Minorities and Women Education Scholarship $1,000
Curriculum
Real Estate Development (30 credits)
GIS 5867 Geographic Information Systems
REE 5862 Real Estate Market Analysis
REE 5864 Real Estate Development Software
REE 5865 Real Estate Construction Principles
REE 5878 Real Estate Development Process: Part I
REE 5879 Real Estate Development Process: Part II
REE 5880 Real Estate Finance
REE 5881 Real Estate Law and Ethics
REE 5887 Real Estate Investments
REE 5895 Real Estate Financial Modeling
Current students: Please consult your Academic Advisor for program requirements or access SharkLink for your Degree Works audit. Program requirements are subject to change, and your Academic Advisor or Degree works audit can provide you with the courses required for your catalog term.
Career Opportunities
Earning Potential
Real Estate Development Manager: $87,284 (average salary per year)
Property Acquisitions Manager: $107,693 (average salary per year)
Real Estate Analyst: $57,936 (average salary per year)
Source: Salary.com, Payscale.com