MSc in
Master of Science in Cybersecurity Management
Nova Southeastern University, College of Computing and Engineering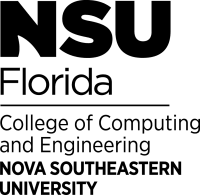 Introduction
A Secure Future in Cybersecurity
As data breaches increase, so does the demand for cybersecurity. Some of the top industries faced with cybersecurity threats include health care, education, government agencies, financial institutions, and professional services. With your M.S. degree in Cybersecurity Management, you can lead the charge in minimizing the business impact of an attack. Your degree offers you opportunities in a vast number of industries and locations and comes with great earning potential (According to Salary.com, IS and Cybersecurity Managers make an average of $133,760 annually).
NSU's Cybersecurity Management degree program focuses on risk management and policies and procedures associated with organizational cybersecurity. Your classes are taught by experts in the field and include experiential learning and case study analyses that help reinforce key concepts. You have the option of taking courses on campus or online, giving you the flexibility to continue working while you complete your degree.
Upon completion of the program, you'll be prepared for careers in managing and governing cybersecurity in information systems and organizations. You'll have the skills to anticipate and respond to real-world cybersecurity threats, develop security policies, track compliance, and more. Secure your future by helping organizations secure their systems.
The National Security Agency (NSA) and its affiliated federal agencies, including the Federal Bureau of Investigation (FBI), the National Institute of Standards and Technology (NIST)/National Initiative on Cybersecurity Education (NICE), the National Science Foundation (NSF), the Department of Defense Office of the Chief Information Officer (DoD-CIO), and US Cyber Command (CYBERCOM), have designated NSU as a National Center of Academic Excellence (NCAE) in Cybersecurity and have certified that NSU's curriculum in cybersecurity meets or exceeds the requirements and standards expected of a leader in cybersecurity research and education.
Accelerate Your Cybersecurity Degree
In the tech world, every second counts. Advance your future with new 8-week courses designed to be completed in 1 year.
Program Format
Students can select to take online or on-campus classes. Online classes can be taken from anywhere in the world where Internet access is available. NSU utilizes Canvas as the learning management system to deliver online course content. On-campus classes are held on the main campus in Fort Lauderdale. Each on-campus class meets once a week from 6:00 p.m. to 8:00 p.m. 8-week courses are available, so you can earn your degree in 1 year.
Here are some of the reasons why students chose NSU
Small class sizes give you one-to-one access to professors. All our classes are exclusively taught by faculty members with doctoral degrees from accredited institutions. Our faculty are internationally recognized scholars in computing, engineering, and information science.
We focus on degree programs that prepare you for careers listed by U.S. News & World Report 100 Best Jobs in 2021. You can even ask our alumni who work at Fortune 500 organizations, federal and government agencies, and universities around the world.
NSU hosts the nationally and internationally recognized Center For Information Protection, Education, And Research (CIPHER) as a leader in cybersecurity education, as well as an innovation center in the research and development of solutions to real-world cybersecurity problems.
Students actively participate in cybersecurity competitions, like DEF CON, Department of Energy CyberForce Competition, and Facebook Capture the Flag Competition.
NSU_eHACKERS, a student-led student organization, enjoys joint activities, like hands-on preparations for ethical hacking exercises and invited guest lectures by industry leaders and government agents.
Ranked a top 200 best colleges among national universities in 2018.
A diverse student population includes 1200 international students from 116 countries on five continents.
State-of-the-art facilities include the latest classroom technology, advanced laboratories, and the best research libraries.
Many NSU graduates go on to earn master's, doctoral or professional degrees at NSU or other universities. Undergraduate students participate in NSU research in fields like medicine, oceanography, cancer, psychology, dentistry, and autism.
Students build relationships by participating in numerous community events, many held on NSU's campus. Our beautiful main campus is just minutes from Fort Lauderdale's beach, South Beach, Las Olas nightlife and the Everglades.
Curriculum
Students must take all 10 required courses in the list that follows. Students who wish to take an elective (above the 10 required courses) must request approval from the program office before registration. Students who opt to complete a thesis must first take 9 required courses (not including ISEC 695) and take 6 thesis credits (total 33 credits). Plans for the thesis option must be made in conjunction with, and approved by, the program office.


Career Opportunities
Chief information security officer
Cybersecurity program manager
Information systems security manager
IT program manager
Vulnerability assessment analyst
Program Outcome
A graduate with an M.S. in Cybersecurity Management will have the ability to:
communicate cybersecurity management concepts professionally;
develop organizational policies related to cybersecurity for effective solutions;
apply knowledge of information security compliance with applicable policies to perform cyber risk management analysis using recognized cybersecurity standards;
demonstrate knowledge, skills, and abilities (KSAs) to apply security control measures to mitigate cyber risks.