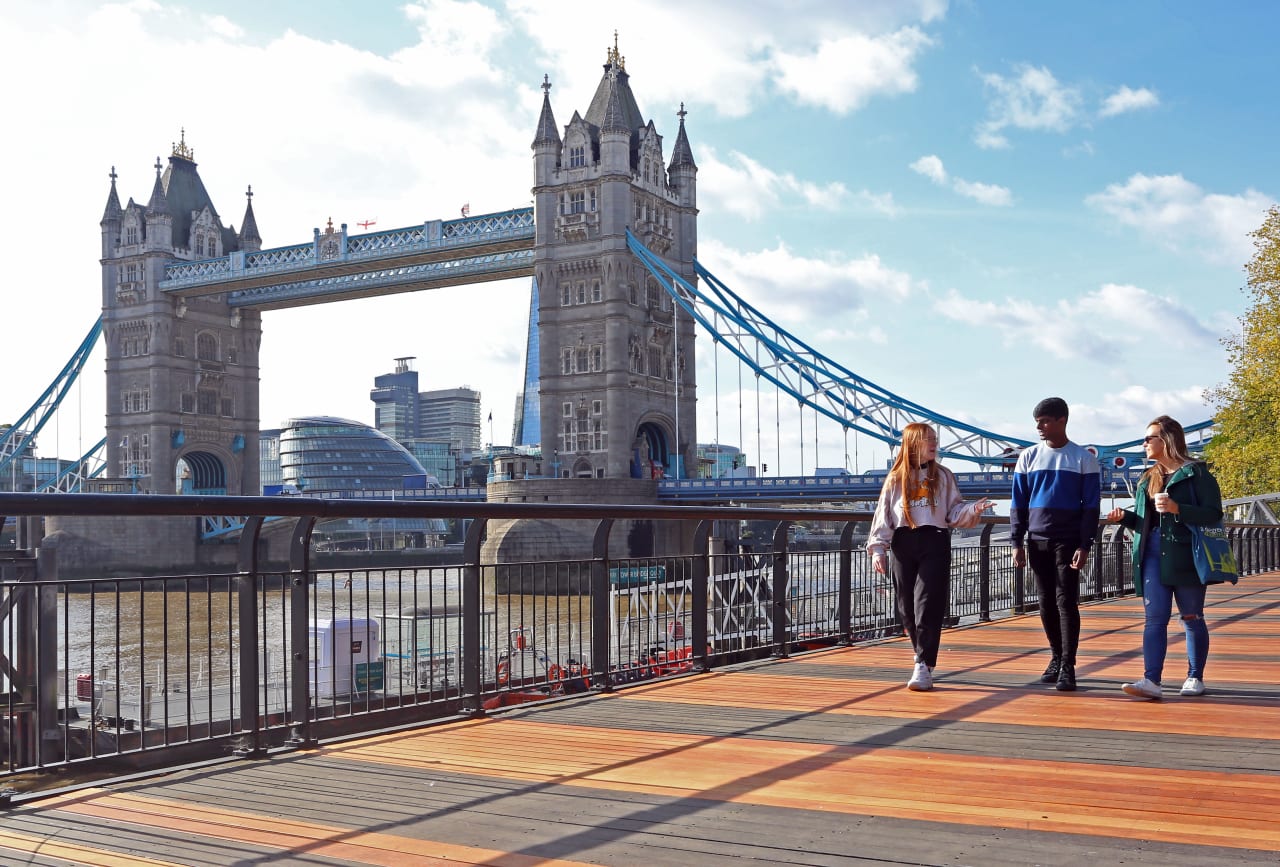 MA in
MA Contemporary Creative Writing
Northeastern University London

Key Information
---
Campus location
London, United Kingdom
Study format
Distance Learning
Application deadline
14 Dec 2023
Earliest start date
Jan 2024
* for International full-time and part-time students | home full-time and part-time tuition fees: £9,000
Introduction
The Master of Arts in Contemporary Creative Writing at Northeastern University London equips students with the knowledge, craft skills and discipline needed to be a creative writer now. There are more routes to publication available than ever before. However, navigating the twenty-first century literary marketplace requires specialist skills and knowledge alongside artistic prowess.
From the moment they join our MA program, our students are considered writers and supported in achieving their personal and professional creative goals. Diverse contemporary authors and publication platforms are foregrounded, and contextualized by the study of significant shifts in the literary landscape over the last 25 years. This enables students to situate their creative practice in today's marketplace, develop awareness of avenues for artistic expression, and gain professional skills suitable for the creative industries. All courses are led by published authors who are also experienced academics at the forefront of Creative Writing as a discipline.
This fully online MA aims to be flexible and inclusive, with full- and part-time study options. Writers evolve their creative practice in a supportive and structured online learning environment, suitable for a writing community including recent graduates, lifelong learners, returners to education, and writers with well-being or access needs.
Students will take courses that explore fiction, creative nonfiction, poetry, scripts, and screenplays alongside each other and others that enable them to specialize in favored forms. A combination of synchronous and asynchronous learning tasks means writers can work in a way that accommodates their individual lifestyles. These include lively online forums, interactive learning activities, creative writing workshops, face-to-face webinars, and regular bespoke feedback from tutors on works-in-progress. Community is central: although working at a distance, students work closely with peers and tutors on developing craft, critical, and editing skills, preparing them to work professionally with editors, producers, agents, publishers, and publicists.
Writers can choose to enrich their online experience by attending Northeastern University London&rsquo's annual in-person Summer Writing Series at an additional cost. This option is open to all MA students but is not a required element of the program. Participants will be able to meet peers and tutors, write together, and attend a series of live literary events curated by the Creative Writing Faculty. Events may include author talks, creative industry Q&A;, guest lectures, professional role plays, and live workshops.
Our MA in Contemporary Creative Writing is an innovative, flexible program which aims to draw together writers from across the world. This enables diverse experiences, encounters, and perspectives to inform a truly global outlook on being a creative writer today.
Scholarships and Funding
Scholarships for postgraduate students
MA Contemporary Creative Writing
All Home & International students starting their degree studies in January 2024will be offered a tuition fee scholarship worth £2,250, reducing the tuition fee to £6,750
Applying for Scholarships
Apply for your Degree program. You will need to apply by 16 June in order to receive an offer by 23 June.
Apply for a Scholarship by 23:59 on 7th July 2023. Submit your application for a scholarship HERE.
Successful candidates will be notified by 31 July. If you have not heard from us by this time, you should assume that your application is unsuccessful.
Incomplete scholarship applications or those submitted after the deadline will not be considered.
Eligibility
Candidates must hold either a conditional or unconditional offer by the 30 June scholarship deadline.
You must have achieved a 2:1 or overseas equivalent or higher.
The scholarship is deducted directly from tuition fees payable to the university for the first year of your studies if studying full-time and pro-rata for part-time students.
Recipients cannot defer their entry and scholarship to the following year.
The scholarship cannot be combined with any other award i.e. Alumni discount
Preference will be given to those studying for their first postgraduate degree.
Students can only be awarded one scholarship.
Postgraduate funding
Postgraduate Loan for masters study
The UK Government Postgraduate Loan (PGL) of up to £11,836 per student for postgraduate master study in the UK is available for students normally residing in England. PGL will be a contribution towards the costs of study and whether the loan is used towards fees, maintenance or other costs will be at your own discretion.
There are separate loans for students domiciled in Wales, Scotland, and Northern Ireland.
To determine if you are eligible for a Postgraduate Loan, please consult the Student Finance Zone.
Applications for Postgraduate Loans for all of our master's programs are now open.
Curriculum
Structure
The MA Contemporary Creative Writing program is a remote 180-credit program.
Students will complete two compulsory courses (a total of 60 credits), two ' Masterclass' courses (a total of 60 credits), and a dissertation (60 credits).
The MA Contemporary Creative Writing program also offers the option of an in-person Summer Writing Series enrichment course of 2-5 days (non-credit bearing) at an additional cost.
Teaching & learning
The MA Contemporary Creative Writing program will be delivered remotely online via live webinars, workshops, peer editing, and dedicated discussion forums.
Part-time study
The MA program can be taken part-time over two years. Part-time students attend the same remote classes as their full-time colleagues. The classes are not run separately in the evening for part-time students.
While we try to make the part-time study as flexible as possible, our Masters programs are demanding and we advise students that, if they intend to work alongside the course, their work should be flexible.
Assessment
Summative assessment for the MA Contemporary Creative Writing will be by a range of methods to ensure students have the opportunity to demonstrate their creative, critical, and professional abilities and achievements.
Students will be assessed by a portfolio at the end of each 30-credit course. For their 60-credit dissertation course, students will complete an extended creative work of approximately 12,000 words under the one-to-one guidance of a Supervisor.
Courses (Subject to Approval)
The courses that run in each academic year are subject to change in line with faculty availability and student demand so there is no guarantee every course will be delivered.
Autumn Semester
Students take ONE required course:
Creative Writing Now (30 credits) OR
Publishing Your Writing (30 credits)
Spring Semester
Students take ONE required course:
Creative Writing Now (30 credits) OR
Publishing Your Writing (30 credits)
Summer Semester
Dissertation: Publication Portfolio (60 credits)
Program Outcome
To be part of a new kind of MA, focused on contemporary creative writing. Who is being published now, why, and how can you join them?
Our innovative online experience: work in a way that suits your lifestyle, with full- or part-time study, weekly synchronous and asynchronous learning activities, and plenty of live interaction with tutors and peers.
To be inspired by writers from all over the world, working as part of a diverse writing community.
To work with lecturers who are also authors, and who will offer bespoke feedback on your writing.
For the option to participate in our annual in-person Summer Writing Series, where you can meet tutors, peers, and industry professionals, and take part in live classes, talks and workshops.
Career Opportunities
The MA program will equip writers with the necessary skills to enter a variety of positions within the creative industries and to work towards the publication and/or production of their own work. Students will learn the professional skills required to approach film and television producers, agents, publishers, and journals and publications (both in print and online) in order to sell and commission their work. They will also emerge prepared for further study in academia should they wish to pursue this route.
Potential career paths for students include published writers of poetry, fiction, and nonfiction; writers in Writers' Rooms for TV; dramaturgs; radio writers; editors; publishers; agents; journalists; reviewers; development executives; screen industry workers; copywriters; advertisers; media and publicity specialists; academia.
English Language Requirements
Certify your English proficiency with the Duolingo English Test! The DET is a convenient, fast, and affordable online English test accepted by over 4,000 universities (like this one) around the world.