Master in
Master of Landscape Architecture
North Dakota State University - Graduate School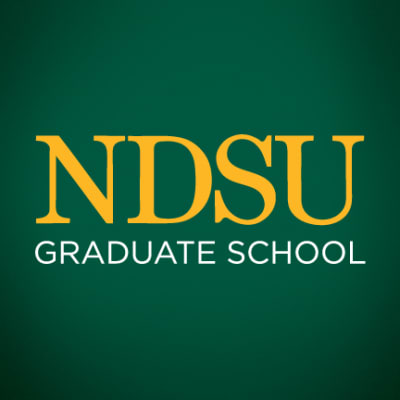 Key Information
---
Campus location
Fargo, USA
Tuition fees
USD 561 / per credit **
Application deadline
02 Feb 2024*
Earliest start date
Aug 2024
* February 1 deadline for fall semester, portfolio required
** COST PER CREDIT North Dakota (and Western states) residents $561| Minnesota residents $712 | Other U.S. states non-U.S. residents $841 | International students $981
Introduction
NDSU offers a 5-year LAAB accredited, first-professional Master of Landscape Architecture degree program housed primarily in two beautifully restored historic industrial buildings in downtown Fargo, which has emerged as an exciting, student-oriented urban district.
Most students entering the graduate program in landscape architecture come directly from the NDSU pre-professional Bachelor of Science in Environmental Design program. However the program is open to individuals who have earned an undergraduate design degree. Students entering with an undergraduate degree from outside institutions will be required to complete 55 credits to earn the MLA degree.
The curriculum includes field trips to cities across the country and is supported by a professionally staffed woodshop, digital media labs, laser cutters, and 3D printing for model-making. Both traditional and digital media are emphasized. An optional semester abroad, plus foreign study tours during summers are offered.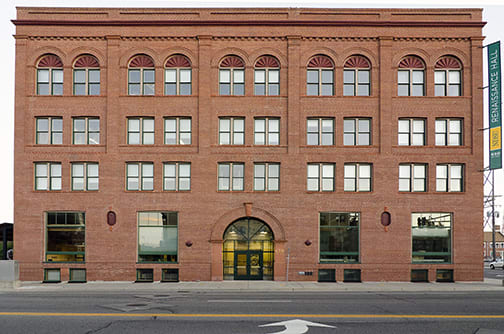 Program Accreditation
In the United States, most registration boards require a degree from an accredited professional degree program as a prerequisite for licensure.
The Landscape Architectural Accreditation Board (LAAB), which is the sole agency authorized to accredit professional degree programs in landscape architecture offered by institutions within the U.S. has a mission to evaluate, advocate for, and advance the quality of education in a professional program leading to a degree in landscape architecture.
Curriculum
The Master of Landscape Architecture degree curriculum is made up of three components:
General Studies: (34 credits, not including 6 credits from the Professional curriculum)
University General Education Requirements:
The following statement is from the NDSU Undergraduate Bulletin:
The purpose of general education at NDSU is to ensure that students acquire knowledge, perspectives, and skills associated with a university education. The program is designed so that graduates will be able to adapt to and anticipate changes in their profession and in society. Graduates also will be able to integrate and use the knowledge and perspectives they have gained to live productive, intellectually rewarding, and meaningful lives.
First-Year Experience: 1 credit
Communication: 12 credits
Quantitative Reasoning: 3 credits
Science and Technology: 10 credits (includes 1-credit lab)
Humanities and Fine Arts: 6 credits (double-counted from the professional curriculum)
Social & Behavioral Science: 6 credits
Wellness: 2 credits
University General Education Requirements met with no additional credits:
Cultural Diversity: ANTH 111
Global Perspective: (ARCH 321: Architectural History I)
Computer Usage in all Majors: (LA 232: Design Technology)
Communication in Upper Division: (LA 772: Design Thesis)
Personal & Professional Ethics: (LA 781: Professional Practice)
Capstone Experience: (LA 572: Design Thesis)
Electives: (25 credits)
Professional Studies: (101 credits, including 6 credits double-counted from General Studies)
Our curriculum is designed to build knowledge and ability in our students in an incremental way as they move through the program. Expectations for increased knowledge, ability and self-reliance continue to rise as students approach graduation. This, along with our emphasis on the transfer of knowledge from lecture and seminar courses to active employment in studio and community service projects, constitutes the framework for our professional studies.
Career Opportunities
Career guidance for students begins when first-year students are introduced to the profession of Landscape Architecture and Architecture in their introductory lecture classes. Upon admission to the department, student knowledge of the professions, career opportunities, and how to prepare for the professional world is expanded in a number of ways, including:
Interaction with our departmental Advisory Board of distinguished alumni, representing architecture firms and those associated with the AEC industry from around the nation
Exposure to nationally and internationally known practitioners through our lecture series
Portfolio reviews by alumni and faculty
Regular posting of job opportunities through the student email listserv
Support from the NDSU Career Center with resume and portfolio preparation
Career Center job listings and organization of annual Career Expo job fair