MSc in
MSc in Management
Modul University Vienna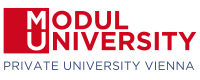 Introduction
Why should you choose Management?
The Master of Science (MSc) in Management combines academic rigor with practical relevance. The program builds a solid foundation in general management and deepens your knowledge of the global business. Through an in-depth analytical approach, you will learn to critically assess current trends and theories in management. A special focus on personal development, organizational psychology, conflict management, and leadership skills instills the personal and social competencies required for success in a world facing global competition and constant change.
From The Classroom to Practical Experience
Modul University students gain insight and confidence through lively classroom debates and simulations, challenging students to link theory directly with practice. The Industry Excellence Program gives students access to industry mentors and opens doors for future jobs. MU continuously fosters networking between students and industry experts by organizing talks and events on current affairs. In addition, students have the opportunity to engage in the MU Startup Hub.
Curriculum
The 2-year Master of Science in Management combines academic rigor with practical relevance. The program provides a solid foundation in general management and enhances your knowledge of global business. MSc in Management students must complete the required Core Courses and a selection of Enrichment Courses as part of their curriculum:
Economics and Research Methods
Integrated Management
Innovations and ICT
Leadership and Personal Skills
Master Thesis
Specializations and Enrichment Courses
MSc in Management students have the option to focus on one of six specialization areas. A minimum of 15 ECTS points must be completed from one specialization area in order to qualify for a certificate, and an additional 3 ECTS can be completed from another area of specialization. For a general MSc in Management, students must complete 18 ECTS points made up from elective courses offered in any of the five specializations. The following specializations are available:
Digital Marketing and Social Media
Entrepreneurship, Innovation, and Leadership
Innovation and Experience Design for Tourism
Real Estate Management
Sustainable Management and Governance
Tourism and Services Management
Optional Internship
Students can choose to complete a 6 ECTS optional internship. This will reduce the required ECTS of the Leadership and Personal Skills or Enrichment Courses module by 6 ECTS.
Excellence Program
The Industry Excellence Program pairs top students of the MSc programs with senior representatives of Austrian and international companies for on-the-job experience in your chosen field. Over the course of two semesters, you will be mentored by a senior-level manager to learn first-hand how management decisions are made in the modern business environment.
Career Opportunities
Career opportunities for graduates of the Master of Science in Management:
Consultant, entrepreneur, business analyst, associate product manager, marketing manager, digital marketing manager, HR manager, key account manager, CSR manager, sales manager