MA in
Master of Arts in Buddhist Studies (MA)
Maitripa College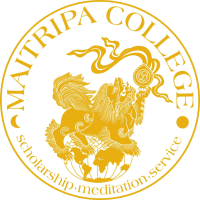 Scholarships
Explore scholarship opportunities to help fund your studies
Introduction
The MA in Buddhist Studies Program is a 44-credit graduate degree program under the direction of Yangsi Rinpoche. The MA degree focuses on combining rigorous academic study with meditation and community service requirements to offer a superior, integrated education in Buddhist Studies, and is designed for students seeking an in-depth and critical understanding of Buddhist thought in the context of both traditional and academic scholarship. The degree couples meditative experience of the path and training to integrate Buddhist principles into active service in partnership with a core philosophical curriculum designed to ground the student in Buddhist principles, logic, philosophical arguments, and meditative techniques. The integration of scholarship, meditation, and service is emphasized, with additional required coursework in research methods, history, and a minimum of two terms of classical Tibetan language. Comprehensive exams, or in exceptional cases, a thesis, is the capstone degree requirement.
The MA in Buddhist Studies prepares students to be scholar-practitioners, to pursue doctoral studies and research, to become translators, or otherwise to shape the formation of Buddhism in the West by working within and beyond Buddhist communities. Graduates of this degree will be well-rounded with respect to academic, personal, and social applications of their studies.
Students may elect to complete a concentration in either Canonical Languages and Literature or Spiritual Formation. The concentration in Canonical Languages and Literature trains students in Classical Tibetan from beginning to advanced levels, with both Tibetan and Western scholars, and includes courses with close readings of texts in translation. The Spiritual Formation concentration enables students to devote considerable focus to mentored meditation and retreat.
The degree may be completed as a full- or part-time student. Full-time students must take a minimum of 7 credits per semester and are eligible for scholarship funds.
Degree Concentrations
Students in the MDiv and MA degree programs may elect concentrations in either Canonical Languages and Literature or Spiritual Formation as a way of identifying areas of particular depth and training.
The concentration in Canonical Languages and Literature requires a minimum of four semesters of classical Tibetan coursework and four credit hours of coursework in a close reading of a Buddhist text in translation. Courses which satisfy the literature requirement will be indicated in the course catalog. Other canonical languages, such as Sanskrit or Chinese, also satisfy the language requirement when available.
Maitripa College is committed to training students in Classical Tibetan from beginning to advanced levels – from learning the alphabet to producing translations. Our mission and vision to develop an accredited Buddhist University offering higher education guided by the principles of the Buddhadharma require that we also contribute to the preservation of Tibet's rich textual traditions and increase their accessibility in the West. By learning to read and translate Tibetan, Maitripa students have the opportunity to receive the wisdom of these teachings directly in their original language, study with western and Tibetan linguists, learn to recite prayers and practices in Tibetan, and take advantage of the rare opportunity to read classic texts with a Geshe Lharampa and lineage holder, Yangsi Rinpoche. This is also exceptional preparation for pursuing doctoral studies and research in any area of Tibetan studies. Please see Classical Tibetan Language Studies links for more information.
The concentration in Spiritual Formation enables students to devote considerable focus to mentored meditation, both in the classroom and during structured retreat opportunities. Meditation and ritual practices that fulfill the minimum credits must demonstrate educational efficacy through mentorship, educational goals, and evaluation. Three meditation (MDT) elective courses (in addition to the minimum degree requirements for the MA or MDiv) must be taken, in which the course is designed to instruct students in practices for specific educational goals, including the cultivation of spiritual qualities or skills, gaining insight into philosophic concepts, or learning content. A minimum of one additional credit hour (100 hours of mentored meditation) must be earned through participation in retreat. Retreats may include on-site or residential Maitripa-sponsored retreats and, where approved and in consultation with Yangsi Rinpoche, may also include structured and supervised retreats to be completed by the student privately. In some cases, and with sufficient documentation, students may petition for limited recognition of retreats and practices completed in other lineages or at other centers.
Progress to Graduation: Maitripa College Master of Arts in Buddhist Studies (MA) (44) Required & Recommended Courses
Introduction to Buddhist Thought
Introduction to Buddhist Meditation
Introduction to Classical Tibetan Language
History of Buddhism: India and Tibet
Community Service Practicuum
Foundations of Buddhist Thought: The Medium and Great Scope
Techniques of Buddhist Meditation: The Medium & Great Scope
Tibetan II
Community Service Practicuum
Madhyamaka Philosophy: Where Is the Middle Way?
Techniques of Meditation: Madhyamaka
Community Service Practicuum
Madhyamaka Philosophy: A Dose of Emptiness
Theories & Methods of Buddhist Studies
Madhyamaka Meditation: Preparation for Vajrayana
Community Service Practicuum
Masters Thesis/Comprehensive Exam