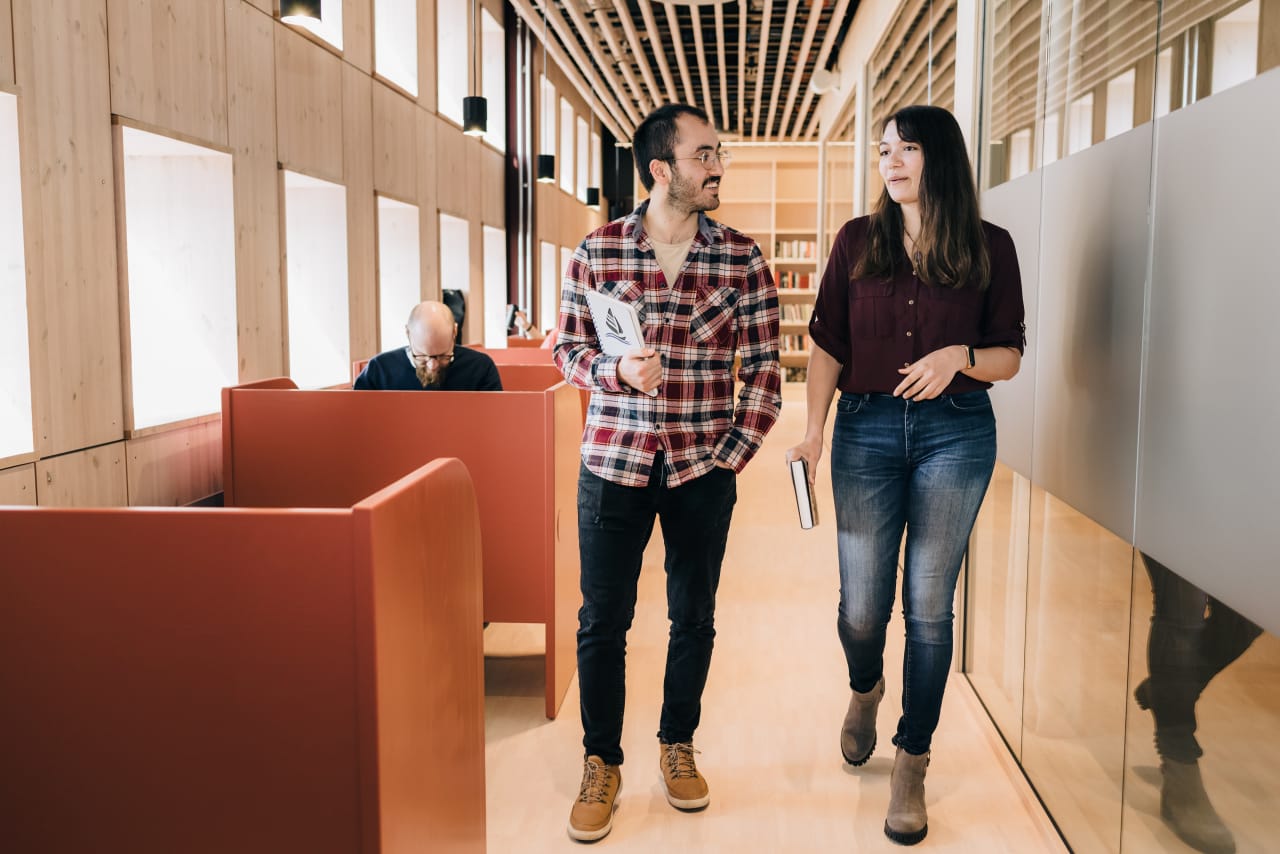 MSc in Chemistry
Linköping University

Key Information
---
Campus location
Linköping, Sweden
Tuition fees
SEK 280,600 / per year *
Application deadline
15 Jan 2024
Earliest start date
Sep 2024
* only to students from outside the EU, EEA and Switzerland.
Introduction
The complexity of issues as diverse as climate change, energy storage, a cure for cancer, and antibiotic resistance requires broad chemical knowledge. This program has a strong experimental focus and prepares you for a career working with anything from materials to pharmaceuticals.
As a skilled chemist, you can play a key role in solving the challenges we are facing concerning the environment and the health of an aging population. This new master's program has a modern, molecule-centered approach that transcends the boundaries between traditional branches of chemistry.
Learn molecular structures in detail
Throughout the program, our experienced teachers, who are all active researchers, will explain how molecular properties are understood, designed, and used. You will study the details of the chemical bond, followed by synthesis and analysis of molecules and materials. Courses in nanotechnology, medicinal chemistry, and materials science will help you understand how chemistry is central to a wide range of applications, why molecules with certain structures are suited for particular tasks, and how molecular properties can be enhanced to suit the application even better.
Plenty of lab time
You will spend a lot of time in our labs getting hands-on experience of chemistry and applying theories covered in the lectures. Linköping University (LiU) has strong research in chemistry and related subjects, including computational studies of catalysis and surface chemistry, as well as the synthesis of hard and soft materials. We are also developing synthetic molecules for pharmaceutical and diagnostic purposes, and methods for forensic investigations. For your thesis, you can opt to work either with a research group at LiU or with the industry.
Webinar for prospective students
Do you want to learn more about the Chemistry program? Watch this webinar with Professor Henrik Pedersen from January 2019.
Syllabus
Purpose
The Master's program in Chemistry aims to provide the students with the knowledge, skills, and attitudes required for a professional in the field or for further postgraduate studies. The program meets both national and international needs from universities, industry, and society in general. The training intends to provide in-depth knowledge of chemical synthesis, chemical analysis, and materials chemistry.
Students graduating from the Master's program in Chemistry shall:
be well prepared for advanced scientific communication with different target groups
be able to contribute to the sustainable development of society
be well prepared for both further postgraduate studies and for the national and international labour market.
Aim
Disciplinary knowledge and reasoning
Graduates from the Master's program in Chemistry demonstrate knowledge and understanding in the chemistry field, including a broad knowledge of the area and considerable in-depth knowledge in certain parts of the area. The graduates are also acquainted with current research in the field.
The program builds upon a Bachelor's education in Chemistry, Chemical Biology, Chemical Engineering, or equivalent, where fundamental knowledge in the area has been acquired.
The Master's program in Chemistry aims to provide in-depth knowledge of chemistry. A graduated student can:
analyze data and evaluate results from experiments and observational studies of chemical systems and critically evaluate statements about chemical relations.
apply mathematical and physical models to chemical systems of high complexity, in order to describe and understand them.
apply concepts and utilize techniques from other sciences to interpret chemical phenomena.
More specifically, a student who graduated from the program can:
use knowledge of the relationship between the structure and properties of molecules to select suitable synthesis and analysis methods for a given molecule.
select a suitable molecular structure for a given area of application.
describe areas of application for a given molecular structure.
work in a sustainable way through so-called green chemistry.
The Master's program in Chemistry is conducted in close collaboration with strong research environments, which gives the students insight into current research and development within the areas of chemical synthesis, chemical analysis, and materials chemistry. During the Master's thesis work, the student can work for a full year with a research group, a company, or a public authority, getting very well acquainted with research findings within one of the areas. The graduate student is also able to design a scientific study and is skilled in critically reading relevant research literature.
Personal and professional skills and attributes
Students who graduated from the Master's program in Chemistry have achieved the individual and professional skills and attitudes required to be able to critically and systematically integrate knowledge and to analyze and evaluate complex issues even with limited information. The graduates can also take responsibility at work or during post-graduate studies concerning work ethics, reliability, and respect for the expertise of other professionals. Students from the program can make relevant judgments regarding scientific, social, and ethical aspects.
Interpersonal skills: Teamwork and communication
Students having graduated from the Master's program in Chemistry can collaborate with other people. This requires the ability to actively participate in a project with designated roles, tasks, and responsibilities. The graduates can also initiate, plan, lead, and evaluate larger projects. Students who graduated from the program are skilled in written and oral communication. The students can present information, problems, and solutions in a structured way with relevant techniques, in English or in their native language, to different target groups.
Planning, execution, and presentation of research or development projects with respect to scientific and societal needs and requirements
Students who graduated from the Master's program in Chemistry shall have knowledge about the natural scientist and the role of natural science in society. The graduates also understand the social and economic conditions in the field and in the related research area. They can initiate, conduct, and present advanced development projects with established methods.
Research
Computational chemistry studies of the surface chemical reactions involved in thin film deposition and catalysis. By using supercomputers, chemists can obtain atom-level understanding which is crucial for the development of most chemical applications.
Synthesis of novel precursor molecules for group 13 metals and chemical vapor deposition and atomic layer deposition of group 13 nitride thin films for electronic devices for next-generation telecom systems. This project is run in close collaboration with the Division of Semiconductor Materials. More information is under "Pedersen Group" below.
Synthesis and characterization of designer drug metabolites. This is a great challenge for many forensic science researchers since there are no commercially available reference samples for new drugs and their metabolites on the market. This project is a collaboration with The National Board of Forensic Medicine (Rättsmedicinalverket, RMV). See "New online drugs" below for further information.
Synthesis of functionalized oligothiophene derivatives with specific optical and electronic properties. Conjugated polymers suitable for a wide range of applications, such as solar cells, displays, and biosensors, are created by combining features of polymers and the electro-optical properties of conjugated molecules.
Pedersen Group
The Henrik Pedersen research group at Linköping University is working on chemical vapor deposition (CVD) with the aim to develop better CVD routes to, primarily, electronic materials.
Electronic Plants
Electronic plants (E-Plants) is an organic bioelectronics platform that allows electronic interface with living plants.
Laboratory of molecular materials
We are a multidisciplinary team with a passion for science. Our research is focused on the design and development of molecules, soft materials, and hybrid nanoscale components and devices for a wide range of biomedical applications.
Photovoltaics and Thermoelectricity
LiU carries out world-leading research into printed organic solar cells. These cells open completely new possibilities for husbanding the energy of the sun.
Organic nanocrystals
We develop new nanoscale materials and devices for biomedical applications and catalysis. The common theme is using simple organic crystalline building blocks.
Ångströmhuset - electron microscopy
Ångströmhuset is a purpose-built environment, enabling continuous and noise-free operation of one of the world's sharpest (scanning) transmission electron microscopes.
Curriculum
Semester 1 (Autumn 2024)
Period 1
NKED22 --- Chemical Bonding --- 6
NKED24 --- Applied Chemistry --- 6*
TFYA43 --- Nanotechnology --- 6
Period 2
NKED23 --- Material Synthesis --- 6
NKED24 --- Applied Chemistry --- 6*
TFYA30 --- Supramolecular Chemistry --- 6
Semester 2 (Spring 2025)
Preliminary courses
Period 1
NKED25 --- Molecular Analysis --- 6
NKED26 --- Molecular Synthesis --- 6
TFYM04 --- Growth and characterization of nanomaterials --- 6*
Period 2
NKED20 --- Drug Discovery and Pharmaceutical Development --- 6
NKED82 --- Biomolecular Design --- 6
TFMT19 --- Chemical Sensor Systems --- 6
TFYM04 --- Growth and characterization of nanomaterials --- 6*
Semester 3 (Autumn 2025)
Preliminary courses
Period 1
TQXX60 --- Degree project - Master's Thesis --- 60*
Period 2
TQXX40 --- Degree project - Master's Thesis --- 45*
TQXX60 Degree project - Master's Thesis 60*
Semester 4 (Spring 2026)
Preliminary courses
Period 1
TQXX40 --- Degree project - Master's Thesis --- 45*
TQXX60 --- Degree project - Master's Thesis --- 60*
Period 2
TQXX40 --- Degree project - Master's Thesis --- 45*
TQXX60 --- Degree project - Master's Thesis --- 60*
Scholarships and Funding
Scholarships
Linköping University (LiU) offers a limited number of scholarships to outstanding international students. For some programs and nationalities, it is also possible to apply for a scholarship through the Swedish Institute. There are also other funding opportunities for studies in Sweden.
LiU International Scholarship
The LiU International Scholarship is aimed at supporting international master's degree students with significant academic potential who are required to pay tuition fees. The tuition fees for a student awarded a LiU International Scholarship are reduced by 25, 50, or 75%. We offer a limited number of these scholarships to new students.
Am I eligible to apply?
Students who have applied for a master's program at Linköping University and who meet all the following conditions are eligible to apply for a scholarship:
you applied by the deadline for the first admission round
you submitted all the required documents by the deadline
you chose a master's program at Linköping University as your first priority (ranked as number 1 of 4)
you have been admitted to your first choice in the First Notification of Selection Results (usually early April)
you are required to pay tuition fees.
Scholarships for studies in Sweden
Swedish Institute scholarships
The government agency the Swedish Institute (SI) offers a variety of scholarships depending on the level of study, the country where you come from, and the purpose of your studies. The application period for the SI scholarships varies. Read more about the SI scholarships and how to apply on their webpage.
Other scholarships
Many associations, foundations, and other organizations offer scholarships or travel grants for studies in Sweden. The official StudyinSweden.se website has collated a list of resources, where you can look for scholarships open to students of many countries or from your country specifically.
Career Opportunities
Career opportunities
The job market for chemists is excellent. After graduation, you will understand chemistry from an integrated, molecular perspective and have the skill set to work in the pharmaceutical or the materials science industries, as well as for environmental agencies. The fundamental knowledge of chemistry acquired from the program will allow you to change direction during your career – different applications require molecules with different properties, but they are designed using the same principles. The program also makes you well prepared for further studies towards a doctoral degree.