MSc in
MS Analytics
Kogod School of Business, American University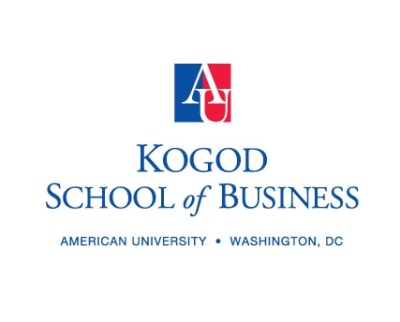 Key Information
---
Campus location
Washington, DC, USA
Study format
Distance Learning, On-Campus
Tuition fees
USD 1,866 / per credit **
Application deadline
01 Jul 2023*
Earliest start date
Aug 2023
* January 15: priority scholarship consideration | March 15: international student deadline | April 15: priority course registration | July 1: all applications due at this time
** based on 2022-2023 costs and may be subject to change. Additional fees apply
Introduction
Utilize data to make practical and progressive business decisions
Kogod's on-campus STEM Designated Master of Science in Analytics (MSAn) program prepares students to be experts in data analysis and to use data to solve a variety of organizational and business challenges. The program incorporates data analysis best practices related to fiscal performance and operational effectiveness into the curriculum. If you are interested, we also offer the equivalent of the MS in Analytics Online.
Students in the MSAn program learn evidence-based data gathering, data modeling, and quantitative analysis, as well as how to implement these tools to provide businesses with competitive advantages. Students gain skills to work in business intelligence, financial analysis, marketing, and consulting.
Get the Experience To Succeed
The capstone practicum is core to the MSAn experience and provides the high-level analytical application of real-world data.
You'll partner with a local organization, working to solve an analytics problem integral to the company's operation. The MSAn capstone bridges theory and practice, giving you the real-world skills you need to succeed.
Guest speakers are also a key part of the curriculum. Past speakers include industry leaders such as the CEO of Primehook Technology, the Principal Data Scientist for Zocdoc, and the VP of Data Analytics for Unisys. The program's speaking events offer invaluable networking opportunities, helping you further both your academic and professional career.
You can take electives in accounting forensics; biostatistics; business fundamentals; computational statistics; IT consulting; marketing; or other approved graduate analytical subjects.
Specializations require 12 graduate credit hours in each subject.
Program Highlights
STEM-Designated Program

STEM-designated programs equip students with technological expertise and leadership skills vital to the US economy. The designation also allows international students to apply for a 24-month extension of their Optional Practical Training.

Capstone Practicum

Gain real-world experience by solving an analytics problem for a local organization. Past clients include DC United, Special Olympics, Eastbanc Technologies, and Earth Networks.

Washington, DC

By studying in the nation's capital, you will have access to invaluable networking and professional opportunities. Whether you're interested in large corporations, government agencies, or the nonprofit world, DC offers a wealth of possibilities for your career.
Heidi Friedrich loved the hands-on learning experiences she got in Kogod's MS Analytics program. "In our capstone practicum, we worked with a company to apply our skills in a consulting engagement," says
American University offers students the opportunity to earn both undergraduate and graduate degrees through its combined bachelor's/master's programs. Advanced undergraduates admitted to a combined degree program that includes a master's degree from Kogod are eligible to take graduate-level courses and may apply up to 9 graduate credit hours earned as an undergraduate toward the requirements for both degrees.
Scholarships and Funding
Financial Aid
An AU education is affordable.
80%

of incoming students receive aid.

$100M

in financial aid awarded to undergraduates per year.

24

dedicated financial aid staff members. All incoming freshmen are assigned an individual counselor.
Need-Based Aid

Awards go to students with demonstrated financial need.

AU determines your need based on the information you provide on the required financial aid applications.

Merit-Based Aid (Scholarships)

All students who apply to AU are considered for most merit awards, including Deans' and Presidential, on the basis of their admissions application.

Student Employment

Income from work-study jobs is to be used exclusively for educational purposes. Award amounts vary; hourly wages are determined by the employer and job category.
Applying for Financial Aid
Forms to Complete
Apply to AU
Complete the FAFSA
Complete the CSS Profile
What you will need
Financial Aid School Codes (FAFSA 001434 and CSS Profile 5007)
Parent and Student Federal Student Aid Identification
Parent and Student Social Security Numbers
Federal Tax Forms to include W2s, 1099, etc.
Non-Custodial Parent Contact Information
Career Opportunities
Extensive Career Opportunities
Kogod's home in the nation's capital offers you access to extensive internship and employment opportunities.
When you enroll in the MS analytics program, you'll also join a wide-ranging professional network in the DC metro region and beyond.
The Office of Career Engagement offers additional career support, providing one-on-one guidance on job searching, crafting your resume, relationship building, and transitioning to new business careers. The center is committed to helping both you — and your future employer — meet your goals.
The Kogod Office of Career Engagement
The Office of Career Engagement empowers students and alumni to build meaningful relationships and careers. We provide the guidance, skills, and networking opportunities to turn aspirations into meaningful outcomes.
Students receive one-on-one guidance on relationship building, transitioning to new business jobs, crafting their resumes, and utilizing social media in their job searches. We also partner with employers to connect them with students and alumni who align with their professional needs.
The Office of Career Engagement helps build the path from passion for success, helping students, alumni, and employers make informed and intentional career decisions.
Job search
Internships
Other resources

AU Job and Internship Fair
Handshake
NACE Salary Calculator
Participating Employers
Events
On-Campus Employment for Students

Postings for Graduate Students
Postings for Undergraduate Students

Business Cards
Online Toolkit
Updates
The Kogod Office of Career Engagement will continue to support our students' career development while maintaining their safety and well-being by moving our services online. To best provide access to our services and resources over the next few weeks, we will implement the following changes:
All career advising appointments will be conducted virtually. Handshake appointment confirmations will contain a Zoom link for your meeting. If you have difficulty locating the Zoom link or scheduling an appointment, contact [email protected] for assistance.
We are moving upcoming workshops online and will update the event details in Handshake accordingly.
Our Employer Relations team continues to work with employers recruiting Kogod students. Handshake will be regularly updated with available job and internship opportunities, and we will continue to host information sessions, panels, and other recruiting-related events virtually.
We appreciate your understanding and patience as we work through this together. Please check Handshake frequently for updates on programming and opportunities. We encourage students to continue submitting applications and expanding and engaging their professional networks. If you need help adapting your career strategy or have any other questions or concerns, please email ko[email protected] or schedule an appointment on Handshake.