MSc in
MS Accounting
Kogod School of Business, American University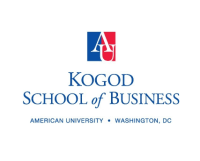 Introduction
An innovative curriculum. Award-winning faculty. Outstanding career guidance
Our Master of Science in Accounting (MSA) program prepares students for rewarding careers in all facets of the field, from nonprofit to forensic accounting. There is a STEM option for this degree
Whether you're advancing your career, transitioning to a new one, or just starting out, the MSA program will put you on track to compete in a flourishing field – one that's projected to increase by 22 percent in the next decade. The MSA curriculum focuses on various accounting topics - including auditing, forensic investigation, business ethics, information systems, and more - to develop the leadership qualities and data-utilization skills you'll need to excel in the industry.
Diverse Experiences with Real-World Practitioners
The Kogod MSA faculty are real-world practitioners who bring their diverse experiences and unique business backgrounds to the classroom.
The MS accounting faculty uses experiential exercises and integrated projects to teach you the principles of business accounting. Our talented department will provide personal attention to help you analyze the accounting world from every angle.
Prominent accounting experts from the "Big Four" firms are regular guest speakers.
Specialize your coursework
The MSA program is between 30-37.5 credits, depending upon your prior academic experience in Accounting. Full-time students typically complete the program in 1-1.5 years. Part-time students typically complete the program in 2+ years. Courses generally meet once per week in time slots of 5:30 pm-8:00 pm and occasionally 8:20 pm-10:50 pm.
Courses are grouped into three types: business foundations, core accounting, and electives. With input from you, the program director will prepare an individualized program plan for you based on your prior academic experience. Students with an accounting background can choose from a range of courses in financial reporting and assurance, forensic accounting, or taxation. And all students select elective courses to supplement their specialty- as well as take part in internships and leadership opportunities.
Graduates emerge from the master's program well-prepared for the CPA exam and, most importantly, a successful career.
Learning in a Prime Location
With a high success rate for full-time employment, the MSA program sets you up for a job outcome that fits your goals.
AU's location in the nation's capital offers students access to extensive accounting internships and employment opportunities across the corporate, non-profit, and government sectors. With a specialized accounting focus of your choice, you'll pursue positions that match your interests.
Both full-time students and working professionals take full advantage of the connected Washington, DC-based alumni network. Accounting career preparation is also aided by our well-connected Kogod Center for Business Communication and the Office of Career Engagement.
MSA graduates excel in various accounting, auditing, and budgeting roles, including supervisor and managerial positions.
Program Highlights
STEM-Designated Specialization

Our STEM-designated accounting program is available to graduate accounting students who are accepted into the accounting analytics specialization and complete four courses that are specific to the STEM designation. The designation also allows international students to apply for a 24-month extension of their Optional Practical Training, granting them the ability to work in the US for up to three years.

Partnership with ACCA and ACFE

We are one of the few universities in the US to have a partnership with ACCA. By completing the MSA program, you can wave up to 6 of their 14 exams. We will also help you prepare for the ACFE's exam and CFE credential, the main certification for international anti-fraud professionals.

Expert Faculty

Before joining the faculty, Casey Evans was senior director of forensic & litigation consulting at FTI Consulting, where she specialized in conducting complex forensic accounting and financial fraud investigations in conjunction with the SEC, DOJ, and corporate audit committee inquiries. She was part of the team of FTI investigators responsible for investigating Bernard Madoff and Bernard L. Madoff Investment Securities, one of the largest investor frauds in American history.
Casey Evans believes what sets Kogod's MS Accounting (MSA) program apart is its inclusivity. "You don't need any accounting experience before you get your master's at Kogod," says Evans, MSA program.
Scholarships and Funding
Financial Aid
An AU education is affordable.
80%

of incoming students receive aid.

$100M

in financial aid awarded to undergraduates per year.

24

dedicated financial aid staff members. All incoming freshmen are assigned an individual counselor.
Need-Based Aid

Awards go to students with demonstrated financial need.

AU determines your need based on the information you provide on the required financial aid applications.

Merit-Based Aid (Scholarships)

All students who apply to AU are considered for most merit awards, including Deans' and Presidential, on the basis of their admissions application.

Student Employment

Income from work-study jobs is to be used exclusively for educational purposes. Award amounts vary; hourly wages are determined by the employer and job category.
Applying for Financial Aid
Forms to Complete
Apply to AU
Complete the FAFSA
Complete the CSS Profile
What you will need
Financial Aid School Codes (FAFSA 001434 and CSS Profile 5007)
Parent and Student Federal Student Aid Identification
Parent and Student Social Security Numbers
Federal Tax Forms to include W2s, 1099, etc.
Non-Custodial Parent Contact Information
Career Opportunities
Career Outcomes
Alumni of the MSA program work for a variety of companies in a wide range of positions, including, but not limited to:
Deloitte/Deloitte & Touche
EY
KPMG
PwC
CohnReznick
Fannie Mae
FTI Consulting
International Monetary Fund
Navigant Consulting
SC&H Group
The Kogod Office of Career Engagement
The Office of Career Engagement empowers students and alumni to build meaningful relationships and careers. We provide the guidance, skills, and networking opportunities to turn aspirations into meaningful outcomes.
Students receive one-on-one guidance on relationship building, transitioning to new business jobs, crafting their resumes, and utilizing social media in their job searches. We also partner with employers to connect them with students and alumni who align with their professional needs.
The Office of Career Engagement helps build the path from a passion for success, helping students, alumni, and employers make informed and intentional career decisions.
Job search
Internships
Other resources

AU Job and Internship Fair
Handshake
NACE Salary Calculator
Participating Employers
Events
On-Campus Employment for Students

Postings for Graduate Students
Postings for Undergraduate Students

Business Cards
Online Toolkit
Updates
The Kogod Office of Career Engagement will continue to support our students' career development while maintaining their safety and well-being by moving our services online. To best provide access to our services and resources over the next few weeks, we will implement the following changes:
All career advising appointments will be conducted virtually. Handshake appointment confirmations will contain a Zoom link for your meeting. If you have difficulty locating the Zoom link or scheduling an appointment, contact [email protected] for assistance.
We are moving upcoming workshops online and will update the event details in Handshake accordingly.
Our Employer Relations team continues to work with employers recruiting Kogod students. Handshake will be regularly updated with available job and internship opportunities, and we will continue to host information sessions, panels, and other recruiting-related events virtually.
We appreciate your understanding and patience as we work through this together. Please check Handshake frequently for updates on programming and opportunities. We encourage students to continue submitting applications and expanding and engaging their professional networks. If you need help adapting your career strategy or have any other questions or concerns, please email [email protected] or schedule an appointment on Handshake.