MA in
ART HISTORY - M.A.
Kent State University - College of the Arts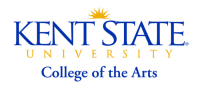 Scholarships
Explore scholarship opportunities to help fund your studies
Introduction
The Master of Arts degree in Art History emphasizes obtaining a comprehensive view of world art and specializing in one area for the thesis. Specializations may include contemporary African, medieval, Renaissance, early modern, modern, American or contemporary art and critical theory.
Program Learning Outcomes
Graduates of the program will be able to:
Demonstrate a comprehensive understanding of the diverse character of visual and performative art traditions from a diversity of historic and cultural traditions.
Demonstrate advanced knowledge in a particular period of art or a particular non-Western culture.
Engage with and develop a variety of arguments relevant to particular art historical projects.
Demonstrate skills in written and oral discourse.
Observe, describe and interpret art objects, events and concepts within a cultural context.
Access and utilize relevant primary and secondary source material in diverse formats, including digital technology.
Similar Courses
MA in History of Arts and Conservation of Artistic Heritage

MA History of Art and Architecture of the Islamic Middle East and Intensive Arabic

MA History of Art and Archaeology of East Asia and Intensive Language