MSc in
MSc in Innovation, Transformation, Entrepreneurship
Kedge Business School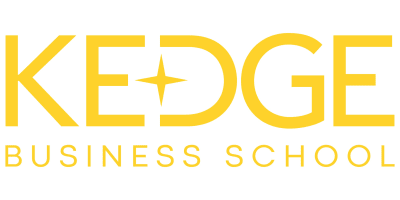 Key Information
---
Campus location
Marseille, France
Tuition fees
EUR 17,400 / per year *
Application deadline
Request info
Earliest start date
Jul 2024
* *early bird discount of 10% on tuition fees until november 30th|early bird discount of 5% on tuition fees until february 29th, 2024.
Introduction
A disruptive vision of the future needs of the market
Focusing on the skills required to disrupt business models, the program aims to match the current market dynamics. The main objective of the program is to meet the challenges of companies to maximize innovation and to broaden their global performance reach, and not solely in an economic context.
The MSc provides a strong educational platform for future innovators, who will be:
pilots and transformative leaders for innovation projects,
drivers in value creation, able to bring out collective intelligence in an expanded organization,
intrapreneurs and entrepreneurs endowed with the right skills to successfully drive value and manage innovation and to bring their ideas to the market, "from concept to commercialization".
Why choose this program?
Track "Intrapreneurs": a Live In-Company Case Study Based on a Corporate Consultancy Project
The MSc program uses inductive learning. Therefore, students work on a real business case over the duration of their studies.
The live in-company case study is a real corporate consultancy project which will focus on challenges faced by companies such as implementing a new strategy, strategic management, company's transformation, how to diversify by innovation, etc.
Students will get involved in hands-on projects to solve complex business issues where only collective intelligence will enable them to co-build solutions to solve the case using a cross-disciplinary approach.
Track "Entrepreneurs": Creating a Start-Up
This option will give you the opportunity to create with the concept of a "Start-up studio": from an idea, how to launch a start-up with dedicated support and advice from experts, investors, etc. using Kedge Entrepreneurship facilities: incubators, learning labs, you'll develop your network with other start-uppers and investors, companies leaders from a "wish", how to co-pilot the creation of a start-up, work with other start-uppers.
Inductive Learning, Training as a Service (TAAS)
The MSc program uses a flipped-classroom pedagogy:
knowledge is delivered online (distance learning),
know-how and soft skills are validated by hands-on experience working in group projects throughout the year.
Students have access to online training modules as digital support to the in-company live case (training as a service concept). Learning platforms facilitate online support for advice at any time, and according to student individual needs. Moreover, this service offers an inductive teaching method encouraging students to be active and to seek out information.
The Hackathon, Open Innovation Challenge
To solve a real business case, the one-month hackathon will gather in a competition internal and external students with different backgrounds: engineers, managers, designers, business executives, etc. with the objective of building cross-disciplinary teams, thinking differently, and out-of-the-box, and working connection with a different environment.
A Study Trip
Several study trip options will be proposed, with the objective to go beyond the frame of reference and benchmark good practices in terms of innovation or entrepreneurship.
For example: As a partner, visit the Technion Scientific Division, or visit Station F in Paris, or visit the Airbus Bizlab.
Expert Conferences
High-level experts or business leaders will give lectures on specific topics to share their experience and expertise: digital, ethics and moral, health and IOT, the impact of new technologies on leadership, agile innovation, start-ups or family business success stories, etc.
Early bird discount of 10% on tuition fees until November 30th.
Early bird discount of 5% on tuition fees until February 29th, 2024.