MA in
MA in Art History
John Cabot University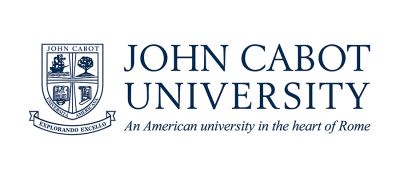 Key Information
---
Campus location
Rome, Italy
Tuition fees
USD 22,000 / per year *
Application deadline
Request info
Earliest start date
Aug 2023
* EUR 20,000 – For citizens of countries other than the United States or Canada. Financial aid is available.
Introduction
John Cabot University's MA in Art History guides students toward professional mastery of the materials and methods of art history with an emphasis on first-hand research in the museums, monuments, and archaeological sites of Rome. The degree can be completed in approximately fifteen months of full-time study. The program has a dual focus: the visual cultures of Rome and the Mediterranean across time, from antiquity to the present; and the acquisition of technical skills for primary research.
Curriculum
Requirements for the Degree
A. The Proficiency Requirements of the University in English, Mathematics, and Foreign Language.
English: All students must demonstrate English proficiency by completing EN 110 Advanced Composition with a grade of C or above. New students will be placed in EN 103, EN 105, or EN 110, on the basis of the University's English Composition Placement Examination, and must take Composition courses until this requirement is satisfied.
Mathematics: All students must demonstrate proficiency in Mathematics by completing MA 101 Algebra or MA100 Finite Mathematics, with a grade of C- or above. Students who are enrolled or plan to enroll in the Business Administration Major are required to take MA 101 Algebra. Other students have the option of choosing between MA 101 and MA 100. New students may be exempted from this requirement on the basis of the University's Mathematics Placement Examination; otherwise, they must take MA 101 or MA 100 during their first semester of attendance and until this requirement is satisfied.
Foreign Language: All students must demonstrate foreign language proficiency equivalent to a year of study in a foreign language with written literature. Students with a national secondary education credential in a language other than English will be considered to have satisfied this requirement.
B. The General Distribution Requirements of the University in English, Mathematics, Science, Social Sciences, Humanities, and Fine Arts.
English Literature: Two courses in English literature, one of which may be replaced by a course in comparative or dramatic literature in English translation. (These courses must have EN 110 as a prerequisite.)
Mathematics and Science: Two courses in mathematics, natural science, or computer science. (MA100 and MA101 do not fulfill this requirement.)
Social Sciences, Humanities, and Fine Arts: Seven courses distributed as follows:

Social Sciences - at least two courses in Communications, Economics, Political Science, or Psychology.
Humanities - at least two courses in History, Literature, Philosophy, or Religion.
Fine Arts - at least one course in Art History, Creative Writing, Dramatic Literature, Music, Studio Art or Theater.
No course may be used to satisfy more than one General Distribution Requirement.
C. Core Courses
PS 101 Introduction to Psychology
PS 208 Introduction to Statistical Analyses of Psychological Data
PS 210 Introduction to Research Methods
PS 307 Cognitive Psychology
PS 370 Psychobiology
PS 320 Developmental Psychology
PS 334 Social Psychology
Two PS courses from two of four areas: Cognitive, Psychobiological, Developmental, and Sociocultural
One PS course from one of three areas: Clinical Psychology, Industrial-Organizational Psychology, Educational Psychology
PS 480 Senior Seminar in Psychology
D. Major Electives
Five additional courses to be chosen, as advised, from any of the available psychology courses not already used to satisfy core course requirements.
E. General Electives, sufficient to give a total of 120 credits.